Packing Beauty Products for a Vacation
Posted March 15, 2014 by Prairie Wife -
My trip to Vegas was a blast! The Cowboy and I enjoyed our alone time and all the fabulous food and sights. TallGirlJ and I had a blast people watching, lounging, and seeing as much as we could of the amazing things that Las Vegas has to offer. All the Cowkids had a blast with CowGranny and are ready to be spoiled some more by Ma and Pa as The Cowboy and I head off to the French Riviera. I've already given you some tips on leaving your kids behind, and some tricks to packing less and still having plenty of outfit choices. Today I thought I would share with you some tips and tricks for packing beauty products.
On an airplane you never know exactly what you'll need, and depending on the length of your flight you may need to pack more or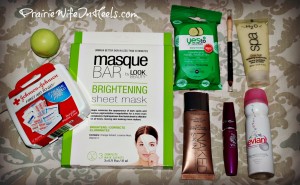 less. But there are a few products I keep with me at all times in my purse, products I always find I need. Especially on a 12 hour plane ride to France! Airplane air is always so drying and stale so a lot of my products are moisturizing and perfect for helping me to quickly freshen up in the bathroom on the plane or right after we land. I haven't actually used the "silence of the lambs" face mask before, but I have heard from all the fashion magazines that it's a must for long flights (I'll keep you posted on how it goes). No matter how exhausted we are when we land, I always find that a little shot of adrenaline always hits when we get to our hotel. More often than not we end up wandering around rather than resting. Keeping some of my must have beauty products in my purse allows me to look put together rather than haggard when we look at the sights. A small first aid kit always stays in my purse, because you never know when you might need a band-aid! [Purchased at Target-Masque Bar Sheet Mask, First Aid to Go, EOS lip balm, Say Yes to Cucumber traveling Face Towlettes, L'Oreal Double Extend Illuminating Eyeliner, Maybelline Falsies Mascara, From Ulta.com-Urban Decay BB cream, H2O Body Butter, and Evian Facial Spray]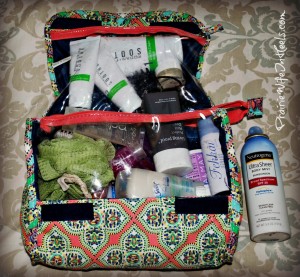 I always keep a bag packed with all my shower products all the time. We end up going on a quite a few weekend trips with the kids and it makes my life easier to simply grab it and throw it in my suitcase knowing it's ready. When you travel out of town the last thing you want to have is skin issues, so I make sure I take along my Rodan and Fields face wash and creams. Living Proof PHD product is wonderful because it eliminates the need to pack 10 different hair products, all I need to add is hairspray. Put in extra bobbi pins and pony tail holders, I always seem to lose a few wherever we go. Don't forget to throw in a new disposable razor and some moisturizer to keep your skin looking fresh and beautiful. If you're headed somewhere warm or plan to do a lot of walking, pack sunscreen. It won't hurt to pack a few extra bottles; I can tell you from experience buying sunscreen from the resort store is insanely expensive!
Last but not least you need to pack makeup, this can get tricky because it varies so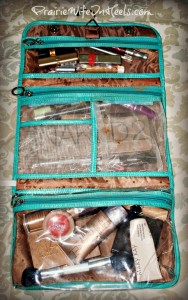 much depending on what your regular routine is. I always pack what I need for my five minute face (BB cream, undereye concealer, blush and mascara) and then add some products that bring my look from day to night. Even a light daytime makeup makes me feel better, and I am more willing to let The Cowboy take those candid vacation pictures (and share them on FB). Primer is a must when you plan on having a late night out (in Vegas I swear I used a pound of it) and red lipstick always keeps you looking chic and classy! I find that my favorite way to glam up my look is to swipe on some eyeliner and a little darker eyeshadow over my day look, a darker eye instantly ups your makeup's sex appeal.
What beauty products do you HAVE to have on vacation?
Categories: Prairie Wife Style
Tags: , Beauty, packing, packing bags, traveling, Vacation