Prairie Wife of the Week March 14, 2014
Posted March 14, 2014 by Texas Two Steppin' - 4 comments
Prairie Wife is in France right now, and I know she's upset she is missing out on this story (I told her it would be waiting when she returned). I have known Morgan since I moved to Texas, and she has always been a busy lady. I've watched her grow from student to hairstylist/nail technician to business owner to landlord. In August, I heard all about her home purchase. In September, The Texan and I celebrated as she became a wife. In February, we rejoiced when we learned she was about to become a mother. Yes, Morgan does have a lot of different titles, but that's not what makes her the Prairie Wife of the Week. What truly sets her apart and earned her this honor is that she just turned 21 last week! Read more about Morgan's story, and please leave some comments so Prairie Wife knows I did a good job minding the blog while she was out eating croissants and bonbons–LOL.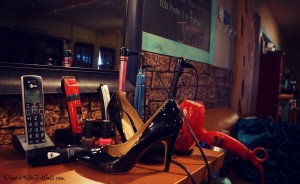 Texas Two Steppin': Tell us a bit about yourself and your family, Morgan Moreland…I mean Weeks. Sorry, I'm still getting used to your name change!
Morgan: Yeah, it's new to me too! I live in Johnson City, Texas, and was born and raised here. I just turned 21 years old. I got married to my husband when I was 20, but we've been together since high school. I'm about to have a baby, but I've been a mom to our three dogs, Harley, Livi and Lulu, for some time now. I treat them like children. Harley was even in my wedding! It's funny, but my parents met here, got married at 21 and had my older brother, Mason, about 11 months later. Now I'm in the same situation!
TX2S: Did you like growing up in a small town?
Morgan: It sure was hard to get away with anything, but if I ever needed anything my whole family was right there to help. I like being close by to my parents, especially because I can still go over to their place every week for family suppers. When I got to high school and my brother graduated, I felt the public high school wasn't for me, so I went to a private one with a homeschool-based environment. I got lots of one-on-one attention there.
TX2S: Is that when you realized you wanted to be a hairstylist?
Morgan: I have always loved hair and makeup and was always experimenting on my own. I really appreciate great hair. When I was younger and my Mom and I would go to a store, I would always comment on people's hair! When I graduated high school I went to a one-year cosmetology school in Austin and then worked in a salon in town.
TX2S: So how did you become a business owner?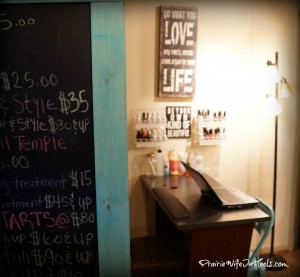 Morgan: My parents encouraged me to do this. We felt that although I was young, I didn't have kids and would have time to establish myself and create the exact spa-like environment that I envisioned. We offer cuts, color, nails and mini facials. I love color and highlights—those and the pedicures are the most popular. I feel because we're young, clients trust us to do new things and follow trends when they're ready for a change. Now, this is Johnson City, so you won't see shaved heads. I guess we're more natural but still have a bit of edge.
The best thing is that this salon is all mine. I only have myself to blame if something goes wrong, and I'm good with that. The biggest challenge for me is keeping organized tax-wise and making sure we don't run out of supplies. I never thought I could do this, but once I started on this path it made sense. I've even expanded and have another stylist renting a booth from me—my future sister-in law Brittany!
TX2S: Has your age been a challenge?
Morgan: When someone new comes into the salon they often think I'm the owner's daughter or friend, but I know how to nicely set myself up as the owner. It hasn't even been an issue for most customers, like my Dad's friends who I've known since I was little. They are my regulars. "Men's Mondays" has been a huge hit with the "old timers" who wanted a place that felt more like a barber shop. They are very possessive of "their" day and don't tolerate any other women around.
TX2S: How are you adapting to your new roles of homeowner and wife and preparing for motherhood?
Morgan: It's good except I'm tired! My husband helps pick up and clean, which is soooo nice. The new baby was not planned, especially not two months after the wedding, so I'm working a lot now because I'll change my schedule from six days in the salon to three days. But we're getting used to the thought of being parents. My husband was adopted, so I'm really excited to see him as a dad. But having a new life to take care of is a big gulp!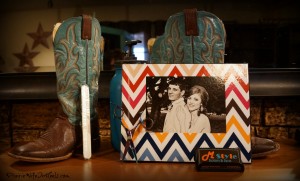 TX2S: Any last Prairie Wife words of wisdom you want to share?
Morgan: As a salon owner, I look to give value to my customers and give them a local option instead of having to travel miles to Austin. Personally, I trust in God. I think it's important you don't let anyone tell you  you can't, because you can do whatever you want. I had faith it would all work out, and it has.
Please like Morgan's Facebook page—M Style Salon & Spa—and if you're ever in the area, schedule a mani/pedi with her or Brittany. Be sure to tell them Texas Two Steppin' sent you!
Categories: Prairie Wife of the Week
Tags: , 21, Beauty, hairstylist, mother to be, Praire Wife, Texas, wife, young