Pack a Baby Bag for Your Car
Posted November 15, 2013 by Prairie Wife - 3 comments
When you have school age children you tend to live in your car. With living out of town we spend two hours a day in the car driving to school, activities and back. Even when I had just one baby, I found that more often than not things come up (literally and figuratively) and keeping a bag stashed in my van of necessities has saved me more often than not! After all, how often do you remember to check your diaper bag when you head out the door at 7:30am on a Thursday?
In a bag that stays in your car always…(rotate sizes as baby grows)
4 diapers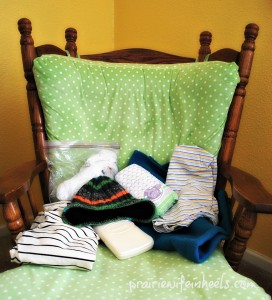 1 thin blanket
1 heavy blanket
1 shirt for you
2 empty grocery bags (for poopy or wet clothes)
1 onesie
1 baby outfit or pair of jammies
1 pair of socks
A warm winter hat
A small container of baby wipes
I also always keep a cheap umbrella stroller in my van and a picnic blanket
Don't forget to wash and replace the items in your bag when you use them. Nothing is worse than sending your husband out to the van for a new shirt for you, and having him come back empty handed…unless the baby threw up on you at the mall, then we call it lucky!
Categories: Life As It Happens
Tags: , car bag, lists, new baby, organization, pregnancy and babies