The Uglies by Scott Westerfeld
Posted November 15, 2013 by Prairie Wife - 1 comment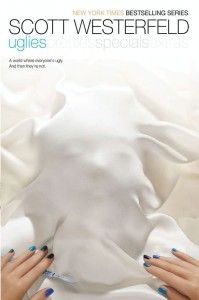 I do not believe in age discrimination when it comes to books. A good book is a good book, no matter what age it was written for. The Secret Garden by Fances Hodgson Burnett will always be my favorite book. The Harry Potter books are up there in my top 10 and, I also loved The Golden Compass (and the other books in the series) by Phillip Pullman. I totally admit to losing a solid week of my life to the Hunger Games, and I felt a little bit empty when I finished the last book. I came across The Uglies by Scott Westerfeld when I was trying to fill the void that Katniss and Peta left in my life.
The series consists of four books and was written for young adults, but I found it fascinating. The book takes place in the future and the plot revolves around Tally Youngblood. In this future society our world is divided into two groups the Uglies and the Pretties. When young children (Littles) reach puberty they are sent away to live in a campus like area until they reach the age of 16. On their 16th birthday they receive surgery that allows them to become Pretties where they then go to live a life entirely focused on having fun.
Tally is a strong young female who from the beginning, doesn't quite fit in with the conformist society she is destined to become a part of. In a rash move she runs away in search of the fabled "Smoke" where people live life as Uglies in the "primitive" ways of their ancestors. Throughout the book she struggles with the question of who she wants to become. As an adult I found this book fascinating and the thinly veiled references to our society's constant quest for physical perfection made it a thought provoking read. It's a book I will certainly file away for Cowgirl G to read when she enters her teenage years.
Categories: Reviews
Tags: , Book Reviews, Fantasy, Sci-Fi, young adult fiction