Packing Your Hospital and Diaper Bag
Posted October 20, 2013 by Prairie Wife - 1 comment
This year, my group of friends was blessed with a massive amount of babies, what a joy! Several of these were first time moms. Apparently, I have a reputation for sharing my "wisdom" with others (though as you will find out I am really honest). After I had more than a few ladies ask me what I really felt they needed to survive, I decided to type a list up. It has been so rewarding for me to hear how helpful the list was for them, some have even gone on to share it with other new moms. I couldn't be happier; there is nothing I love more than helping new moms!
Now, the full the list goes on for several pages so, for the sake of this blog, I decided to break it up into several posts. I put in parentheses what brands I use and love, but as we all know, that is a personal thing. Below is a list of what I bring to the hospital (keep in mind I have done this 4 times) and what I keep in my diaper bag at all times. If you are choosing not to nurse you can of course leave those things out (and add bottles and those awesome formula containers to the list)! Also, as one of my friends found out, if you end up having a C-section some things, like tucks, won't be needed.
Hospital Bag
Camera and extra batteries
Baby name book (we don't name our babies until after we meet them)
3 Pairs of black underwear (I feel so much better wearing mine)
Cute sweats, t-shirt, and flip flops to wear home (I like to buy new ones, it makes me feel better)
Nursing Bra (I bring one of the nighttime/sleeping ones)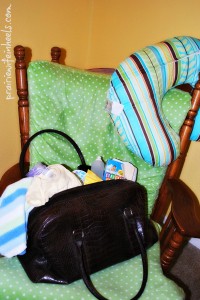 Nursing pads (you probably won't need more than 6)
Lanolin cream for your nipples (lansinoh brand)
Your brand of period pads (small pack)
Tucks travel hemorrhoid pads
Shower stuff, ponytail holders, lotion etc. (go ahead and bring makeup but I never use it)
Phone charger
Cute baby blanket for pics
1 onesie and jammies
A going home outfit for the baby
*Ask the nurse for an extra water spray bottle to take home-just trust me
**Take home all the diapers you didn't use-you paid for them!
***My hospital bag was a gift from my mother-in-law before I had my first baby, Cowboy J. I love that I have used it for each of my babies; it's such a special item for me!
Diaper Bag (I always keep these things in mine, just don't forget to bring it to the hospital)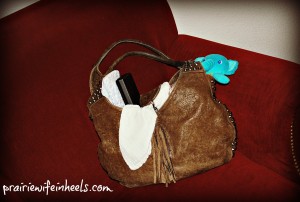 Gallon zip lock bag with 2 grocery bags (to place dirty clothes in), 2 onesies, 1 pair jammies, and 2 pairs of socks in it (your child will either barf on or poop through their clothes at least once)
6 diapers (Luvs or Huggies)
Small plastic wet wipe container (with wipes, Huggies Natural Care)
1 diaper rag (these are the cloth diapers you can buy in a pack, I use these to clean up any messes on the baby or me)
1 thin cover up blanket
Zipper bag with baby Tylenol, gas drops, 4 nursing pads, 4 period pads, lanolin cream, diaper cream (desitin), baby finger nail clippers, a few bandaids, and antibacterial hand wash
2 baby toys
2 pacifiers (if your baby takes them, NUK)
(I keep my wallet and phone in it as well)
*I use a regular purse for my diaper bag, they make so many super cute ones that are huge!
** I love the brand Petunia Pickle Bottom for diaper bags. They can be pricey directly from the website but, I found mine at TJMaxx and Nordstrom Rack.
If there are any items that you have questions about, or things you think I left out, let me know in the comments section!
Categories: Life As It Happens, Parenting
Tags: , diaper bag, hospital bag, new baby, organization, packing bags, pregnancy and babies