Ham and Cheese Bundles
Posted January 17, 2015 by Prairie Wife - 6 comments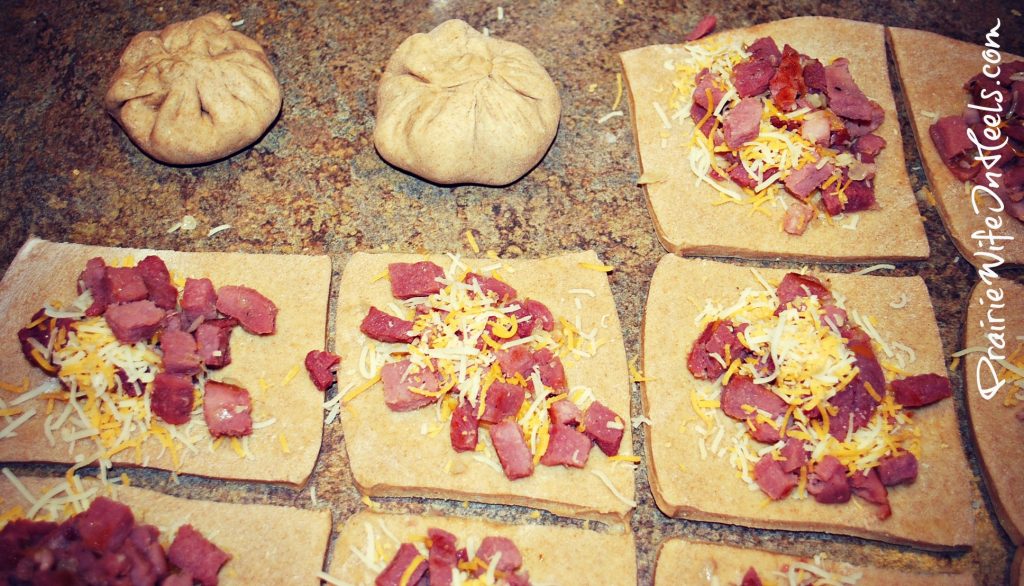 This recipe actually goes way back to my college days with CollegeBFF. Whenever she came back from her visits home she would always bring a bunch of delicious homemade goodies from her mom.
Luckily she often took pity on me and shared the love!
Her mom's Ham and Cheese bundles were one of my favorites and upon later moving to the same small town in Wyoming where CollegeBFF grew up (isn't it funny how things work out), I asked her mom to share her recipe with me.
I have since perfected it (in my opinion) and always make a big batch for The Cowboy to take Elk Hunting and to freeze into several meals before a baby is born.
First I posted the recipe like I usually do for you and then I included a few step-by-step pictures because it can be a touch complicated without watching someone the first time!
For variety I also make Cabbage and Beef Bundles (sauteed cabbage, pepper jack cheese, and cooked ground beef), Hamburger Bundles (cooked ground beef and bacon with cheddar cheese), Pizza Bundles (pepperoni, any cooked veggies you want, and mozzarella cheese), and even Vegetarian, BBQ, and Breakfast Bundles…the possibilities are endless!
NOTE: Whatever variety you make, cook the ingredients (except the cheese) before you put them in the dough.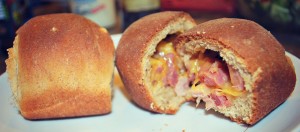 Ham and Cheese Bundles
This makes approx 16 Bundles which serves anywhere from 8-10 people
Prep Time: 2 hours 15 min (allowing for dough to rise twice) Bake time: 15 min
Ingredients
Bread or Roll Dough (here is one of my favorites)
2 Ham Steaks (feel free to use leftover Ham from a Spiral Ham or even sandwich ham in a pinch)
1/2 medium Onion diced
2 cloves of Garlic
1 TBS Olive Oil
Salt and Pepper
4 cups of shredded Sharp Cheddar or Colby Jack Cheese
1. Make dough as instructed and let rise for one hour or until doubled in size.
2. As dough rises place all the ingredients other than the cheese into a pan and heat on medium until cooked.
3. Place dough on a lightly floured surface. Roll dough into a rectangle shape approximately a 1/4 inch thick.
4. Using a Pizza cutter or a knife cut the dough into squares roughly the size of your palm (they don't have to be perfect).
5. In the center of each square place a heaping spoonful of the cooked ham mixture and a liberal amount of shredded cheese. Continue until all the filling is distributed.
6. Take the four corners of each square and pinch them together. Carefully twist them while pressing closed any seams and then push gently down to seal the bundle.
7. Place the bundle twisted side down in a glass rectangular 13×9 pan sprayed with baking spray or coated in butter.
8. Set oven to 400
9. Fill the glass pan with the bundles allowing them to touch. Cover with a towel and let rise for 1 hour (I place them on the warm oven). Don't worry if they don't get too much bigger!
10. Place Bundles into oven for 15 minutes or until evenly browned. Serve hot or freeze!
You can serve these bundles with any kind of dipping sauce that you want, simply pick what you feel goes best with the bundle. We love to dip the hamburger bundles in ketchup and mustard and the pizza bundles in red sauce.
To freeze your bundles simply cook them and then place them in a gallon freezer bag, then thaw/reheat them in the microwave.
STEP BY STEP PICTURES
Roll the dough into a rectangle and cut into squares.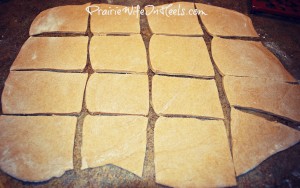 Place the filling and cheese onto each square and seal the Bundle.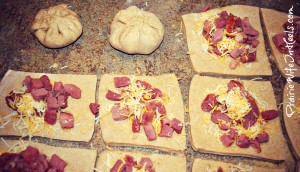 Place the Bundles sealed side down in pan, let rise, and then bake.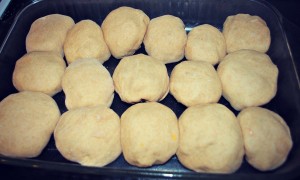 Categories: This and That
Tags: , freezer meals, Ham and Cheese Bundles, Main Meals, recipe, school night meals, Stuffed Rolls