Prairie Wife of the Week Michell from Girl In Air
Posted January 16, 2015 by Prairie Wife - 74 comments
Here at PrairieWifeInHeels.com we are all about Target and Amazon.com but, we also believe strongly in supporting our local businesses and small town entrepreneurs! Michell, owner of Girl In Air, a super charming home decor and DIY supply store, was the perfect pick for our Prairie Wife of the Week for a multitude of reasons. A woman, wife, mother, business owner, blogger, artist/crafter/DIY, and teacher…you name it Michell does it! Her desire to teach others to create for themselves, as well as her willingness to donate her work to help others in her community make her an example for us all. When I met with Michell I was impressed with her talent and ability to multitask. She whipped out an awesome custom sign as we chatted away, without missing a beat. I appreciated her honesty about her struggles as a business owner, as well as the advice she gave me from her experiences as a blogger. I can't wait to see your comments after you read her story!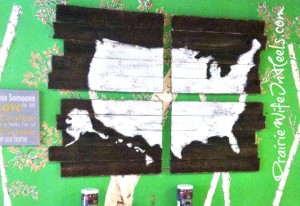 Michell has offered our readers an amazing chance to win a custom made piece of art, created by her! This USA painting is made of Cedar plank wood and the size is 24×36. Stop by the end of the interview to enter to win. All you HAVE to do is comment but you can earn more entries by following PrairieWifeInHeels.com and Girl In Air on Social Media. Please be honest, we will be checking!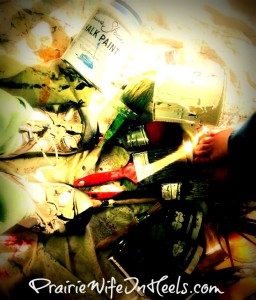 Prairie Wife (PW): First tell us a little bit about your family.
Girl In Air (GIA): I grew up in Houston and moved to Cody, Wyoming when I was 19. For some people that might have been a drastic change but, I loved everything about it! I got married and had two daughters. After my divorce I moved to Laramie to attend the University of Wyoming. My plans changed and I ended up becoming a flight attendant for United Airlines. I met my current husband in 2008 and moved to Casper to be with him. My son was born when I was 40. He has been such a blessing to me, and I just love spending time with him. Having grown daughters I know how quickly the time goes and I find myself really appreciating that with him.
PW: Currently you own a store called Girl in Air here in Wyoming. On top of this you have a blog and online store, and are a woman, wife and mother. We'll be talking about all that in a minute but first, tell us how you began creating your own home décor and crafting?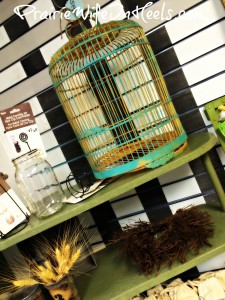 GIA: It actually started during my pregnancy with my son. I had some complications and was forced to quit my job as a flight attendant and stay home. I began to crochet to ease the boredom. I would post my work on FaceBook to share with family and friends and soon people on FB were asking how I made things. I love to teach others, so it seemed natural to me to begin doing DIY tutorials. This was before Pinterest really became big so, I started my blog as a way to give others an easy way to access my tutorials. At this same time we built a house and as I was decorating it and creating the space I shared that with my readers as well. Watching me go through the process of decorating a house (and my son's room) people really became involved, much more than I ever expected. Everything just kind of took off from there!
PW: From perusing your store and blog I can see that you work with wood, metal, stone, jewelry, AND crochet…is there anything you won't try?! What are your favorite types of projects?
GIA: I'm willing to try everything and anything. I've found that whatever I try seems to always turn out OK, and even better than expected! I think that through the years I've learned that if you are willing to put the effort and time into creating something, or trying something new, it will always work out.
I love when my customers bring me things from Pinterest they have seen, or pictures from magazines and catalogs, and ask me to create it for them. I love a challenge! It's really amazing how many videos and tutorials are out there to offer you help. Just Google stenciling on wood on YouTube and you'll have thousands of options. Another passion of mine is using my craft to help local charities. It's been an unexpected part of starting my Girl In Air store.
PW: Tell me about your blog and online store.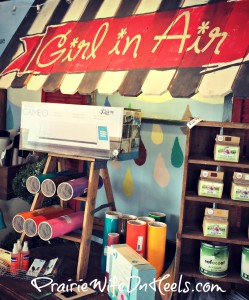 GIA: As I said before, my Girl In Air blog is tutorials and inspirational pictures (stop by my Pinterest page to see it all) for my readers and customers. I love sharing my creativity with the world, and inspiring people to do the same. Fairly soon after I began blogging I started to be featured on other blogs, and various businesses and magazines approached me to share my work. This was a great motivator for me because it prompted me to go bigger and try new things. While I don't blog nearly as often now that I have a store I still really enjoy sharing what I'm doing with my readers. Instagram (@girlinair) has been a great way to do this without all of the writing (I am not a fan of writing lol). I also enjoy the interaction with people that a blog and social media provides; it's so fun when readers share with me their successes!
The online store is not only my personal creations but also tools for crafters. So in a way it really just reflects what I blog about…my projects and the tools I use to make them.
PW: What led you to start your own business, what are the pros and cons?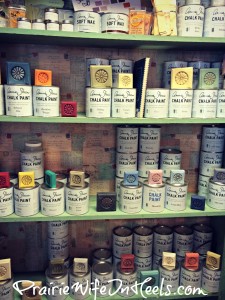 GIA: In truth I really had no idea what I was getting into when I opened Girl In Air, I was naïve! I was doing the blog and online store, being featured in various magazines and even doing monthly tutorials for our local News Channel. It occurred to me that rather than simply have my things sold online and doing "virtual tutorials" I should open a store and have everything in one place. That way people could see and touch my work, and I could do workshops and be right there to offer support. Another motivator for me was Annie Sloan Chalk Paint. I love her products and really wanted to share them with my customers but, you have to have a store to sell them.
I had no idea how much time and energy owning your own business would take. I didn't realize how much it would take to create a store full of products (all hand crafted by me) in time to open…and then keep things coming! And I am the first to admit that I am hopeless with the accounting and numbers side of things. Years into it and I am still working out the balance. I'm learning how to price my work and be comfortable asking for money in person, rather than online. I know that sounds weird but, I am so focused on the creating part it's a struggle for me to think about all the other areas of owning a business like this. But, I am learning each day. Like I said before, all you have to do is dive in and be ready to work, and everything will turn out!
PW: You mentioned before how much you enjoy working with local charities. What exactly do you do?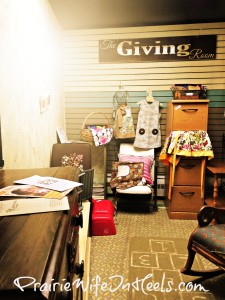 GIA: I just created what I call The Giving Room in my store. People bring in any old items they think I can use like windows, furniture, barn wood etc. It is priced and placed into the room. The profit from anything that sells from that room goes to 12 local charities (each charity has a designated month). If possible I try and create something with what people have brought, like painting it or making a window into a picture frame. Many of my customers are DIY and are coming in for tools and supplies so they stop in and see something and become inspired and purchase it to turn into a custom piece for themselves. I also have volunteers that will come in to work on the pieces and then put them back into The Giving Room to sell. In the future I would like to hold a workshop to show customers how to use a certain technique, and have them decorate the items that will then be placed back into The Giving Room. Then they go home knowing how to create something new but having helped their community as well!
PW: As a mother with a young son how do you keep your balance between work, family, and friends?
GIA: I'll let you know when I have that figured out!
PW: What tips do you have for those of us that see the lovely items in your store and the projects on Pinterest and want to give it a go?
GIA: Just go for it! The worst that happens is that you end up repainting something. Do your research and watch the videos and tutorials before you start to work on the projects. Stop by some of the stores in your town, like Girl In Air, and see if they offer workshops. Even if they don't, the people that work there usually can help you get started, and answer many of your questions.
PW: You've recently begun teaching workshops through your store, what gave you the idea to do this?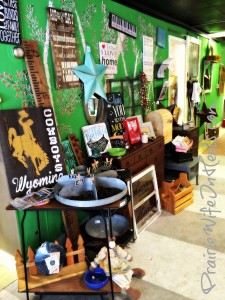 GIA: It was one of my hopes for having a store, that it would offer me an opportunity to teach face to face rather than just through my blog. Throughout the year I travel around the US to learn how to use various products and new techniques. It's something that I really enjoy doing. I decided to offer classes to show what I've learned through workshops I've attended, or just my experience. It's been hard to find hours that work for both my customers and I, but I'm working on it! My workshops aren't about bringing a bottle of wine and chatting with your girlfriends (though those are fun). My workshops come more from a place of education, and showing you how to create with new techniques and materials.
PW: Where would you like to see yourself in five years?
GIA: I would like to see my business continuing to grow with more opportunities to hire employees to do all the stuff I hate. Then I can just create, sell and teach workshops…all the stuff I LOVE! I would like to be able to work more on the blog and continue to have the opportunity to teach people all over the world how to do what I do. I hope that I can continue to keep my son a priority, even though having my own business has allowed me to spend more time with him than a "regular job", it's just never enough!
PW: Any last Prairie Wife words of wisdom?
GIA: "She thought she could, so she did!"
If you're ever in town make sure you stop by Girl In Air 134 E Midwest Ave, Casper WY (307)337-3926
Categories: #GiveAways, Prairie Wife of the Week
Tags: , blogging, crafting, DIY, Girl In Air, Giveaway, home decor, Prairie Wife of the Week, small buisness