Save Money on Your Grocery Bill
Posted January 14, 2015 by Prairie Wife - 6 comments
In our 2015 New Year's Resolution Roundup one of my resolutions was to try not to spend so much. This post is the first of several sharing what I have done to trim our budget. In the spirit of full disclosure I have been working on this particular post over the course of several months, not simply since New Year's Day!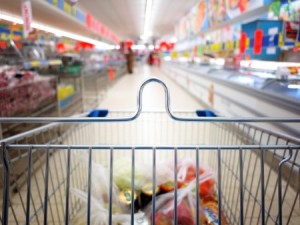 First a little background for our readers that may be newer. My family consists of me (a 35 week pregnant 30 something woman), my husband (The Cowboy) and four Cowkids. Three Cowboys ages 8, 4, and 23 months and a Cowgirl age 6. We live out of town and only eat out on average twice a month. Now this IS subject to change depending on my various stages of pregnancy (cravings) and exhaustion but, the reality is, that I cook mostly from scratch at home. The two oldest Cowkids eat Hot Lunch at school once a week with perhaps a few extra times a month if they request it. We only drink water (which we have to buy) or milk and the sweet treats are mostly homemade. I do not purchase organic fruits or veggies unless they are on sale.
On average in one WEEK (give or take a day or two) we go through 3 gallons of milk, 24 eggs, 1 pound of bacon, a bunch of bananas, a bag of apples, 3 cartons of berries, 2-3 heads of lettuce, 1 bag each of carrots, sweet peppers, and celery, 1 ½ boxes of cereal, 14 containers of yogurt, two loaves of bread, 1 package of string cheese and a whole bunch of other food I am not going to bother listing. We also have at least 3 other people over for a meal once a week (and have guests staying for a few days about every other month). While we mostly eat Elk meat, I do purchase breakfast meat, pork chops, and chicken from the store.
Before this experiment our monthly grand total we spent on groceries was $1,000 and I went to the grocery store every week.
Below I have listed what I have implemented over the last 3 months that saves us around $300 a month on our bill! I have to tell you now that I DO NOT clip or print coupons. If you are looking for an extreme couponing post stop now. I understand that I could save even more money for our family by doing this (growing up Ma would spend hours cutting and organizing coupons) but, I simply do not have the time or organization…not to mention desire or patience to do this.
• Make a list and stick to it. The best thing I did was invest in a magnetized grocery list pad that sticks to the fridge. As soon as The Cowboy or I notice something is running low we put it on the list. And I stick to the list…no going rogue! Part of this is also never letting The Cowboy go shopping; he has no impulse control at all at the grocery store!
• Try to go to the store only every two weeks. This was something I didn't predict would make a big difference in our budget…but it has. When I see the fridge starting to dwindle by the middle of week two I find new creative ways to cook with what we have (much less waste) and also find myself using items from the pantry that would have probably been ignored until next year's can drive!
• Buy in bulk. My friends will tell you that I fought this one tooth and nail. What can I say? After going to the same local grocery store every week for 6 years I had developed a strong attachment! As I sat down and really looked at the massive amounts of food we went through weekly I knew that I could go to our local bulk store and buy 36 eggs and get them all used before they went bad…and that it was silly to ignore the savings of shopping this way. We did end up buying a refrigerator to keep in our garage to help store the extras.
• Make a meal plan. You can stop by our Pinterest Organization Board for some really specific meal plans but I prefer to do a more general one. The night before I go to the store I take a look at the calendar and jot down a few meals a week that I know for sure I want to make. Perhaps you know company is coming and you want to do a roast, jot it down on the calendar and add the necessary items to your list. Or maybe there is a new chili recipe you want to try…put it on the calendar and immediately add the ingredients to your list. This helps me to keep variety in our diet but, also ensures that nothing goes to waste.
• While I don't do coupons I do use the App on my phone for our local grocery store. Despite buying in bulk every few weeks I do stop by our smaller store for certain items I can't find at the other store. They have an easy to use App that allows me to simply place coupons on my card by clicking on the sale item. On average I save $20 a trip with this (and I also get gas rewards).
• Buy generic. In this day and age there is really no difference between name brand and generic, other than price! So when I can, I buy generic or store brand. It tastes just as good and often costs dollars less!
What do you do that helps you to save money on your grocery bill?!
Copyright: / 123RF Stock Photo
Categories: Life As It Happens, Prairie Life
Tags: , budgeting help, grocery shopping, lists, New years resolutions, Prairie Wife Life, save money, save on grocery bill