Spaghetti Headz #giveaway
Posted January 12, 2015 by Prairie Wife - 30 comments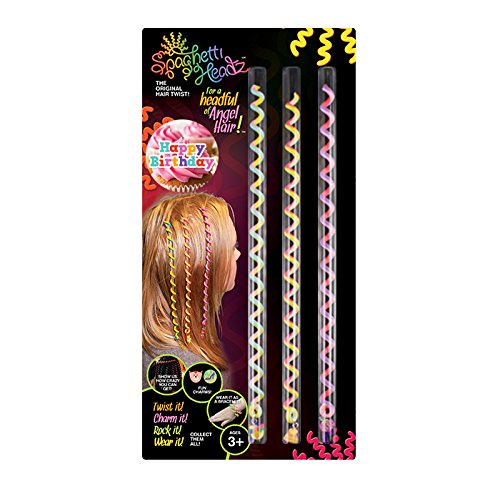 When I first received an e-mail asking me if I would like to try Spaghetti Headz hair twists I wasn't sure if they would be a good fit for us. After all, Cowgirl G had just chosen to chop off her lovely locks into a short and sassy bob. I took a few minutes to browse the product online and after taking a look knew that Cowgirl G would love then, even with her new do. I had the people at Spaghetti Headz check out our Prairie Wife Guarantee to make sure we were on the same page, and received the Spaghttie Headz the next week. Cowgirl G was ecstatic and bounced up on down while she waited for me to open them.
This would probably be a good time for me to admit that I am NOT one of those moms that can do their daughters hair all darling and Pinterest cute. Cowgirl G has pretty much been "styling" it on her own since the age of three, and I started to keep a brush in the van for all the times I forgot to even brush it before we headed out the door. Her new cut was the best decision ever (wash and wear), and I keep my fingers crossed that Cowgirl G will take over doing CowBaby5's hair when she has enough to need attention.
Needless to say I was a little intimidated at the idea of trying to place the Spaghetti Headz in Cowgirl G's stick straight and somewhat fine hair…I shouldn't have worried. After one attempt the Spaghetti Headz twist easily wound around Cowgirl G's hair, and stayed in without any slipping until nap time (about 4 hours) when she took it out (with no snags or rats left behind). We chose not to cut her Spaghetti Headz to the same length as her hair, but it is an option. After I placed her first Spaghetti Headz twist in her hair Cowgirl G spent several minutes gazing adoringly at herself in the mirror. She then came back and wound another Spaghetti Headz around her wrist as a bracelet and then immediately grabbed her American Girl Doll and asked me to show her how to put one in her hair. It only took her three tries and she had it down, and ran off to play.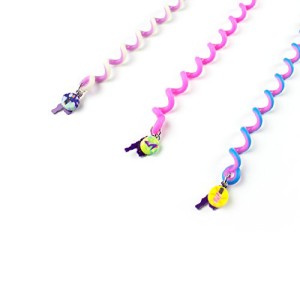 This is a cute product that I can foresee Cowgirl G and her friends having lots of fun with! The variety of charms and styles are numerous and I know you can find just the right style for your little girl! I already have plans to buy a few packs of them to break up and put in her Birthday Goody Bags for her friends. I'd say that the ages that would most enjoy this product are 4-9 year olds. The younger girls will like the bright colors (and you can even style it to make it look like a crown) and the older girls will have fun trying out looks on each other!
The great people at Spaghetti Headz have offered to do a giveaway with THREE winners! One grand prize winner will receive a package of Spaghetti Headz hair twists of their choice and two runners up will receive 25% off a set of Spaghetti Headz. All you need to do is leave a comment about your favorite way to style your daughters hair. You can earn more points towards the giveaway by following us on social media. Please be honest, we do check!
Categories: #GiveAways, Reviews
Tags: , girls gifts, Giveaway, hair ideas for little girls, motherhood, product review, spaghetti headz