Tim Gunn's Fashion Bible by Tim Gunn
Posted January 10, 2015 by Prairie Wife - 3 comments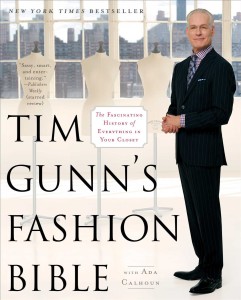 Most of my reading is done on my Kindle, I can't speak highly enough about this lightweight modern marvel! But, every once in a while there is a book that simply must be bought in its "true" form. For Christmas Santa got me a copy of Tim Gunn's Fashion Bible "The fashion history of everything in your closet." I took full advantage of The Cowboy being home for a few days and read it cover to cover in the course of a few days. Now, I wouldn't recommend this book to everyone. You definitely need to have a certain level of interest in both history and fashion to find this book worth your time. If you simply like to shop or appreciate a fashion magazine now and then I wouldn't encourage you to pick this up.
That being said I wanted to write a post sharing with you some of the great tidbits of fashion advice I read in this book! Tim Gunn isn't afraid to share his opinion and while he and I will have to just agree to disagree about athletic wear and if it is appropriate to wear out and about (I say yes and he says no, no, NO) I finished his book ready to charge forward in 2015 with a more focused outlook on my personal style. Don't forget to follow us on Pinterest for weekly fashion and life inspiration!
• Shape wear was invented for a reason, use it! Take the time to try it before you buy it and find a style and size that smooths your problem areas. Is it 100% comfortable…no! Is it worth looking and feeling your best, yes!
• Take the time to find the best style of jeans for your body type and lifestyle. Just because skinny jeans are fashionable doesn't mean you should wear them. If boot cut with a high waist looks best on you, wear them! Don't pay attention to size; no one can see the tag. If you invest in an expensive pair remember that darker wash is dressier and appropriate in more places than faded.
• Dresses come in two styles draped (think flowy and looser) or tailored (fitted and structured). Take a look at your closet and see what you lean more towards (and make sure you look the best in this style) and keep an eye out for those qualities when shopping for new items.
• Skirts come in a variety of lengths, fits, and fabrics. Pick what works best for your age and lifestyle. A tight pencil skirt is not best for a busy mother with young children, but a knee length a-line skirt is perfect. If you think it might be too short or tight…it probably is!
• Never underestimate the power of a belt to transform your outfit and shape!
• If wearing sky high heels isn't practical for you then don't wear them! Kitten heels and flats are a perfectly acceptable substitution. No matter what you choose, make sure your shoes are well taken care of, and make sure you hem your pants to a flattering length!
• Spending hundreds upon hundreds and even thousands of dollars on a purse is just silly. There are plenty of quality fashionable purses sold at reasonable prices. Once again pick a style that works for you, moms will naturally need more room and pockets than a single 20 something. Everyone needs a nice small clutch for a night out on the town.
• Big cost doesn't necessarily mean the best quality. Buy the best you can afford (without being obscene) and make sure your clothes fit you and your lifestyle…you'll always look classy, confident, and chic!
Categories: Prairie Wife Style
Tags: , Book Review, Fashion, fashion advice, fashion tips, fashion tricks, Tim Gunn