Magazines Are My Luxury #giveaway
Posted February 9, 2014 by Prairie Wife - 7 comments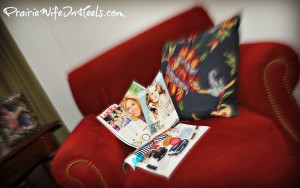 As I was sitting on the couch paging through my January issue of Marie Claire (I am a little behind right now) I was struck by a thought. Why does this feel so much more luxurious that sitting and reading a book (well actually my Kindle but you get the point)? I know right, luxury is sitting on a chair covered in dried snot and who knows what else, and paging through a magazine? But, to this Prairie Wife and mother of four it is! Reading books is as necessary to me as breathing and completely ingrained into my daily routine. As soon as the kids go down for their nap I ignore everything else that needs done and take that time to read…and sleep. Same for bedtime, after I watch an hour of trashy totally not kid appropriate TV (Girls is a current vice) I read from my bible and spend the rest of my time reading my Kindle, until my eyes are drooping and I absolutely have to go to sleep!
But magazine reading is a special treat, magazines are my luxury! Something I can only do in a few stolen minutes; when I suddenly realize the house is clean, the kids are quiet (in a productive and safe way), and I'm caught up on my blog. I can curl up on my "snot chair" with a cup of tea and page through the glossy pages of a magazine. The bright photographs, the intriguing articles and even the ads, pull me into a trendy chic world that is completely different from my current Prairie Wife gig. I see ways that I can update my wardrobe, change my makeup routine for a fresh new look, and organize my closets…all in three simple steps! Current events articles and exposés on the struggles and victories of people an ocean away, make me feel intelligent and connected to the professional world of Texas Two Steppin'.
Maybe it all leads back to my first exposure to fashion magazines. As a freshman in high school (in the 90's) I was totally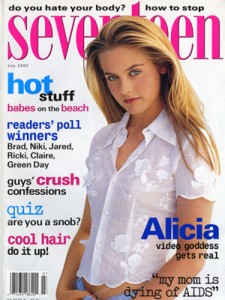 into Nirvana and the combat boot wearing, flannel shirt, greasy hair look. I had two older brothers living at home (Texas Two Steppin' is 10 years older and had flown the coop long ago) and was solidly stuck in my tomboy roll. Ma would drop me off at the orthodontist every month to go get my braces tightened while she ran errands. As I entered the waiting room I knew I would have at least 20 minutes to wait before my name was called. I would slowly sneak to the magazine rack and grab Seventeen and devour every page of it, they even had Cosmo Girl! It went against everything I thought I was; tough and totally above wearing makeup and dresses (can you see that teenage eye roll and sarcasm)…but I couldn't help it! I loved to read about how to "combine a crop top with you overalls" or the quizzes "Are you the popular girl or a nerd?" and let's not forget about all the "real" live things that happened to readers…"I was swimming in my friends pool and I farted, when I turned around her totally hot older brother was there!" Oh no…
It was many years later when I actually had enough nerve to admit to the world that I was over the tomboy thing, and ready to embrace being a woman. Some people, like The Cowboy, may say that I have gone overboard with my love of fashion and beauty. But what does he know? For the first two years we were dating all I wore was jeans and a University of Wyoming t-shirt and hoodie. And a girl can NEVER have too many shoes! I have my magazines to thank for my new found confidence in who I am as a woman, wife, and mother. Rather than be intimidated by the beautiful models and way out of my price range clothing, I am inspired! I look at what I already have in my closet, or browse the clearance racks at Target and find ways to take their high end fashion looks, and make them my own Wyoming Prairie Wife look! I appreciate being able to add something to a dinner conversation with The Cowboy besides nursing and discipline tips. And I am the crazy lady that actually tears out the workout cards, and uses them to liven up my boot camp routine.
So I say thanks to all the magazines out there, for allowing me to be the best version of myself. Thanks for giving me a reason to take precious minutes when I probably should be cleaning or playing with my kids, to indulge and focus on myself as well as broaden my horizons. And finally, thanks for giving me a ton of inspiration for both my life and my blog!
As Texas Two Steppin' and I were discussing all the things we love and wanted to share without readers for the month of February "We LOVE Our Readers" giveaways, I immediately thought about my favorite indulgence. So, make sure you enter to win a year subscription to either Marie Claire (One of Prairie Wife's favorites) or Lucky (One of Texas Two Steppin's top picks)!
Categories: #GiveAways, Reviews
Tags: , Giveaway, Magazines, Prairie Wife, Relaxing