Easy One Pot Homemade Spaghetti Sauce
Posted October 25, 2014 by Prairie Wife -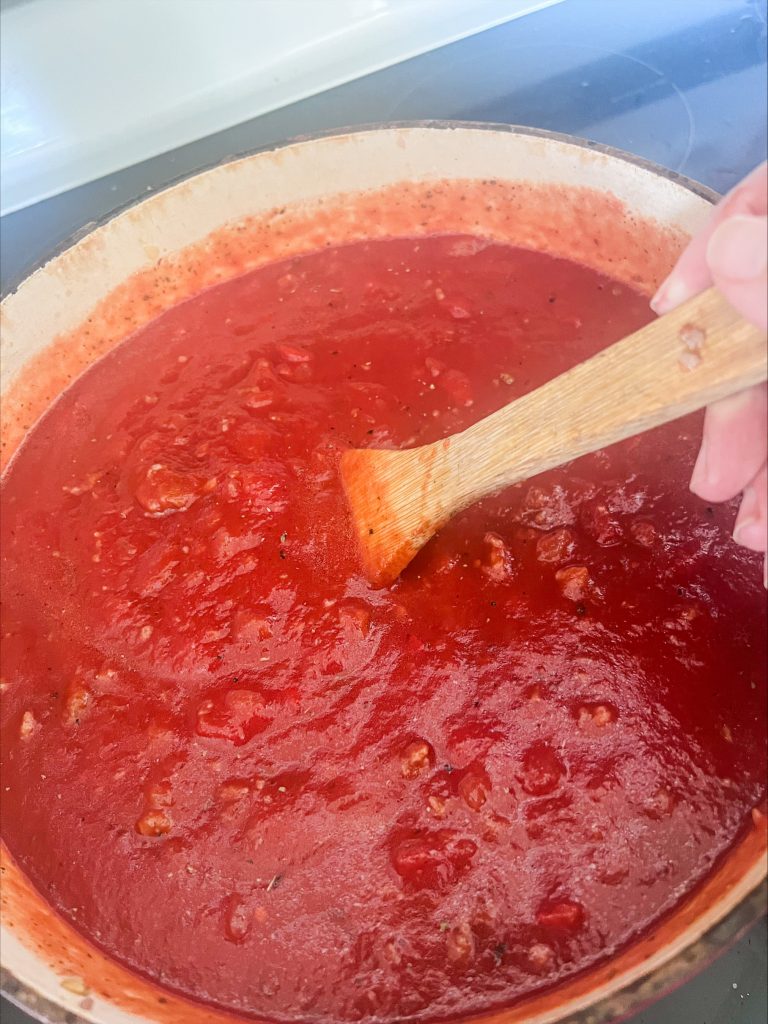 When I finally dived in and made my own Homemade Spaghetti Sauce I felt like I had really accomplished something!
A pot of simmering Spaghetti Sauce on the stove is just so homey. I spent the first few times just throwing in this and that until I settled on a recipe with good flavor and consistency that the whole family gave two thumbs up.
Feel free to brown some ground meat (we like Italian Sausage) in your pot and then add the other ingredients to simmer and stew if you prefer meat sauce.
I also like to sneak in extra veggies (and thicken the sauce up a little) by adding a cup of pureed zucchini, squash, kale, or spinach. It won't change the flavor but adds more fiber and vitamins.
Or, make a batch of our Quick and Easy Meatballs and throw them in to make a hearty Spaghetti dish that will have your kids (and husband) asking for seconds!
Easy One Pot Homemade Spaghetti Sauce
Prep Time: 15 min Cooking Time: 30min-6 hours
Serves 8-10
Ingredients
1 med Onion, finely chopped
4 cloves of garlic, minced
2 tbs of Olive Oil
1/2 cup chopped Sweet Pepper
2lb of Tomato Sauce (that's two large cans)
2 14.5oz cans of diced tomatoes (fire-roasted ones add more flavor)
1tbs dried oregano
1tbs dried basil
1tsp dry fennel seeds (crush them to release the flavor)
Salt and Pepper to taste
1. Take a large sauce pot and place the onion, garlic, olive oil, and sweet pepper into the pan. Saute on med-high for approximately 5 minutes or until they get soft. If you add meat to the sauce, put it in now to brown as well.
2. Add all the other ingredients and stir thoroughly. Place the lid on and bring to a boil.
3. Once the sauce is boiling, let it simmer for 20 minutes hours, depending on your schedule, stirring occasionally. The longer the sauce simmers, the more flavorful it will be.
4. Serve hot over pasta.
Note: If you add meatballs, I like to cook them first and then just add them to simmer for the last few hours. If you are using frozen meatballs (that are precooked), add them frozen into the sauce at least 1 hour before serving.
Categories: Recipes, This and That
Tags: , Easy Recipe, Food for the Family, healthy dinners, Main Meals, One Por Sauce, Red Sauce, Spaghetti Sauce, vegetarian