Quick and Easy Meatballs
Posted May 18, 2014 by Prairie Wife - 3 comments
I've mentioned before that The Cowboy loves anything with red sauce, but the constant rotations of spaghetti, ziti, and lasagna can get a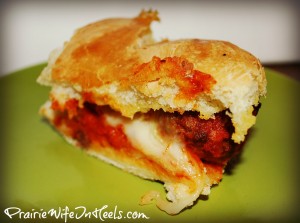 little old. One thing that helps break it up are these quick and easy meatballs. I love to make a huge batch and use them in spaghetti, or my personal favorite-meatball subs. Another way I serve them is with sweet and sour sauce as a tasty appetizer at parties. With this big batch I usually have extras, and they freeze wonderfully. On busy days I just thaw the already cooked meatballs and use them to throw together a tasty, healthy meal in less than 30 minutes. I am a huge fan of grinding up squash and zucchini and adding a ½ cup of the puree to the recipe to sneakily add some extra veggies. I've also been known to add shredded cheese, finely chopped spinach and/or kale and onion to switch up the flavor!
What's your favorite way to use meatballs in a recipe?
Meatballs
Prep Time: 15 minutes Cook Time: 30 minutes
Makes approx 40 small meatballs
2lb ground meat (I use elk but beef, turkey, or a mixture is fine)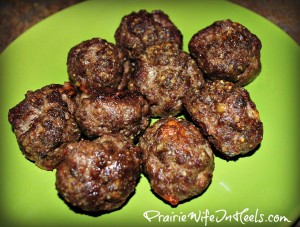 2 eggs (you can substitute ½ cup Greek Yogurt)
½ cup Italian bread crumbs
2 cloves garlic, minced
1 tsp onion powder
¼ cup Parmesan cheese
Salt and Pepper to taste
1. Set oven to 375 Degrees
2. Combine all the above ingredients and make sure they are evenly mixed
3. Spray 3 pans with non stick spray
4. Take approximately 3 tbsp of meat and form into a small ball, place meatballs evenly on pans
5. Cook at 375 degrees for 30 minutes.
Categories: Recipes, This and That
Tags: , Appetizers, Meatball Sub, Meatballs, On the Side, Spaghetti