Where the Magic Happens
Posted May 19, 2014 by Prairie Wife - 5 comments
One of my friends who is a blogger herself, and reads quite a few blogs asked me when I was going to share about where I write. Firstly, I asked her what she meant…and apparently I have been terribly rude not to show my readers where I do all my work! So firstly, I apologize, and secondly here you go!
Until recently I simply had my laptop sitting on the kitchen island surrounded by all my junk and trying to keep it as free of food and the Cowkids' grubby hands as possible. But, a few weeks ago we made a big switch in our house. We went from our table that seats six and bought a table that can seat up to ten. Our family had simply outgrown our old table, and the dining room. So we switched the dining room and sitting room around, and as of today are starting a big (for us) remodel. We are taking our porch and changing it into a mud room (do you hear the angels singing), and adding a big deck around the house too. We will be moving around a few windows, resulting in even more natural light in the house-yeah! (I'll share some pictures soon)
I was the most excited about switching the furniture around because it finally meant an "office" area for me. Now that our blog is taking off I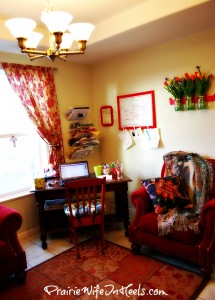 spend between 4-6 (OK sometimes more) hours a week on the computer, and I really needed my own space. I already had a calendar area set up on the wall and it made perfect sense to tuck my "library table" into the corner. The calendar is vital to our life, and I love that it's large enough to fit all of our activities on it. The framed white paper on the left is where I write notes and add important dates for the next month. Clothes pins at the bottom offer an easy way to keep track of permission slips and wedding invites (thank you Pinterest). The overflowing wall mounted paper rack is where each of the Cowkids' school work is kept. All their favorite drawings, and papers they are the most proud of, get shoved in there and then put into albums…whenever I get around to it…One of my favorite things is my flower vases, another Pinterest project begrudgingly yet beautifully done by The Cowboy!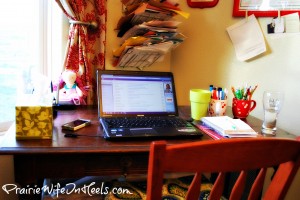 My desk itself is actually a family piece. Ma always had it in our living room growing up and called it the "library table". Shortly after The Cowboy and I were married, she mentioned that she was planning on getting rid of it, I was aghast. She lovingly offered to ship it (and one other piece I loved) across the Mississippi and I am so happy she did. It's a little bit of home here out on the Prairie. On it I have my laptop which, for obvious reasons, is vital to my blogging. Kleenex in a house full of snotty kids (said with love) must always be at hand, and my princess doll was sewn for me by Cowgirl G as a gift this Mother's Day. Like most modern moms my iPhone is never far away. Second to the computer in my blogging life is my day planner. Texas Two Steppin' and I map out our blog posts over a month in advance and then each day I have a to-do list of things. I love to make lists and crossing things off and putting checkmarks next to them gives me a happy little satisfied buzz every time! I always have water with me (in a big glass) and my pencils and whiteboard markers are easily accessible for both the Cowkids and I. My bright green flower pot is full of PrairieWifeInHeels.com business cards (I hand them out and leave them all over the world, literally) and adds a fun jolt of color. Add to this scene the constant chirps and buzzes from dozens of kids' toys and the pitter patter and noise of the four Cowkids loving life, and it should give you a pretty good idea of where the magic happens!
What is your favorite spot in your house?
Categories: Life As It Happens, Prairie Life
Tags: , blogging, Decor, Homestead, organization, Prairie Wife Life, writing