South Hill Designs #Giveaway
Posted May 17, 2014 by Prairie Wife - 30 comments
I love going to parties, it's a great excuse to dress up, get out of the house and chat with girlfriends. In the last few years there have been a whole slew of products that are sold by independent consultants rather than through a store. Several of my girlfriends have begun selling products, and most of them do it by throwing parties. Now, if I am being honest, at first it was overwhelming! I was invited to at least two parties a weekend and frankly my budget started to get stretched more than a little thin. While l loved some of the products (Rodan and Fields, Thirty One Bags, and Jamberry Nails come to mind) there were some that just didn't fit for me. I would go to the party eat the food and chat away and then feel guilty about not buying anything, and try and sneak out as quietly as possible!
This guilt all ended when I threw a party of my own, it was a Mary Kay and Purse party. A bunch of gals showed up, we ate food laughed and chatted and at the end of the day only about ¼ of them bought anything…and you know what? I was totally fine with it! Everyone had a great time (most of all me) and I got to help a few of my friends sell some products, and got some perks of my own. After this expeirance, I no longer felt guilty showing up at a party and not buying anything, after all there were just as many times I showed up and spent way more than I planned!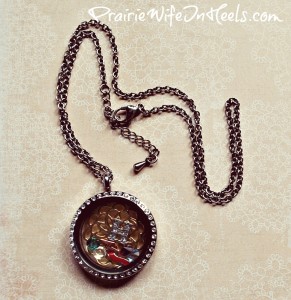 Flash forward to a few weeks ago and I attended a LuLaRue party (more on this amazing company in a few weeks). As I walked into the kitchen to have some more of the ah-ma-zing spinach dip and chips, I saw some jewelry laid out on the table. Like a moth to flame I was drawn to all the little containers and the sparkly necklaces. It turns out that there was also a gal there selling South Hill Designs jewelry, which I had never heard of. South Hill Designs necklaces are beautifully crafted lockets, coins, and charms, that you can use to tell your own personal story, which you know is a big part of PrairieWifeInHeels.com!
I immediately sat down, picked out my locket and coin…and then stopped. There were so many charms to pick from it was a little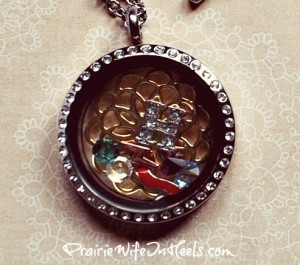 overwhelming but, I took a deep breath and dove right in and started to pick my favorite charms. The best thing about doing it at a party was that I could see when the charms I picked weren't working well together, and I could switch them out. In the end I ended up with a super cool necklace that showed what mattered most to me. I picked out birthstones for each of the Cowkids (I love that you can always add more if you have another baby), my last name initial, a high heel for obvious reasons, and a lightning bolt as a symbol of strength. I put it on right then and there and wore it home. I just love that I could mix up silver and gold, a trend I am really into right now. I've had it for over two weeks now and it has stood up to Cowboy C's not so gentle pulling and trying to eat it. I also like that I can make the chain longer or shorter depending on my neckline. South Hill Designs also has other great products like earrings and leather bracelets that this rocker mom is drooling over!
Our local South Hill Design Independent Artist Terry has set up an amazing giveaway for our readers, it's a beautiful locket made especially for our Prairie Wives! Enter below and don't forget to tell your friends to stop by and enter as well!
Categories: Reviews
Tags: , Charms, Giveaway, jewelry, Lockets, organization, South Hill Desgins, style, trend