Prairie Wife of the Week May 9, 2014
Posted May 16, 2014 by Prairie Wife - 5 comments
We first met Chasetity and her son last year in November. She shared her story of having a son who has developmental delays and her struggles to have him tested and receiving a diagnosis. Her hope was that a more clear diagnosis would allow them to get him more specific therapy, resulting in more improvement in his speech and behavior. In hopes that we can offer parents struggling in the same way support, we chose to have her again as our Prairie Wife of the Week. She gives us an update on her son's progress and continues to show her Prairie Wife strength as she fights for a better life for her son.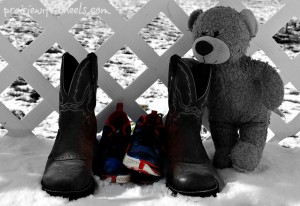 Prairie Wife (PW): At the end of your last interview you were waiting to hear what your son's official diagnosis was, how did that end up?
Chasetity (C): That didn't end up working really well! The diagnosis came back as "mild retardation." That's it. After he had a diagnosis, we could finally apply for a waiver that would allow him to receive help from the state. With this diagnosis of mental retardation, the wavier would only allow him to qualify for speech help, and then again when he was older and was ready to live on his own, he could have therapy again. My translation of this was that they were giving up on him. To receive the help from the waiver system there is a two year wait. There was no way we were going to sit and go two years without helping him.
PW: What did you decide to do next?
C: After that diagnosis we felt in our hearts it just wasn't right. There was a lady at our son's preschool who recommended the Wholeness Center in Fort Collins, CO. The care there is a mixture of modern medicine and all natural remedies. We made an appointment (it was surprisingly easy to get in) and we were optimistic but so nervous. We met with him for a hour and talked while he watched our son play, and he asked us a ton of questions. There was a urine test but no blood work. The urine test came back with a lot of yeast, so we put him on an antifungal regiment. He is also on 6 different supplements, which I purchase through Amazon.com, though you can buy them through the Wholeness Center. They still haven't felt comfortable giving him an official diagnosis but they are leaning towards placing him on the Autism spectrum.
PW: Why did you choose to try these kinds of therapy to help him?
C: I just felt why not? I wanted a second opinion; the mild retardation just didn't fit him. I wanted to try everything we could and I like the idea of all natural as opposed to putting chemicals into him. After we went to the Wholeness Center and talked to everyone, I just felt really confident in their ability to help him.
PW: What results have you seen?
C: I would say he is more alert and aware of his surroundings. I see him processing things and looking at objects in new ways that we had never seen before. Now he is pointing at everything and trying to talk to me and share what he's thinking. He has more variety with his sounds. Transitions still continue to be a struggle, but I think it has more to do with him having a better understanding of leaving and what it means, and him exerting his will more than he was previously.
PW: What do you plan to do to help him continue to grow?
C: He will continue to attend preschool at our local Child Development Center. We will be trying a new type of supplemental therapy with the vitamin B12. It's supposed to help detox his system further, and help his body start to process things better. They told us they would like us to go Gluten free, and we just aren't ready to do that full blown yet. That's been a struggle; especially living in Wyoming where there is no Trader Joe's not to mention the cost.
PW: What are your hopes and fears for the next year?
C: Hopes…that we continue to see more progress. I don't want him to say 500 words, but 5 words, that would be amazing. My fear is that he stops continuing to grow, and stays right where he is.
PW: Any more Prairie Wife words of wisdom?
C: Don't give up! I'm never going to give up on my son; I will always keep on working towards a better future for him, always.
Categories: Prairie Wife of the Week
Tags: , autism spectrum, Developmental Delays, natural remidies, Prairie Wife of the Week, support, therapy