Prairie Wife of the Week February 21, 2014 (Being Deaf) #giveaway
Posted February 21, 2014 by Texas Two Steppin' - 29 comments
In December I introduced you to one of my friends, Texas Smiles, and now you get to meet her wonderful sister-in-law, Lindsey. I met Lindsey and her precious family a few summers ago at the lake, and we bonded when I asked her where she got her cute embroidered tote bag and matching thermal. She immediately introduced me to the wonderful world of Thirty-One and fashionable organization. [Warning: if you read this article you run the risk of becoming an organized addict like me, especially if you win the giveaway!] I was impressed with her enthusiasm for her business, but was even more in awe of her generous spirit, kind heart and genuine smile. We spent hour after hour on the lakeshore chatting and laughing, and I never realized that she was legally deaf. Because she focuses on her strengths, inspires those around her to work harder and is an incredible example of how a positive attitude can overcome any obstacle, Lindsey is our Prairie Wife of the Week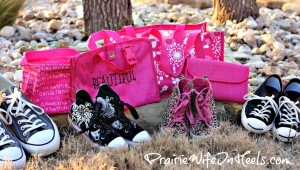 Texas Two Steppin' (TTS): Tell us a bit about yourself and your family.
Lindsey (L): Hi, I am Lindsey! Also known as the Bag Lady, Party Lady or Thirty-One Girl! I was raised in a little country town in Texas called Alvin. Most people only know of its existence because Nolan Ryan (famous baseball player for the Houston Astros) raised his family there too. I was very blessed to be raised by a mom and dad who knew nothing was just handed to you. If there was something you wanted, then you had to work hard to get it. I thank my parents and God every day for those strong work ethics because of the challenges I would soon have to face as a young child. I met my husband when I was just 15. Yep, you read that right–I was a freshman in high school, and he was the 6'5″ star of our HS basketball team. I had no idea he would become the love of my life. We were just kids when I think back on it! We were more like best friends who hung out when we were not busy playing sports. We both attended Texas A&M and earned our degrees. We had so much fun at college together and even got married during our last year of school. Just a few years later we decided to start a family of our own. Today we have been married for almost 11 years and have known each other for more than half of our lives!! We have two very smart and beautiful little girls—Lily, who is seven, and Kylie, who just turned six.
TTS: When I first met you at the lake, you introduced me to Thirty-One and showed me how easy it is to be organized when you have the right products. How were you introduced to these products?
L: That is a great questions because never in my life did I think I would end up in direct sales. For me, Thirty-One is one of my happy places!! I have always been a teacher at heart, and Thirty-One allows me to mentor, lead and help other women. My very best friend had a party, and I can't remember why, but I was not able to attend. We sat down at a later time to look at the catalog together and admire the new things she earned for free. I immediately fell in love with the prints and the quality of all of the products. It was not hard to get me hooked as a customer. I was a full-time teacher with two babies, and I was in desperate need to feel organized. My babies were only 18 months apart, and I had only been teaching for two years when I had my first baby.
TTS: What were some of the factors you weighed before joining the company? What have been the benefits and challenges?
L: Once I truly understood that Thirty-One was so much more than just selling a bag, I knew I wanted to be a part of this growing company. Thirty-One derives its name from Proverbs 31. My faith is very important to me; without faith I am not sure how I would make sense of all the challenges I have dealt with. The fact that Thirty-One not only has high quality products to help woman get organized at home, work or on the go, but they also truly believe in celebrating women for who they are! I have never had a job that celebrated all my accomplishments with me, that has encouraged me every step of the way and that rewarded me for all of my hard work until I became a consultant for Thirty-One Gifts. The benefits of being your own boss are endless!!! I get to set my own office hours, I don't have to ask my boss off when my girls are sick or if I want to attend a field trip with them and I can work as much or as little as I want. I get to determine the success of my own business. But most important of all, I get to be a stay-at-home mom while working from home! Every time I go to work I end up at a party–I love my job! But, of course, it does not come without its challenges; it's just part of life. I am constantly working to meet new people so I can keep expanding and growing my business. I am always willing to travel so I can meet a new group of ladies. It is so nice that I have a wonderful husband and fantastic friends who will help me with the girls when I have a show. So before you jump on board, I recommend you get your family on board too!
TTS: Speaking of challenges, would you mind telling us a little bit about your hearing impairment?
L: Of course, being legally deaf is definitely something I am not shy about. I have found by being "ME" and sharing my story with others, I have helped encourage many friends in more ways then I will ever really know. One day, when I came home from kindergarten at the age of five, I walked in the door shouting, "Mommy, Mommy, guess what? I got to take the hearing test twice at school!" My mom did not find that quiet as amusing as I did. After visiting numerous doctors and specialists to gather some answers, we discovered I had been born with a condition known as hereditary progressive deafness. Every year I lose a little bit more of my hearing. Now that I am 32 years old there has been quite a bit of hearing loss, and I am now considered legally deaf.
TTS: It is easy to focus on the negatives, but are there positives to not being surrounded by sound all the time?
L: Ha Ha Ha, oh my goodness, yes! When I was little I was not always a little angel (I know that might be hard to believe for those of you who have known me for a long time). I clearly remember being lectured by my mom and secretly turning my hearing aids off so I did not have to listen. It took her awhile before she caught on to what I was doing! As an adult, I have truly enjoyed being able to lay my head down at night and not be kept up by crickets outside the window. When my husband and I had our first baby we were a little nervous, like all new parents, but also worried about how I would handle little obstacles like waking up to a crying baby. Thankfully I have an incredibly supportive husband who is very patient, and he was always there to wake me up for the feedings. I cannot sleep with hard, bulky hearing aids in my ears, so it was nice that I never had to wake up by myself when the girls were babies. As for the mornings, I usually wait about 30 minutes before using my hearing aids because I enjoy the quiet before the hustle and bustle of the day begins.
TTS: I was reading your Facebook post the other day and love that you shared, "I am the worst singer in the world, trust me. This is coming from someone who is legally deaf. But each night when I put the girls to bed they ask me to sing them our version of Hush Little Girl." Does your hearing loss register with your girls and have you had to provide them with detail?
L: Oh, yes, they are very aware! Even when I taught kindergarten to hearing students they knew. I want everyone to know that you can do anything as long as you have the heart and desire to work hard. My girls know they have to be in front of me and looking directly at me so I can read their lips. I can still hear sound even if you are not directly in front of me, but I don't know what you are saying. Nothing in life comes easy to anyone. I have worked very hard at instilling strong values with my girls. I want them to be confident in themselves! They have big dreams, and I believe in them. It is my goal to raise girls that are compassionate for others and confident in themselves!
TTS: Although it seems contradictory, I've found children are often more accepting of individual differences than adults. I am sure you have examples of individuals who ask about your hearing aid or lip reading in inappropriate ways, but what would be an acceptable way to inquire?
L: You would actually be surprised at how accepting the majority of adults are. But out in the corporate world it is a whole different story. I love my job, and when I am invited into someone's home it is very relaxed and we have so much fun. Most people do not realize or cannot visibly see that I am deaf. I grew up with a hearing family and they treated me like any other hearing person. For that I am grateful because the majority of the world is made up of hearing people, but I do wish I could connect better with the deaf culture. There will be a day when I have to rely only on lip reading or investigate another option such as surgery to be able to hear. There is really no wrong way to inquire when you want to know more about someone's hearing a loss. I would tell those curious folks out there, don't be afraid to ask. I am honest and would much rather you go straight to the source than a third party. Sometimes it is easier to start at the beginning. For example, "When did you first start wearing hearing aids?" "How did you find out?" "What type of hearing loss do you have?" I want my friends and family to fully understand what it is like and help anyone else that might be dealing with a similar situation. The unknown can be scary but I take it one day at a time. I feel very blessed for all that I have been able to accomplish and look forward to helping so many more women!
TTS: Any final Prairie Wife words of wisdom or organizing tips that we just shouldn't live without?
L: As far as life goes, don't judge someone based on their outside appearance. I understand that we all are human, but you cannot tell I am deaf just by looking at me. Someone might just assume I am being snooty if I don't respond to a question you asked while you were standing behind me. Take time, slow down, get to know people on a personal level. Building relationships, truly getting to know one another, and making life-long friends–this has been one of my favorite parts of being in direct sales.
Organization: I have always loved cleaning and organizing. Life just tends to flow a little bit smoother when you are organized and know where things are. A big "AHA moment" for me was when my customers loved the idea of getting organized but could not afford to do it all at once. I now encourage my customers to focus on one area of their life each season. It might be a closet, a pantry, an office space or even your car. This keeps my customers and hostesses coming back throughout the season until we finish a project. Then the next season we move onto to a new area of their life. My hostesses love to earn free products so they can organize the different areas of their life, plus they get a fun excuse to spend time with their girlfriends. Getting organized is a process! It is not something that will happen overnight or even from just one purchase. We do it together a little bit a time! I have not only become a professional organizer, but I have become a Thirty-One sister, a relationship builder, a professional partier!! I love sharing the gift of Thirty-One with everyone I know!
As always our Prairie Wife of the Week will be stopping by to respond to questions and comments!
Don't forget to enter to win a Thirty-One Zip-Top Organizing Utility Tote! It can be used as a diaper bag, gym, bag, mobile office, swim bag…the options are endless!
Categories: Life As It Happens, Prairie Wife of the Week
Tags: , business, deaf, Giveaway, motherhood, Prairie Wife of the Week, Thirty-One bags