Prairie Wife of the Week December 20, 2013
Posted December 20, 2013 by Prairie Wife - 1 comment
I first met Texas Smiles about five years ago when The Texan and I were on a Fourth of July camping trip with my BFF and her husband. Texas Smiles and her family lived about three hours away from the lake, but every holiday we somehow met up at the campsite. I must admit that the first year The Texan was better friends with Texas Smiles than I was because, honestly, I was kinda (ok, definitely) intimidated by the athletic, 6-foot-tall, gorgeous brunette who looked perfect in her bikini even after having three kids. I don't remember how we started chatting, but I am so glad that we did, because I quickly realized that she is not just a model (really!) but also a model mother, wife and friend. Her spirit, attitude, generosity, tenacity and personality are truly the most beautiful things about her. I don't want to spoil the interview, but I am so proud of Texas Smile's new endeavor that as soon as I found out she had been accepted to dental school I knew she had to be our Prairie Wife of the Week.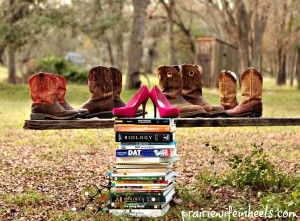 Texas Two Steppin' (TTS): Tell us a bit about yourself and your family.
Texas Smiles: I am a small town girl with big dreams. I grew up in the most amazing and loving family. We were encouraged to follow our passion and work hard to see those dreams come true. I graduated from Notre Dame in 2001 with a degree in Art & Design. That is also where I met the man of my dreams. We have been married for twelve years and now have three rowdy boys who keep us laughing.
TTS: When I first met you, you were a professional photographer. Now you are heading off to dental school. How did that career change come about?
Texas Smiles: I get asked that a lot! Smiles inspire me. As a photographer, I loved capturing genuine smiles that share a little of that person's soul for a brief moment. Over the past several years, I have met some amazing patients and seen their smiles, self confidence and health improve from the hands of a dentist. From somewhere within, I knew I was meant to serve others in a similar way. So I'm trading in my camera equipment for dental tools.  I love that dentistry combines caring for patients, science, and artistry in a beautiful way to help patients.
TTS: What were some of the factors you weighed as you made your decision to become a dentist?
Texas Smiles: The decision to be a dentist was a slow and gradual one for sure. I first thought about it when I saw an extreme case of a total mouth reconstruction after an unfortunate accident. I felt inspired to help others in such a meaningful way, but didn't know dentistry was the right way for me (I was pretty germaphobic at that point in my life).  A few years later, I saw a restorative case using veneers. I was determined at that point to be a dentist because I realized that I could combine art and helping others, which would be my dream job!
There were tiny factors that, of course, came to mind:
• Am I too old to start this?
• Photography is a passion, will dentistry fulfill me in the same way?
• Can I possibly wear scrubs and running shoes for four years in a row?
But, the biggest factor in all my decisions will always be my family. As a photographer, I made my own schedule. So if the kids had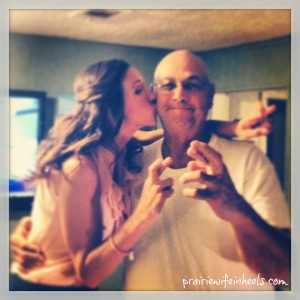 a game, I just wouldn't book a shoot that night. I knew that if I were to start this path, it would mean sacrifices and compromises for my entire family. I thought I gave my husband a heart attack the first time I told him I wanted to go to dental school! When he realized how serious I was, he never wavered or doubted me. He has been so supportive of all my dreams, but this one in particular has been the most challenging so far. My entire family has shown so much encouragement. My boys leave me sweet notes wishing me luck on a test or look forward to me teaching them something interesting I learned (usually something gross or weird from Anatomy or Infectious Diseases!) My parents, my siblings, my uncle and friends have all been an integral part of this journey.
TTS: What are some of the challenges you have being a "non-traditional" student, or is college better the second time around?
Texas Smiles: There are definitely challenges that I never experienced as an undergrad.
I remember my first semester back to school…I had to drive about 90 minutes to class that started at 7:30 am. I sat through a full day of class and labs and then get a call from the school nurse to say that my son had a fever and a tummy ache just as school was getting out (my husband commutes out of state for work during the week, so I needed to get home). I drove two hours home in rush-hour traffic and then was up all night with my sick little guy, cleaning up vomit and trying to quarantine my other boys as to not spread the plague. My husband came home the next day, and I rushed up to school to take my test; I remotely remembered the material. I remember sitting there and realizing that there weren't too many other students who could say they had experienced anything similar to my day. I was surprised to not feel jealousy or be burdened by the extra challenges that my life comes with–instead it motivated me.
If I can succeed in this, I can do anything. I think that my life experiences made me a much better applicant during the interview process as well. There are three dental schools in Texas. There are about 5,000 applications submitted to those three schools. Each school has about 100 seats available, so the odds of being accepted are pretty slim. It was obvious to me at the interview that I was at least 10 years older than all the other applicants. But I always like being different; I am confident in who I am now and my desire to be a dentist. The interview process was actually very fun, and I am grateful for all the experiences and challenges I have had, which provided such amazing opportunities.
I definitely value academic success more now. As an undergrad, I was a student-athlete. I certainly placed more emphasis on the athlete part. Now, I use all that competitiveness towards grades and have kept a 4.0 in some of the scariest classes imaginable. I couldn't say that one experience was better than the other, just that I know I will be a better dental student now as opposed to my 21-year-old self.
TTS: What tips and tricks help you achieve balance with your active family, demanding studies and a rewarding job?
Texas Smiles: My very wise mother instilled in me that happiness is not a destination, but a journey. Throughout all the craziness and challenges I have lived so far, finding beauty and happiness in each day is the only way to keep sane, let alone achieving anything worthwhile. There have been times that I have felt like I was treading water, and then sometimes extra weights added to make that struggle even more difficult. I had to learn how to remove those extra weights to keep everything else "above water." Sometimes it meant simply not getting to the gym, or indulging in Facebook or being the homeroom mom. Other times were more personal, like removing the draining or negative people from my life. Some of those choices I have made have been extremely difficult. I look to my family and faith, and those continue to lead me. For me, balance does not equal "juggling it all."  Balance means having priorities and living so that those priorities are given the time and attention they deserve. For example, my family is my priority and I do everything within my power to put my family first. Usually that translates to me studying during the wee hours whenever everyone else is asleep so that I don't miss out on family dinners or sporting events. If I let my studies or work take over my life, I would miss out on my boys' childhoods. That's a regret I couldn't bear.
TTS: Has being a student helped you be more empathetic with your boys and their feelings toward schoolwork? Any studying/test taking tips to share?
Texas Smiles: Being a student again has not really changed my perspective as much as people would expect. Even before I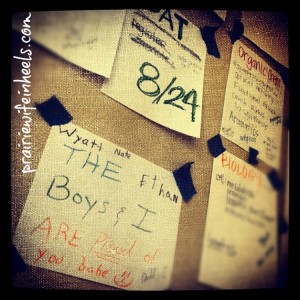 decided to go back to school, I was constantly involved in learning something new. I guess I'm just a nerd at heart. I love books, all kinds of books. I usually read two books at a time: one for fun (mystery or teenage love story drama) and one for knowledge (business, history or an autobiography). That was something I missed terribly when I went back to school–reading the books I wanted to instead of physics or something so serious. So I would say that my boys have always known that I value learning and curiosity. I want them to always be discovering, and I hope that I can be an example of that in life. When I see something they are passionate about, we make the most of it by skewing learning to evolve around their interests. My oldest son came home with worksheets about triangles and definitions that he thought were boring. I showed him a few things about trigonometry, and he was impressed how much could be done with a simple triangle. Nerdy, I know, but to spark an interest in an eleven year old for college math concepts made me proud. As far as studying or test tips– everybody has the way they learning best. Find that way and go with it. I am a huge visual learner, so when I am preparing for a test, my walls look like an FBI strategy board. I cannot function with flashcards or typed notes, so I paste pictures and colorful notes all over my wall when I am studying. When I am in the test, I can visualize what my wall looked like. Kind of embarrassing, but it's how my brain works, and this was my wall right before my 5-hour beast of a test for admittance into dental school.
TTS: OK, now's your chance to give us one wonderful or unusual dental tip you have learned and any final Prairie Wife words of wisdom that we just shouldn't live without.
Texas Smiles: Dental tip–your dentist and hygienist can totally tell if you have been flossing…so don't think only flossing the night before your appointment will impress them. 🙂 Floss often!
My best Prairie Wife words of wisdom:  SMILE! A smile is the best accessory anybody can wear. Teeth never go out of style, so show them off. A happy woman is the most beautiful woman!
Categories: Prairie Wife of the Week
Tags: , dentist, Going to school, motherhood, Prairie Wife of the Week, Texas Two Steppin'