Spring 2015 Fashion Dos and Don'ts
Posted March 4, 2015 by Texas Two Steppin' - 6 comments
Texas Two Steppin': I know most of you won't empathize with me (I know Prairie Wife didn't), but as another winter storm is about to hit Texas, I realize that for the first time in 19 years I am tired of my winter wardrobe. I admit, it is rather limited and focused on a few classic pieces, but I usually only pull out my heavy sweaters for a total of seven days each season, and I usually have to put up my favorite boots way too soon. This season I have been forced to get creative, and I now have a premature case of spring fashion fever. So have a cup of hot cocoa (or hot toddy?) and read about five spring trends. As always, Prairie Wife and I have posted more examples on our Pinterest boards and clicking on the photos will take you to a site where you can get the dos (please, please don't give in to the don'ts!).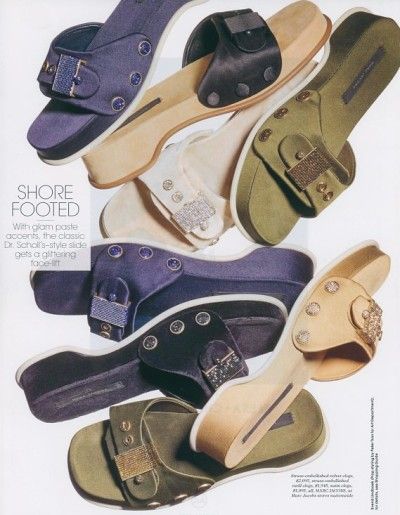 Texas Two Steppin': So, when my new edition of Elle magazine came, I totally flipped out when I saw this layout. I am probably older than most of you, but this took me instantly back to my formative fashion years in the '80s. I had always wanted a pair of Dr. Scholl's sandals in navy ever since my infinitely cooler, sophisticated, older cousin Missy let me borrow hers one afternoon. I knew that if I had a pair, all of my social awkwardness would instantly disappear and I too would be as cool and sophisticated as Missy. But alas, I couldn't sell this concept to Ma and Pa. Granted, I was a clumsy teen and my parents did the responsible thing by acknowledging the inherent safety risks of this design. But when I saw these sandals by Marc Jacobs I had an uncontrollable yearning for a pair. Do I want a pair only to fulfill my teenage dreams? Maybe, but I really do think they are the absolutely coolest take on the classic and as soon as I am done with this post I am going to try to find them online.
Prairie Wife: Blech, blech, blech. These sandals are everything that I hate in a shoe…clunky, stiff, and old looking (not in the cool vintage way)! I was seriously left speechless when Texas Two Steppin' told me she was SO excited about this trend. I'm sorry (not sorry) for me these Frankenstein sandals are a big DON'T! Give me my flip flops or gladiator sandals instead please.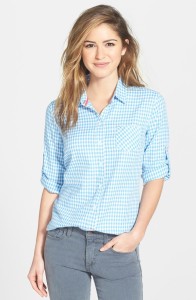 Texas Two Steppin': For me, gingham shirts are another "Do." I have always liked gingham, and I've found that it is really versatile and doesn't need to look "country." For a preppy look, pair it with cuffed skinny jeans and ballet flats. A look with edge would be the shirt, jeans, high heeled booties and a leather jacket. It also works at the office with a tan pencil skirt and nude heels. I really like this version that I found at Nordstrom.com because it is fitted and the sleeves roll up neatly in case the spring weather changes unexpectedly.
Prairie Wife: Now this is a trend where we both agree! Gingham is so versatile and can easily be dressed up or down. I have a black and whit gingham flannel from Target that I love to wear with my distressed boyfriend jeans, slip on shoes, and my favorite military inspired coat. It's the perfect effortless cool look for running errands. A bright colored gingham tucked into a pencil skirt and worn with booties is the perfect casual yet chic look for the office. As a country girl I also have to add that a gingham top, jeans, cowgirl boots and a baseball hat is the epitome of weekend wear here in Wyoming! PS I love it in a skirt too (pants not so much).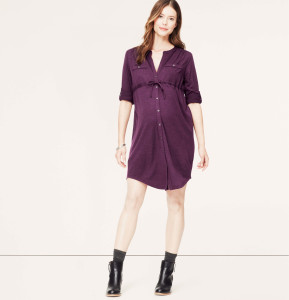 Texas Two Steppin': I got my first shirtdress in 1985, and I have always had at least one hanging in my closet ever since. Yes, they are a "Do," but only if you Do a bit of research and promise to try it on before you buy it. Fit is very critical in a shirtdress, and you need to focus on the three Bs. 1) You have to BELT a shirtdress or it looks like you threw on your boyfriend's/husband's/older brother's dress shirt. If the fabric belt doesn't work for you, you can always replace it with a leather one in your closet. But before you buy, check the belt loops sewn into the dress because the dress will be so much better if they can easily be removed to provide you with options. 2) Stand up, sit down, walk around, and then check your BUTT in the mirror. Many shirtdresses will give you a "shelf" right below the belt, and you really don't want to spend the entire day pulling up the fabric so it lays flat. 3) Finally, be sure you can easily BUTTON every button because you don't want gaps in embarrassing places. And be sure the final button isn't too high (you will be flashing passerbys every time you take a step) or too low (you will be hobbled and eventually end up ripping the dress when you try to take a long step).
Prairie Wife: I just saw an amaing pinstripe blue and white shirt dress in a magazine the other day, and my fingers were itching to head online and buy it. Alas with my New Year's resolution to stick to a budget I had to simply take a deep breath and add it to my someday pile. I am in full agreement with Texas Two Steppin' on this one. A shirt dress is something you need to try before you buy…not all styles will be a DO for you. As a flat chested, long waisted, no curves woman I actually look better in most shirt dresses that are not belted. The straight tunic style looks much more flattering on me. As a recent pregnant woman I can attest to the fact that having a belt that you can move around can go a long way to making this look more flattering, and it's a great piece to add to your maternity wardrobe. It's so simple to dress up with jewelry and heels or down with a cardigan and boots. Another side note, as a nursing mom these dresses are a great look because you can simply wear a nursing tank under them and unbutton it when the baby is hungry!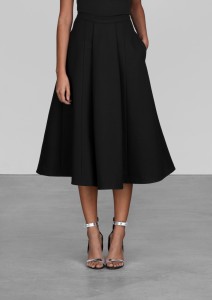 Texas Two Steppin': A-line midi-skirts are tricky and walk the fine line between "Do" and "Don't." I did a lot of Pinterest research, and I think that this skirt must be worn with heels and hit at the perfect spot on your leg or you will look stumpy and frumpy. You also have to be careful of the version with pleats. They are not practical for busy mothers or people who are iron-phobic because while they look great when you take your first selfie of the day, you have to fold them carefully every time you sit down.
Prairie Wife: I beg to differ on this one! I love this look, and I think it's perfect for busy moms. It's long enough that I can bend over and run after the Cowkids without worrying about my bum showing. I think it's a sophisticated look that can be dressed up with heels and a silk top or made spring time chic with sandals, an airy t shirt and a bright colored scarf. The variety of colors, patterns, and fabrics in this style make it easy for everyone to find the perfect fit for their lifestyle. I would encourage you to check out my Prairie Wife Style Pinterest board to see the varieties out there…floral, tulle, pleated, silk…the fashion possibilities are endless!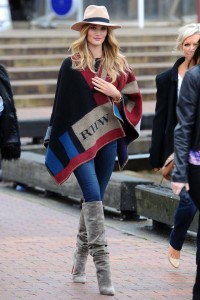 Texas Two Steppin': When PW suggested capes for spring, I thought she was nuts. But then I thought about the photos she posts, and it suddenly made sense. I love traditional capes–not a cape coat or a poncho or something Wonder Woman would wear–but they are very difficult to find. I went shopping with my BFF this winter and found the perfect one in a large herringbone print. I have been rocking it on those rare days that aren't too chilly and wish I could find a solid one. If you find the perfect cape for you, grab it right away because they are a total "Do."
Prairie Wife: For me the cape look is a total DO. I think its elegant and sophisticated not to mention classy and just plain fun! It's a great way to stay warm in the temperamental Wyoming Spring weather (our local mountain just got 20 inches of snow). That being said it's really just not practical for my lifestyle right now. I am carrying around a new baby in a 15 pound car seat, a purse that weighs another 20 pounds and tugging four other Cowkids in a row behind me. Add to that the Wyoming wind and you can see why though I love the idea of a cape it is something I need to file away with white pants for "when the Cowkids are older"
What fashion trends are going to help you break out of the winter blues?
Categories: Prairie Wife Style
Tags: , cape, clog, crop, Dr Scholl, Fashion, gingham, midi, sandals, shirtdress, skirt, Spring