The Woman I Wanted to Be by Diane von Furstenberg
Posted December 3, 2014 by Prairie Wife - 3 comments
I've been aware of both Diane von Furstenberg and her iconic wrap dress for years. TallGirlJ and I even went to one of her DVF stores on a trip to Las Vegas this year. In the end I decided that I wasn't ready to buy one of her dresses yet (I knew that I would be hopefully rapidly expanding with CowBaby5) but I look forward to heading to one of her stores in the future and picking the perfect dress to one day hand down to Cowgirl G. As I was watching TV the other day I saw a clip for a new show called House of DVF. It's a reality show about Diane's brand DVF and their search for their new brand ambassador. During the first episode I was immediately struck by Diane von Furstenberg. She was poised and polished, intelligent and kind, yet more than willing to call a spade a spade. As I watched the show I saw her mention her new biography The Woman I Wanted to Be and I grabbed my Kindle and downloaded it.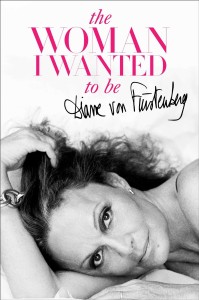 I expected a book that would be interesting but not necessarily life changing…I was SO wrong. Within the first few pages of the book I was captivated. Diane began by talking about her mother and the lasting effect she had on the woman that Diane would become. Her candid tale of her mother's internment in not one but two Nazi concentration camps, and her eventual recovery (though not without struggles along the way) sucked me in and I couldn't put the book down. I found myself highlighting numerous quotes in the book, and can't wait until Cowgirl G is old enough to start to understand her wisdom. One particular favorite of mine is "Accept the reality, embrace the challenge, and deal with it. Be in charge of your own life."
The book goes on to talk about Diane's life growing up in Europe as well as her many love affairs. I found her willingness to fall in love, and share all the details fascinating! As her story continues she talks about motherhood and her joys as well as her feelings of guilt and inadequacy. It made her seem so refreshingly relateable and I felt even more connected to her story. She also talks about the ups and downs of her business throughout the years, the struggles and defeats that followed her rapid rise. True to her mantra she simply found ways to learn from the experiences and continue to succeed. I can't recommend this book enough; I only wish I had it to read when I was in my 20's. It's a fascinating story full of words of wisdom, and written in such a way that you can envision Diane herself strolling through her beloved Cloudwalk woods, and chatting with you.
Categories: Book Reviews, Reviews
Tags: , biography, Book Review, Diane von Furstenberg, DVF, The Woman I Wanted to Be