Prairie Person of the Week Chrystofer Benson (hairstylist)
Posted December 5, 2014 by Prairie Wife - 9 comments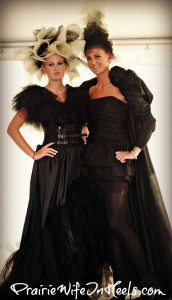 I first met Chrystofer Benson at the grand opening of Rootz Salon and Spa. He was there to support his fellow Matrix educator and friend David Lee Anderson Jr, and not only helped do some makeovers on a few well deserving women but, took time to show our little Wyoming town some avant garde hair! His fantastic hair designs and his obvious talent drew me in and I couldn't take my eyes of him during his presentation. Following the presentation TallGirlJ and I had the opportunity to chat with Chrystofer. He was witty, intelligent and kind…and as we walked away TallGirlJ and I both agreed that he was truly an artist. His passion for his work, his drive, and his willingness to not only lead others but work along side them, make him the perfect Prairie Person of the Week.
Prairie Wife (PW): First tell us a little bit about your family.

Chrystofer Benson (CB): I grew up in Salt Lake City, Utah and I am an only child. Through the years I have lived all over the country and in 2004 I moved to NYC when I became the lead trainer for the Matrix Global Academy. I lived there for seven years and even though I loved it I decided to move back to Utah in 2010. I still travel to NYC quite a bit, and I also fly all over the world. I have two dogs, a Chihuahua and a Dachshund, thankfully my family is more than willing to take care of them when I am on the road.
PW: What led you to decide to work in the beauty industry, and specifically to work with hair?'
CB: I had family that worked in the industry so it was always there. When I was 18 my grandfather suggested I try working with hair. So despite not being very motivated I decided to try it. Being a young 18 year old male, I walked into class and immediately decided I liked the male female ratio of 70 girls to every man! I did well in school but I wasn't really passionate about it.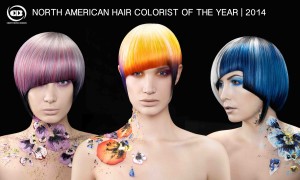 Then it came time for a student competition that my uncle had previously won. Everyone expected me to win, and when I lost it was the worst feeling for me. It prompted me to start taking school and my work seriously. I started to actively compete as a student and doing really well. I walked away from that experience knowing that if someone tells me I can't do something it turns into a huge motivator for me, and I will do whatever I can to prove them wrong!
PW: You are currently the Artistic Director for Matrix, can you tell us what your job entails?
CB: A main part of my job is training the teams of people that go to salons and educate hairstylists about our products. The MATRIX team and I travel all over the nation to individual salons but we also have national shows. I do trade shows and the photo shoots that later end up being the advertisements for Matrix products. As a team leader I have learned that it's OK to ask people to give more. Being honest and communicating with people in a respectful way is always better for everyone. I represent Matrix and I believe in it as a brand and the message it sends. I also help to set the trends for hair color and cuts for the next year.
PW: Tell me more, what does that mean? How do you pick what trends are going to be big a year from now?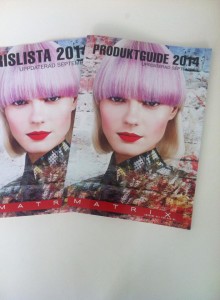 CB: Basically we are forecasting the future, and then making products and coming up with styles that will then be seen in our advertisements and hopefully out on the streets. It's a huge process that involves work with the global design team and brainstorming with professionals from around the world. We look at clothing and the trends in the fashion industry, because hair, fashion, and beauty go together. This year's trend is inspired by graffiti and called Graffiti Nation. I am so excited about it! Graffiti has gone from being something undesirable to a legitimate art form that is recognized the world over. It's based on the lines and the drips caused by the paint inside the lettering. For our Graffiti Nation trend we have taken the elements of the art form, rather than a literal interpretation. As a team we have to make sure it's both inspirational and achievable. Whatever trends we pick, we have to make sure it's a technique our teams can teach others. It has to realistically go from a trend to the real world. I love being a part of that whole process, it's so much work, yet so rewarding at the same time.
PW: As someone that has traveled all over the world, what are some things that you have seen that make someone beautiful, no matter what culture they are in?
CB: The answer is as simple as embracing who you are. Growing up we all receive the same message, conform. Be something you're not but that others will like. I think you need to embrace who you are and don't be ashamed to show it. In the beauty business it can be incredibly hard to embrace your individuality and not conform. I see it as my job is to make someone feel their most beautiful version of themselves. Yes, we work with beautiful models, but they have all the same issues as everyone else. In the end, no matter what others say, unless you embrace your uniqueness you will never be satisfied with who you are. That doesn't mean you should stop growing and settle for where you are today! You just have to get to a point in your life where you are happy in your skin and true to yourself while at the same time respecting who other people are.
PW: You have just received several awards from NAHA including 2014 hair colorist and master stylist (people's choice). Can you walk us through a competition and what it involves?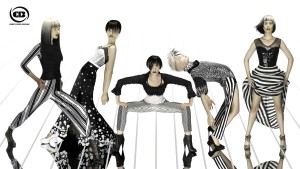 CB: A lot of people envision a competition as a big showdown with models in chairs, hair and scissors flying through the air, and emotional hair stylists rushing to beat the clock. In truth it's not like that at all! There are a variety of categories and a variety of competitions. Some are based on photos that you send in to a panel of judges. While others are done in person with models and based on texture, cut, color, etc. Something like NAHA (North American Hairstyling Awards) it is based on what category you enter, you send in your work by the deadline, and then they judge all the entries and make the announcement for who is in the finals. Using the same submissions, they then narrow it down to the winner. The hairstylists in the finals travel to Las Vegas in July and do a big show and convention. At the end of the convention there is a big OSCAR night like show where they showcase the finalist work and have presentations along the night where each category is announced and the winner is named.
Now that I've done so many competitions, I have become comfortable and have certain routines and habits. Though I have had some stressful moments during photo shoots, as I am sure we all have lol! During my time as a hairdresser I've lost far more times than I've won, and while it's not easy, you can learn a lot from it. Embracing this has helped to keep me from being overwhelmed by the competition process. You go home learning when you don't win. When you fall down and get back up again, each time you get back up you're stronger. NAHA is our Oscars and Emmys. Whether I win or lose I've learned to put it in perspective, it is one thing I do, not what defines me.
PW: You've done hair in every venue possible from editorial work and teaching and presentations to runway and salon makeovers. Do you have a favorite?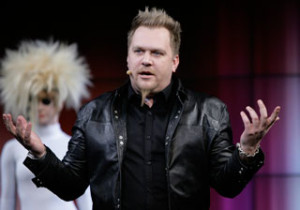 CB: The stage is by far my favorite. I love to get on stage at shows where it is for hundreds of people or big shows like 80,000 people at a trade show watching me work with my Team doing what we love, it's a thrill and I still go whoa each and every time! It makes me think about what I do in a new way. I have to make sure I think about the people in the seats and what they want to see. They key to making it an enjoyable experience is having a great team who have a mutual respect for each other and can be held responsible to do the best they can. It involves so much more than me, from model's, to makeup artists, lighting to wardrobe and sound. As the team leader it's my job to get everyone to believe in the same vision and bring out their best. The amazing energy that goes into the planning and the show itself feeds my creativity, there is nothing better! In the instant it is both incredible and in your face stressful…the pressure is on, but in a good way. I love going out there and empowering and inspiring people and I hope that how much I care about them and love what I do translates to our audience.
PW: Any advice for the everyday person who wants to revamp their hair look?
CB: I am a firm believer in trusting your hairdresser! I love women, but they will come in and spend 10 minutes telling you what they don't like about their hair, and that can be hard to work with. You need to go to your hairdresser and say "This is what's happening, and what do you recommend?" With the prevalence of the internet and social media you know what going on trend wise, and you can tell if a hairdresser is on point. Trust them and their business and don't be afraid to ask them for details. If you trust them and their work listen to what they are saying, it's their job! You need to be involved and participate in the process and trust your gut. If one stylist in the salon isn't a good fit for you, ask to meet with another one.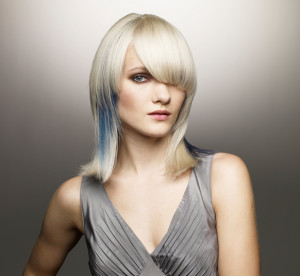 PW: What are some hair trends you are seeing now that you think are worth a try for our readers?
CB: I think it's about embracing who you are. If conservative is you, then embrace it! Classic to couture is different for each person, and so is pushing the limits. Go to your appointment, bring visuals in and consult with your hairdresser. Trends are for inspiration, but in the end you have to find a way to translate them into your life.
PW: Anything you don't want to see on the street anymore (hair wise lol)?
CB: No at home hair color and cuts! Go to a hairdresser! I guarantee you can find someone in your price range. They went to school for this, they are professionals and know what they are doing, be open to them and chances are you won't be sorry.
PW: How do you recharge and rejuvenate your creative energy, what inspires you?
CB: My team, the people I work with, and the different cultures I get to see as I travel inspire me. Simply relaxing at home with family and friends rejuvenates me. Being a Hairstylist is not just my career, it's my lifestyle. I love to travel, collaborate with other professionals, and surround myself with diversity. It both energizes me and charges me! After 20 years in the industry I am continuously seeing new things and learning new things, that keeps me going.
PW: Do you have any advice for our readers that aspire to be where you are?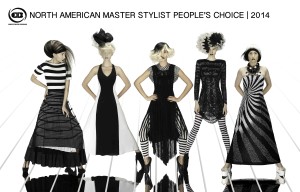 CB: Always be thinking about your client. Success in this industry is all about your reputation, which depends on your relationship with your clients. Take the time to form those relationships, engage your clientele and listen to them. Stay current with the trends and your education, and use the variety of techniques that you have learned to create the look your clients want. When you know your clients well put some thought into the cut/color before their appointment. Prepare, show them the look book and give them ideas. If you need to, be patient and work them into the cut/color that you know will be perfect for them, your success will continue to grow as you form these relationships. Don't just wait for life to happen, you must go out and do it. Get exposed to new things!
PW: Where would you like to see yourself in five years?
CB: I think I'll always be involved in hair. I'm launching my own brand of tools called Chrystofer Benson Collective. It's for hairdressers based on education and with a portfolio of inspiring looks and tools to go with it! I want to continue to inspire others through my work with Matrix. I look forward to being creative in new ways and continuing to work with amazing talented artists around the world. Frankly, I can't wait to see what happens!
PW: Any last Prairie Person words of wisdom?
CB: Be better today than you were yesterday.
Categories: Prairie Wife of the Week
Tags: , Chrystofer Benson, Hair Color, hair show, hairstylist, Matrix, Matrix Artistic Director, Prairie Person of the Week