Spring Cleaning for Your Garden (part 1)
Posted April 27, 2014 by Prairie Wife - 4 comments
As I get ready to prepare my garden for Spring I always talk to Cheleeo, a past Prairie Wife and master gardener (don't forget to enter her giveaway to win a box of her delicious cookies). I wanted to end our celebration of "Earth Week" here at PrairieWifeInHeels.com with a garden post so I went to the expert. After ten minutes of picking her brain and taking mental notes I came up with the brilliant (and somewhat lazy) idea to have her write the post for me. After, all why not hear right from the expert herself?! So without further ado, here are Cheleeo's tips for spring cleaning in your garden.
Spring cleaning; just as you catch up inside the house, the weather turns nice and it's time to spring clean your yard and garden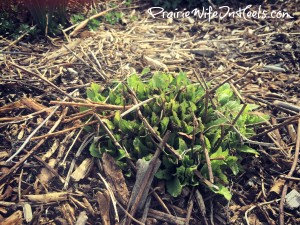 beds.  After leaving all my plants to die back through the long Wyoming winter, it's time to cut them down to the ground and see all the new bright green growth.  I've been starting at the top of the dried out plants and snipping off 2-inch sections at a time, allowing the cut material to become new "mulch" around the plant.  This has eliminated a lot of bags that would take up space in my garbage can.   Of course, I still throw out weeds and seed heads that I don't want to re-seed.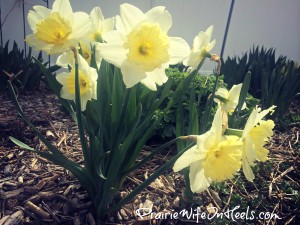 This is the best time to dig up those little plants that are coming up in the wrong spot. Fortunately for my friends, my plants love to self-propagate!   I always have recycled pots on hand, and I use them to plant some "babies" to share with friends. I also donate quite a few plants to the Master Gardener annual plant sale in May. This is a great untapped resource for people to get plants that grow well in your area, check your local newspaper for days and times.  Some top seeders and spreaders in my yard are: catmint, sedums, asters, mums, daisies, salvia, chives, columbines, lambs ear… pretty much everything I've planted does well!
To prepare my garden beds and soil requires a little more work than just pulling and dividing plants… I've been shredding junk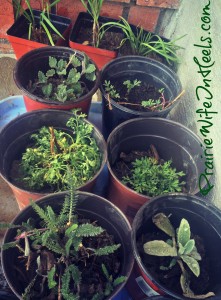 mail and old bills to till into my garden beds, in addition to my compost. All the old plants from last fall need to be broken down and tilled into the soil as well. The long winter provides a surplus of vegetable scraps that keep my worms happy, and my worm container is overpopulated by this time of year.  Now is the time to put half of my worms into the garden to work their magic! As I work in the flower beds, I've been seeing a lot of red wigglers that have migrated from the garden area, so I know they survived the winter (a big victory).  I have already started my seeds indoors for tomatoes, peppers, eggplants, brokali (a half kale and half broccoli hybrid), and brussel sprouts. My lettuce and spinach seeds are going directly into the garden this weekend.
Fertilizing the grass, trees and shrubs, is also on the long list of to-dos. But, I leave this job to my husband- I have enough to do!
What are you doing to spring clean your garden?
Categories: For the Home, Prairie Wife Style
Tags: , compost, gardeing, planting, seeds, Spring, The Prairie Homestead