The Signature of All Things by Elizabeth Gilbert
Posted April 26, 2014 by Prairie Wife - 1 comment
Here at PrairieWifeInHeels.com we've been celebrating Earth Day all week. Texas Two Steppin' introduced us to a warrior for the land as last week's Prairie Wife of the Week and gave us some useful tips on Earth friendly fashion. I shared with you how to thoughtfully purge your closet and introduced you to this week's Prairie Wife of the Week; a rancher that has a passion for both animals and the Earth. We also can't forget another past Prairie Wife who turned her love of color and wholesome food into a cookie business (you still have a few days to enter to win).
It worked our perfectly that my book review this week is on a book whose main character is a bryologist. For those of you who were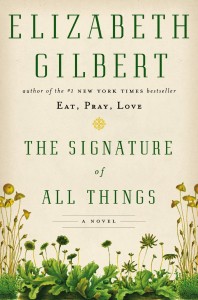 like me and have no idea what this is; a bryologist is a botanist who focuses on the study of mosses. The Signature of All Things by Elizabeth Gilbert follows the Whittaker family from the mid 1700's into the late 1800's. If the name Elizabeth Gilbert sounds familiar it's because she wrote the book Eat, Pray, Love which became a popular movie starring Julia Roberts. Go ahead and get mad but I never read the book or saw the movie. Despite being a huge Julia Roberts fan I never got around to it, and the whole premise of the book wasn't really up my alley.
I choose to read The Signature of All Things for several reasons. Firstly I saw a ton of positive reviews and secondly it is a historical fiction (my favorite genre) book about botany (which I know nothing about but would love to learn more). I thought it would be a great book to read on the plane to France last month. While I didn't get to the book until last week, I am so glad that I gave Gilbert a chance. This book was amazing, ab-so-lute-ly a-maz-ing, please say it slowly like I typed it so you know how serious I am!
The book starts with Henry Whittaker a young impoverished British youth small on opportunity but big on brains and enthusiasm to be rich. His multitude of fantastic journeys across the ocean, and his keen insight about all things botanical, lead to a life of opulence in a newly formed America. We then officially meet his daughter Alma who becomes the main character of our story. Rags to riches, sibling rivalry, despair, lust (in a way that is totally appropriate to the story), death, love, insanity, heroism, and a whole lot of interesting botany facts that you never knew you wanted to learn…this book has it all.
I was absolutely captivated by the story. Gilbert's smooth writing, full of vivid imagery and realistic character traits, made this book almost impossible to put down. I admit that I spent a few too many nights in a row staying up past my bedtime because I simply had to know what was going to happen next. While the happy ending is not the one that I hoped for, I found myself completely satisfied when I finished the book. I am now headed to Amazon.com to buy more of Gilbert's works of fiction. I really recommend this book to all readers; lovers of historical fiction, mystery, romance, or simply someone interested in a book full of unexpected twists and turns…you will all love this book. If you are looking for a book for your book club that will appeal to a variety of readers, you gotta have this one!
Categories: Reviews
Tags: , book club, Book Review, Elizabeth Gilbert, great plot, Historical Fiction