Prairie Wife of the Week: Trina Campbell
Posted April 25, 2014 by Prairie Wife - 6 comments
I've known Trina for over 8 years. I first learned of her from The Cowboy, who had met her through the course of his job. He came home telling me stories of this amazing man and his wife, their ranch, Peter's clinics, and of course Trina's dogs. I was seriously intimidated when it came time for me to finally meet these amazing people…mostly because what I know about horses could barely fill up the back pocket of Cowboy J's Wranglers! Upon meeting Trina I was instantly besotted with this strong, intelligent, and energetic woman. I could spend days (and often have) listening to her stories about her travels and the amazing people she has met. As I have gotten to know her over the years, I learned to value Trina for all the above qualities but also her fierce sense of loyalty to family and friends. She taught me to be who I am with no apologies. I'm sure she is still laughing about the time I helped her hay horses in 4 inch heels…it was not my best moment! Her willingness to share her passion for life (and horses in particular) with anyone ready to listen, and her ability to handle ranch life in Wyoming with both grit and grace, make her the perfect Prairie Wife of the Week!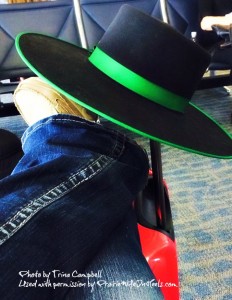 Prairie Wife (PW): First tell us a little bit about your family.
Trina (T): I was born and raised on the eastern slopes of the Canadian Rockies in Alberta, Canada.  My dad was an outfitter and since the age of two I started riding horses. Well, my first "ride" was actually with the eggs in the pack box, packed on an old horse! When I got big enough, I followed my dad into the mountains with a horse of my own. That's also where I learned how to cook, pack horses, drive a team and shoot a gun.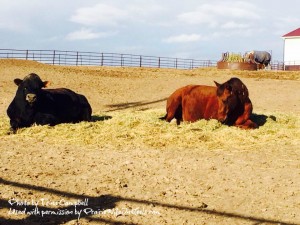 For the last 14 years my husband and I have lived in Wheatland, Wyoming and I am a dual citizen of Canada and the US. We run a few head of horses (40) and I sold my cows last fall, so this summer I will just pasture the neighbor's cattle. This should be about 150 head, depending on grass we have…with all this snow, the grass should really come in thick and if I am lucky I can run 250 head of cattle!  Along with our own horses, I ride horses for the public and of course have an array of "farm" animals, including chickens and milk cows. My ranch help consists of a team of 5 mixed dogs that range from 8 pounds to 80!
PW: Can you tell us a little bit about how you met Peter Campbell your husband, and how it influenced you and your work with horses?
T: Over 20 years ago, I met my now husband, Peter Campbell.  We were raised 20 miles apart in different towns and he was more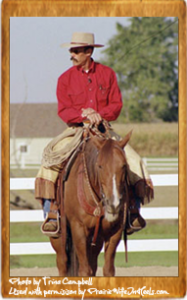 the age of my oldest brother, so I can't say I knew much about him til I was older! A lot of folks think we met because I had a troubled horse and he saved me and my life. The truth is we met in a home town bar, and he liked the looks of me in a pair of red wranglers! Haha!! And the rest they say is history….As for how it influenced my work with horses. I would have to start by saying, he was magic to the horse, if it was bothered, scared or unsure Peter could direct it in a way that  mentally let it let down, relax, turn loose in his mind and stay with him. He didn't coddle them or feed them a carrot; he would direct them, what they did, how they did it. After watching this I started to understand more of the inside of the horse. I had always gotten along with horses and animals as I didn't try and force ideas, I would just try and get along. Being around Peter, I could see how animals can come around a lot faster when you understand how to use what the animal has naturally. The animal has to respect you and respect is understanding. The horse doesn't want to do bad, or be frustrated. But, if he doesn't understand what you're asking he relies on mother nature and uses his self preservation to "save his life."
What we do with the horse, you could easily take "horse" out of the sentence, and trade it for chickens, dogs or even kids. It's all the same! Its thinking, beginning early, discipline not punishment, direction not correction and it's a way of life.
PW: I'm sure this is just the tip of the iceberg of what you've learned, and what we can learn? Does Peter have a book or DVD's out?
T: Yes, he has both. A 10 DVD series that starts from the first touch on a young horse and goes all the way to ranch roping and cow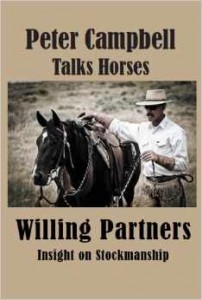 working. We also finally released a book about Peter called Peter Campbell Talks Horses. It's his life history, philosophy on his work and it is filled with tons of great pictures. One of my favorite quotes from the book is "As you spend more time with the horses, you realize there is always so much more to know. Whatever the horse is offering us, it's bigger than us." It can be purchased through Barnes and Noble, Amazon or PeterCampbellHorsemanship.com. We also have a Hat Creek Ranch Journal. It is full of pictures and quotes, and is a great place for any horse lover to jot down their thoughts and ideas.
PW: Your husband travels almost 40 weeks a year. This means a lot of responsibility for you on the Ranch. Will you walk us through a typical day for you?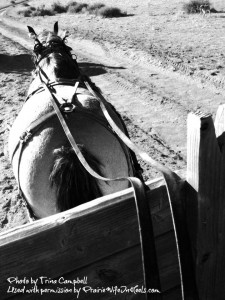 T: Well a typical day would depend on the season of course. But, being it's Spring now (or trying to be spring… lol)  I am usually up quite early, around 4:30am or so, and I milk the cow. I use the milk to make hard and soft cheese, butter, ice cream and of course in my tea! Then I chore the horses, which means feeding them hay and grain. As well as cleaning pens and stalls. A lot of the time I do this with the wagon pulled by a work horse. Once the grass starts to grow the horses are pretty much on their own and just graze in the pasture. In a typical day I can ride up to 10 horses, depending on how much paper work I also have to do.  I usually prefer the horses over the paperwork, so my office looks like a disaster center. In earlier years I would be calving right now, which entails checking cows ever 4 hours or so just to be sure there are no problems and to tag new calves. I also grow a lot of flowers around my house and garden so, now I am getting all the beds ready for flowers and veggies.
If there are "slow" moments I tend to invent project. Last year I built a tiki bar off my deck (which I built a few years ago). Lots of times I am playing catch up because I have just spent a weekend with Peter at a clinic, or done my own clinic somewhere. And of course there is my blog Your Inner Cowgirl, which I work on very spastically, more about that later!
PW: You mentioned your garden and it is always lush and amazing, any tips or tricks for us?
T: Being raised in the Canadian Rockies with a growing season of two months — I am a very imaginative gardener. I'm not afraid to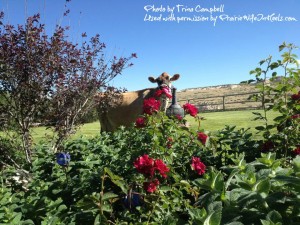 try anything and everything!  My tips would be listening to the old timers on when to plant and the plants that grow the best. Then I try very hard to water only in the early early morning or late at night. But really, I seem to luck out and as long as I keep stuff watered, it seems to grow. I can most of my garden items or freeze them for winter, and my garden also feeds some 30 people for 10 days when we do our ranch clinic.
PW: Of all the animals you have on the ranch what animal do you feel the strongest connection to, and why?
T: Oh my… Well, I would say I am strongly connected to all of them but the chickens… haha! They are silly creatures and I appreciate their eggs but they are strictly employees on the ranch. Animals are kind, sincere, loyal and just are. So, I love that the dogs die to travel with me whether it's just to the barn, to town or on a long haul. They are my loyal, always there for me friends. The horses, they are this majestic creature that for some reason likes us, truly likes us. I've learned that if we work from where they are at they will never quit you; they give you their heart and soul. My milk cows, they are my humor. They can make you laugh on the worst day, especially the jersey. She has eyes as big as the moon and follows my every move in the yard. Always watching what you are up to, and as soon as the house door opens she and her Holstein partner moo to say good morning!  So, I truly couldn't choose just one animal. To me they are all such amazing creatures, and each one has such strength and beauty.
PW: Your passion for horses has led you to begin to do woman's clinics around North America. What does the clinic experience involve?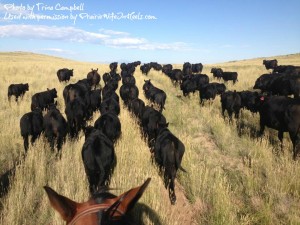 T: Not really my passion for horses but my passion for the human to get right with the horse lol!  Peter has done clinics for close to 30 years, he is the "grandfather" of the clinic world and it seems that a new clinician pops up on a new corner each week. What Peter talks about is the inside of the horse, the mental and spirit of the horse. I thought, well I'm no Peter Campbell but, if I could get folks introduced to the truth, get them to understand there is a journey out there that is not only amazing for the horse but amazing for the human… I could get more people to find Peter! He is truly out there for the horse and in 40 weeks, 40 different cities or towns; he never lets a horse down. Peter will help the horse and rider "until the cows come home" I've seen him trailer load horses at 11 pm when everyone else is gone. Or help a young girl over his lunch because she doesn't understand something. I've watched him ride your horse so maybe you can feel what he's talking about when you get it back.
From back yard owners to the most expensive show horse, he works with everyone and helps you from where you are at. He truly is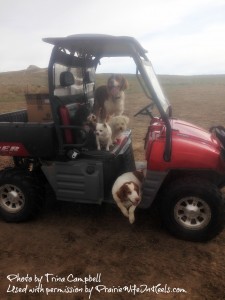 the genuine real deal. It's a dying breed in our just throw away instant society. If our cell phone has trouble, throw it out and get a new one. We are a drive thru society, has to be now or never, just throw it out and start again…People even do it with all kinds of animals, dogs, cats, horses. I know that's why I own so many! At the moment my latest find is a little white dog. I found him at a rest area coming home from Ellensburg, Washington. I have also become known as the cat lady, because of our big barn and many kittens. I seem to get all the unwanted cats around here as well! We have forgotten to take time and learn, feel and think… plan ahead…take responsibility. That's why texting kills when we are driving. Heaven forbid you could put your damn phone down and watch the road or enjoy the farm land you are driving by, or admire the work that went into a sky scraper when you are in a city. So, you see it's not a passion for horses so much as it's a passion for life. And a desire to share that passion and understanding with others!
PW: I'm sure you've had some amazing experiences over the years with both horses and riders; can you share a few with us?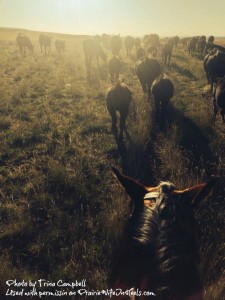 T: Oh my, there are soooo many it's hard to pick one. But I could generalize and tell you that when folks stick with Peter and ride with him for a few years, you see not only their horses change but they change inside. I have met folks that I swore would never return to a clinic, because I was sure they were to hard headed, or to grouchy to change. Then I would have to eat my words, because they changed so dramatically it's like they became a new person! And their horses appreciate it, and the horses are way better. The amazing people you meet can't really be put into words. But, as much as Peter or me has touched or changed their lives, they have touched and changed our lives.
PW: You've just started your own blog called Your Inner Cowgirl can you tell us what inspired you to start it, and what it is all about?
T: Well about 4 years ago I started a blog. Margaritas and Molly, I love margaritas and I have a cool horse named Molly. But alas… I got side tracked with other projects and business and M and M seemed to fade by the way side. Then 2012, I got inspired to try again when a few of my friends say they missed my funny ranch stories of the geese and the sheep or where I had traveled. So, I reinvented to Your Inner Cowgirl (YIC), and slowly did a bit better, but I was eaten by spam! So, I hired a professional blog builder and she helped me spam proof my updated YIC blog and website and here I am today. I'm trying to blog on a regular basis, those that know me know how all over the map I am! As for what it's about… I have recipes that are true to ranch ways. I know not everyone has chickens, a milk cow or can raise their own beef and pork but, all my recipes are made with things from the ranch and are simple like it was back "then".  I believe anyone can cook. They just have to learn the tastes of what they like to eat. Cooking good meal is not rocket science.  Just knowing what types of foods complement each other, and keeping it simple (see just like the horse). I blog about me and my happenings, and I also love photography so I try and just include my readers in my life and hope that I can put a smile on someone's face somewhere!
PW: What advice do you have for our readers that are interested in becoming horse woman but just aren't sure where to start?
T: Well, first it's an expensive hobby! The cheapest thing will be buying the horse. You have to remember a horse is a living, breathing animal that weighs 1200 pounds. So if you can't discipline yourself to gain good, safe, knowledge…then it might be best to ride  or take lessons with a lesson horse first. Just to be sure you like what you're thinking of jumping into! It can be the most magical journey or a large nightmare!
PW: In the few minutes you have to rest, what do you like to do to relax?
T: Well, relaxing to me is mowing the lawn, or gardening…so there's your answer!
PW: Any last Prairie Wife words of wisdom?
T:  Haha! I'm not an official Prairie Wife, I'm a mountain girl from Canada turned milk maid!  My words of wisdom would be… Channel your inner cowgirl. Life is not a journey to the grave with intention of arriving in a well preserved body, but rather to skid sideways totally worn out loudly proclaiming – Whoa!!! What a ride!!!
Categories: Life As It Happens, Prairie Wife of the Week
Tags: , Hat Creek Ranch, horses, Peter Campbell, ranch life, Trina Campbell, Willing Partners, Your Inner Cowgirl