Prairie Wife of the Week April 18, 2014
Posted April 18, 2014 by Texas Two Steppin' - 3 comments
As many of you have read, Prairie Wife and I are city girls who have gone country for the love of a man. But one of the unexpected blessings of our unplanned adventures is that we also fell in love with our land and new environment. I know PW loves her mountains and prairie, and I felt immediately at home in the hardscrabble Texas Hill Country with the Pedernales River literally in my backyard.
Earth Day is April 22, and I wanted to feature a Prairie Wife of the Week who shared my love of Texas and not only felt connected to this rugged and wild part of the world but was also passionate about sharing its hidden beauty with others. So I'd like to introduce you to Mary Jo Bogatto of Cactus Creek Ranch in Cameron County, Texas. Also known as Cactus Rose, she was awarded the 2013 Texas Environmental Excellence Award for Individual Achievement, 2011 Texas Parks and Wildlife Department Education and Outreach Special Recognition and earned countless other environmental awards and recognition. She is also an award-winning photographer and has graciously shared her work with us. I hope her story (which she called A Woman…A Wildlife Ranch and Her Love of Critters) inspires you to visit her 400-acre ranch. But if you can't make the trip out to Texas soon, why not begin exploring the amazing plants and wildlife in your backyard?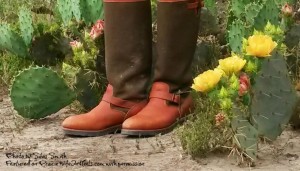 Cactus Rose: So I looked for my camouflage stilettos for the photo, but I could not find them. I retired them when I moved to the ranch full time. Snake boots are the best foot attire for my daily routine. The animals do not care for a fancy scene.
When you imagine a ranch, its ranch-hand lady, and the wildlife, you probably imagine being outdoors in a relaxing one-on-one experience with nature. While this is true for part of my day, as a ranch owner there is another side that must keep the tractor tires turning. Research, ranch development, and education mean office time!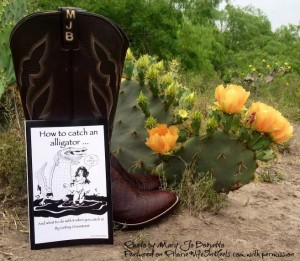 My Days
My day is get up, feed my critters, check the feeders, and take a walk around a three-mile tract that gets me exercise and citizen science at the same time. Then I come back to my office and put in too many hours on the computer.  Migration and spring are always full of great photo opportunities. From my office window, I am often happily distracted by a critter and grab my camera to catch the image.
Sometimes I am interrupted by the dogs barking or the green jays squawking. This means there is an intruder close by–this loud chorus is usually signaling a rattle snake passing through the yard. Now it's time to get the snake stick, put the snake in a barrel, and move it to the back of the ranch. There seems to be a constant push and pull between what my calendar says is necessary to be completed for the day and what nature demands of me.
We have one ranch member that is the toughest son of a gun you might ever meet. Hot Shot–a dog very appropriately named since he showed up on my back porch with a bullet in his back–has been bitten and survived three rattler bites. After I rescued him, he has returned the favor tenfold by protecting our territory and myself!
My passion of the outdoors began at youth; I was brought up hunting and fishing. I never learned to rollerskate as a child because I lived at the coast or in the woods on the weekends. Then one day, in my early 20s, I met my husband on the back of a 58 foot Bertram. Michael was going marlin fishing. He invited me to go, and I was hooked from there. Michael and I dated for five years; we explored each other's minds while trekking through Costa Rica, Panama, and many more places. We raised two children, Duane and Michelle, who have blessed me with many grandchildren that seem to be multiplying. When my husband passed in 2007, I returned to the ranch and picked up where we left off. There was a lot of restoration to do, and I wanted to add more education to our venue.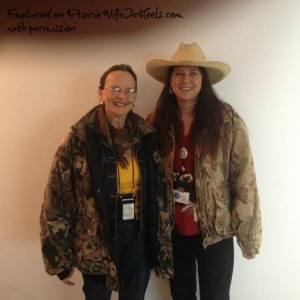 My mom, Mary, is a licensed family counselor–my Prairie Wife mentor. Her nickname is "longest wind" because she takes many words to express her feelings. I have been called "no wind" because I am to the point. But as it should be, I am following in my mom's tracks in order to protect and educate others about the outdoors. When I first started my solo ventures, a friend told me to go out there, kick ass, and take names later! I did–in a very lady like fashion.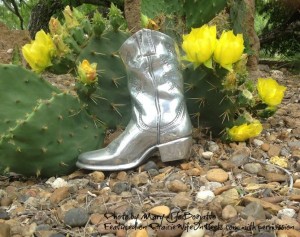 One day my Mom handed me a silver boot that had a handwritten note that said "kick ass in a gentle way." From this I have learned the art of balance in human interaction as I have in nature. I started referring to my mom as my "compass rose." The compass rose is a navigational term; it is a circle divided into 32 points or 360 degrees numbered clockwise from true north. It is used as a means of determining the course of a vessel or an aircraft.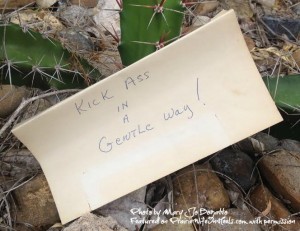 My mother has helped me keep my direction and path in life solid. She is my true north. She is a Prairie Wife of 81 years who says she feels 18 and is living her life accordingly. She laughed last night and said, "Hey '18' is 81 backwards!" She is engaged to a WWII Marine Ace, Dean, who is just '19' (aka 91), and I cannot keep up with them. I am truly blessed!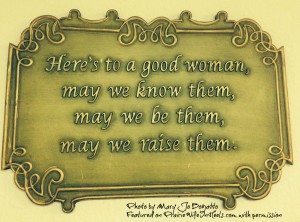 Last year my daughter, Michelle, gave me a plaque that is hung high above the mirror for everyone to see. Michelle has taken what she learned from both of us and added her own special touches to become the newest generation of Prairie Wife. She has given me two Prairie Girls and a wonderful Prairie Son in Law, Jeremy. We also have great Prairie Men in our family, and my son, Duane, has given me Prairie Young Ladies that are unique and all love the outdoors. He is a true outdoor enthusiast and keeps me laughing all the time. I do not know how to say how proud I am of my Prairie family.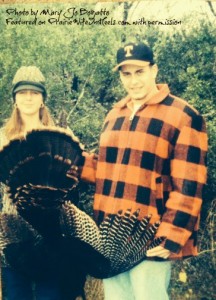 Conservation and Education
The stories from the ranch are numerous and just as entertaining and unbelievable. Trapping alligators in hog pens, fighting rising water and wind during Hurricane Dolly, pig slapping, and much, much more.
I am vehemently involved in conservation and preservation of wildlife. Cactus Creek Ranch borders a 60,000 acre refuge called Laguna Atascosa Wildlife Refuge. I work with the refuge to promote conservation. Here on my little, personal refuge my critters consist of everything South Texas has to offer. We have too many to list but we see ocelot, mountain lions, bobcats, white tail deer, Nilgai, hogs, alligators, snakes, birds, tortoises, Texas horned lizards and many more.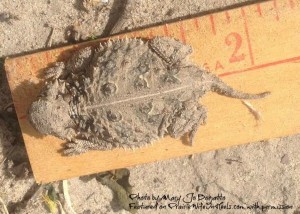 I am number #23 on the Great Texas Coastal Birding Trail. I am involved in many organizations to promote wildlife education including Texas Master Naturalists, NAI, Audubon (ACAS) and have earned awards for photography. I love to write and am trying to develop a style that is just my own. I also cooperate with Texas Parks and Wildlife on horned lizard and Texas tortoise research. This place has come a long way, and I only hope that it continues to teach and protect our environment for many years to come.
I want to share the ranch with as many people as I can because it has been such a healing place for me. Currently I am involved with providing wheelchair-friendly photo blinds, educational and outreach programs, as well as school credit projects with local high schools.
"Rebuilding family traditions" is our motto. Parents and teachers bring us their children to help them recognize the importance of protecting the outdoors. Our slogan is "Life is Prickly, Bloom Anyway." This saying is representative of our life struggles and challenges living on a ranch. I could tell you how hard my life has been but it is like so many others–heartache, illness, challenges, life and love lost. You know the story. Life is hard and it stays hard…you have to squeeze, create, and cherish the good moments each day and make them better! My life is no different than yours…always changing…always challenging…always rewarding. The biggest difference is that my neighbors howl, hoot, and holler to a different tune.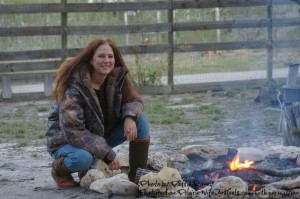 I am part of this land. My blood, sweat, and tears lay upon the soil. I have five generations of footsteps on this land. I watch the birds migrate to the exact same tree and the same branch each year to have their young on this ranch and share this sanctuary with their all of their offspring. Some may ask, "How important is it to keep this land natural?" In my opinion there could be nothing more important than to nurture the soil we live upon.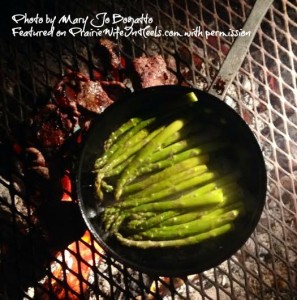 Feel free to come down and visit! CCR has a small cabin that can be leased for two people to get back into nature for a two day minimum. It is the only cabin on the premises, and it a relaxing nest to get away and not be interrupted. We are close to South Padre Island and nestled between sleepy fishing villages. There are lots of things to explore or you can just stay put and relax.
Please be sure to learn more about Cactus Creek Ranch and Cactus Rose's amazing work. You can also visit the Facebook page for Cactus Creek Ranch (be sure to find the one in Rio Hondo, Texas!). 
Also take the time to check back here on Sunday, April 20 as we'll be sharing some of Cactus Rose's poems and photographs. 
Categories: Prairie Wife of the Week
Tags: , award, cactus, conservation, earth day, land, photography, Prairie Wife, ranch, Texas, wildlife