My Kind of Elk Hunting
Posted June 2, 2014 by Prairie Wife - 7 comments
I am just getting back from an Elk hunt, and I feel amazing! Those of you that are familiar with my first Elk Hunting experience may be somewhat puzzled. And for you gals/guys that are in the know, you may be well aware that it is not Elk Hunting Season. But, let me explain.
Six years ago after Cowgirl G was born The Cowboy headed off for his yearly Elk Hunt. His Elk Hunt involves a week to ten days of him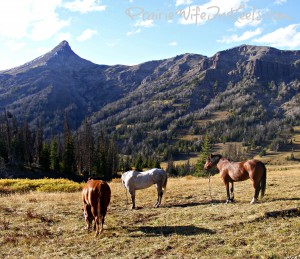 heading up into the mountains with a few of his buddies doing his favorite things in the whole world-riding horses, shooting animals, lounging by the campfire, and no cell phone service. Normally I don't begrudge him that time; he works really hard so that I can stay home with the Cowkids! But, for some reason that year I was feeling a little disgruntled. Other than a long weekend away with The Cowboy when Cowboy J was one, I hadn't gotten out for more than a night here and there in years. When I really got thinking about it I realized that I had never taken any time to go do my favorite thing in the whole world. The injustice of The Cowboy heading off for over a week every year, to do his favorite thing in the world with his buddies, guilt free, really started to get to me.
So, I decided that when Cowgirl G was weaned and before we had another bun in the oven, I was going to head out on an Elk Hunt of my own. When I first suggested this to The Cowboy he laughed…until I explained my idea of an Elk Hunt…then he looked worried. My three favorite things to do are read, shop, and go to the movies. I also love to hang out in the sun (wearing sunscreen of course) near some water but even I knew that would be too much to ask. I explained that on a weekend that worked with his schedule I was heading down to Denver, staying in a swanky hotel, and having a few nights out with CollegeBFF and some other gals I know. The idea of three days of lounging, shopping, reading…and of course sleeping, sounded like heaven to me! The Cowboy agreed I deserved it and I went on my way.
Since my first Elk Hunt I have gone to NYC for five days with CollegeBFF and TallGirlJ and down to Denver again for a long weekend of
shopping, spa time, and eating meals I didn't have to cook. While my Elk Hunting isn't for over a week every year like The Cowboy's, I still feel like it evens out! It's some much needed time for me to relax for more than 30 minutes, and catch back up on what it's like to just be me…and not a wife and mother. I encourage every mother (and woman) to take a few days to herself. Even going to get a hotel room in your town and spending the day reading, eating, and watching TV uninterrupted is a simple pleasure that can't be over rated! Imagine waking up because you aren't tired anymore, not because someone wants to eat.
Below are a few pictures of our Elk Hunt this year. We went to Scottsdale, AZ for some warm sun and time lounging by the pool…and of course shopping!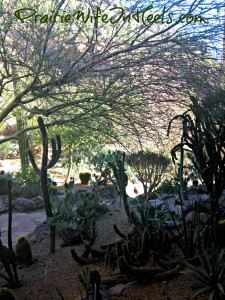 We were amazed at all the varieties of cactus!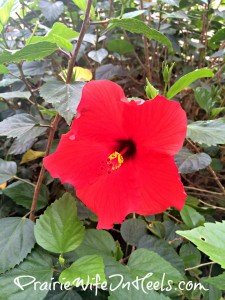 I guess I'm getting old because we spent a lot of time discussing the bright flowers and beautiful landscaping throughout Scottsdale, AZ. Thanks to my girlfriend for getting me this picture 😉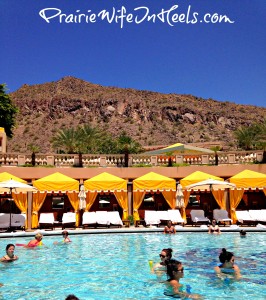 We spent hours at the pool…slathering ourselves with sunscreen and drinking a ton of water (and perhaps a few fruity drinks as well)! The people watching was amazing! We saw one pair of seasoned sun worshipers who looked to be in their 70's but as one of our friends pointed out, were probably only 45, wear your sunscreen people. We realized that Wyoming is not the best place to find a cute swim suit, we were stunned by all the varieties of cuts and styles and I found myself often stopping women to ask where they got their suits (perhaps a future post). There were also the standard group of gals that had been surgically altered in a variety of ways, and a lot of couples on "babymoons".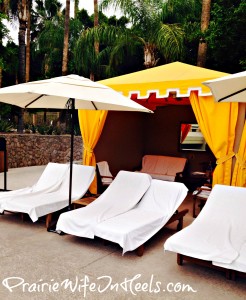 Renting a Cabana for a whole day was one of our favorite luxuries! We has sun and shade, and of course a Cabana boy to bring us food and drinks! We all got caught up on our magazine and book reading…and got some much needed rest and relaxation.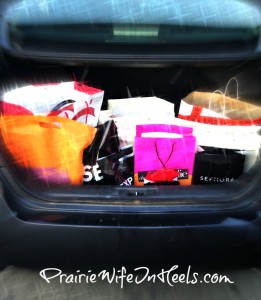 We had an amazing afternoon of shopping at some of our favorite places- Nordstrom, Anthropologie, Sephora, Express, and Charming Charlie just to name a few!
The fine dinning was delicious, and I can't think of a single thing that wasn't fabulous! We ate at the Greene House (amazing beet salad with whipped goat cheese), Cowboy Ciao (try the Stetson chopped salad) and Olive and Ivy (my favorite atmosphere) just to name a few.
Where would you go on your Elk Hunting trip?
Categories: Life As It Happens, Prairie Life
Tags: , Elk Hunitng, friends, Girl Time, motherhood, Prairie Wife Life, Relaxing, Vacation