Going Overboard #giveaway
Posted February 16, 2014 by Texas Two Steppin' - 13 comments
If you've read a few of my prior blogs, you know that while most people get Spring Fever I get Sea Fever. Right now I am dreaming of sun, waves and salt air and have become sorta obsessed with all things nautical. So when I stopped at Charming Charlie the other day, I was able to find a few inexpensive accessories that gave me a polished look that suggested I was going yachting.
Now, when you are doing a nautical theme, you have to be careful so you don't look like you are celebrating Independence Day a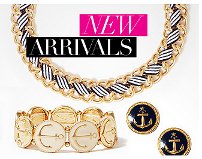 few months too early. That's why I picked items that weren't a set or too matchy-matchy. I also plan to wear the necklace, which makes a subtle statement, in unexpected ways. For example, I've wanted to try the "mixing prints" trend and think that the striped necklace with a yellow and white polka dot pullover, jeggings, and boots would be cute. For work, the entire set would perk up a cobalt blue oxford, tan pencil skirt and some nude heels. But the outfit I'm really excited to try the necklace with is for weekends–rolled, faded jeans, white oxfords, pink T-shirt and neutral cardigan.
Note: While Charming Charlie does have a website, if you have a store nearby, stop in for the shopping experience. There is jewelry, purses, tops, scarves, hats and heels. Because pieces aren't expensive it is a great way to indulge in a trend guilt-free (though it was hard to keep myself from going overboard with purchases). But, the best part is that the store is organized by color. Trust me; you'll love it!
What other outfits do you suggest trying and have you seen any other great nautical looks?
Check it out…as part of our "We LOVE our readers" Month of Giveaways Texas Two Steppin' is giving away a Texas Tote full of some of her favorite goodies worth $100! Prize includes: Green Pashmina Cashmere Scarf, nautical earrings, bracelet and necklace from Charming Charlie, and a Thirty One bag in grey pin dots!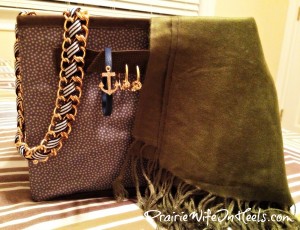 Categories: Prairie Wife Style
Tags: , Fashion, Giveaway, jewlery, nautical theme, Texas Tote