Hearty Broccoli Cheese Soup (Crock Pot)
Posted February 15, 2014 by Prairie Wife - 3 comments
We love soup around here, especially with all this cold Wyoming winter weather…Broccoli Cheese Soup is one of my favorites, but The Cowboy tends to balk at the idea of a meat and potato-free meal. So, to satisfy both of us, I created this super easy crock pot recipe. It's hearty enough to satisfy the hungriest Cowboy and tasty enough for everyone to ask for seconds. To change it into a vegetarian meal, use vegetable broth instead of chicken, and take out the Italian Sausage!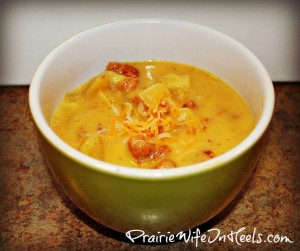 Hearty Broccoli Cheese Soup Serves 8
Prep Time 20 Minutes
Cook Time 4-8 hours
Ingredients
1lb Ground Italian Sausage
12 oz frozen chopped broccoli (feel free to use fresh if you have it)
32 oz chicken broth
2 10 ¾ oz cans of condensed cheddar soup
4 medium potatoes, chopped
½ medium onion, diced
2 garlic cloves, minced
Salt and Pepper to taste
1 cup heavy whipping cream
¼ cup cornstarch
Shredded cheese as garnish
1. Cook the Italian Sausage on the stove until brown (you may want to add 1tbs olive oil)
2. While the sausage is cooking put the broccoli, chicken broth, soup, potatoes, onion, garlic and salt and pepper into the crock pot.
3. Set the timer on the crock pot
4. When the Sausage is cooked add it to all the other ingredients in the crock pot. Stir until combined.
5. One hour to 30 minutes before serving the soup, combine the whipping cream and cornstarch in a small bowl. Whisk until creamy. Pour the mixture into the crock pot and stir until combined. Add more salt and pepper if needed.
6. Serve warm with shredded cheese on top and garlic bread.
Looking for another great Crock Pot Soup to try? What about our Beer Cheese Soup?
Categories: Recipes, This and That
Tags: , Crock Pot, Hearty Broccoli Cheese Soup, Main Meals