If I was Raising my Daughter to be President
Posted February 17, 2014 by Texas Two Steppin' - 1 comment
As I've mentioned before, Prairie Wife and I do most of our blog planning by email or text. So when we started discussing February ideas, she asked if I could write something for President's Day. No problem. Could I somehow tie it to raising a daughter? I bit trickier, but doable. Maybe throw in some advice to younger moms since I have grown children? Now this would be a challenge.
So, like all modern writers, I started with a visit to Google. I was looking for a poll or survey about what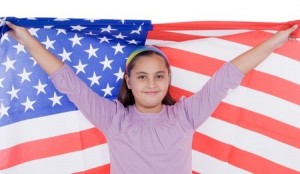 traits Americans felt a president should possess. I didn't quite find what I wanted, so I queried leadership traits in general. This got me a bit closer to what I was looking for and a bit closer to my area of expertise since I am familiar with business, not government. I happened upon a post by Ekaterina Walter focusing on the essential characteristics of female leaders and was intrigued with the findings of her interviews with CEOs and entrepreneurs. Be sure to follow the link after you've finished reading my post, but (spoiler alert!) the seven common characteristics were perseverance, nurturing spirit, confidence, volunteerism, education, balance and vision. All great qualities and all values I think we should instill in our children regardless of their gender.
This was great stuff, but not original work. So I decided to answer the question, "If I was raising my daughter to president, what characteristic would she be remembered for?" It needed to be something Step Girl exudes, something that others recognize and praise and something that would actually benefit the office of the presidency. I closed my eyes, and it came to me in a flash.
Manners.
Maybe it is because my Steps were born in the South and I was raised in the Midwest, but they truly have beautiful manners that are a natural habit, not an afterthought. In our household we decided that if we used our manners in public and with strangers, shouldn't we be just as polite and respectful with the people we love most? Without fail you would hear, "Please pass the salad dressing, Step Boy," "Yes, sir, I brushed my teeth," and "Thank you, Texas Two Steppin', for the sleepover." Even as teenagers, a group stereotyped as being rebellious and rude, they were always quick to end their comments with "Yes, sir" and "No, ma'am."
Adult relatives, friends' parents, teachers, waitresses, strangers of any age—all receive the same polite treatment. In her current role as a high school teacher and coach, I have seen Step Girl's poise in action with students, coworker and parents, and her polished words serve her well. It really is something that makes me proud, and a quality that I think would be a welcome addition to the White House–or any house for that matter.
Image credit: gelpi / 123RF Stock Photo
Categories: Life As It Happens
Tags: , daughters, Life With Texas Two Steppin', manners, motherhood, President's Day, step children