Makeup Lessons
Posted April 30, 2014 by Texas Two Steppin' -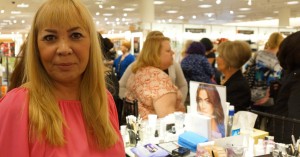 This is Linda, a beauty professional with Trish McEvoy. I met this vibrant, talented 60-something at a recent "beauty event" at Nordstrom (she really is fun but says she never smiles for the camera). Yes, I am a loyal Nordstrom customer, but since Step Girl began selling Mary Kay to help pay her college tuition, I haven't purchased anything from a department store makeup counter. Well, that sure changed after Linda proved me and my BFF needed to learn a few things!
Lesson 1. Find a more mature makeup artist-At this event there were representatives from every makeup line, but BFF and I were drawn to Trish McEvoy, in part because of Linda. Our simple theory was that if someone older could look fresh and modern and stylish, imagine what she could do for a 30- and 40-something! Linda was very honest, telling my almost 40 BFF that she really needs to think about under eye serum and telling me the foundation shade I use is all wrong. She was also forthcoming with her tricks (I learned about the "V of light," similar to Prairie Wife's technique). Why? Because she was confident in her skills and realized honesty would make her a sale, rather than loose her a customer.
Lesson 2. Tell the artist your preferences and needs (if you know them)-I hate foundation but had settled on mineral or tinted moisturizer formulas of late. But I also have a bit of melasma (dark areas from hormones) and really feel that I need a bit more coverage. Linda listened and found the perfect cream-to-powder foundation that she perfectly described as making your skin "feel like rose petals." I could have let Linda use whatever she wanted on my skin, but by being true to myself I ended up with a product that won't sit in a drawer and expire.
Lesson 3. Be open to new products and techniques-I knew I wanted foundation, and that was where I was going to stop with this experience. But after BFF was out of the chair, I noticed that her skin look perfect. Truly perfect. I am super jealous of you perfect. I asked Linda why, and she said it was because she had set the foundation with a finishing powder. She told us most women make the mistake of skipping this step or using a powder that doesn't brighten, which is why we look "muddy" after we have reapplied powder throughout the day. I let her dust my face, and my oily skin looked great and didn't get shiny within minutes. Honestly, I love this product and understand why every single person who reviewed it on the Nordstrom site gave it five stars!
Lesson 4. Follow the steps and advice exactly-The first morning I grabbed my new foundation and powder and the under eye concealer Prairie Wife convinced me to purchase a few months ago. I took a bit of time to apply the foundation with a brush and blend everything really well. I stuck to my normal routine for my blush, lipstick, eyeshadow and mascara and then went to the kitchen for breakfast. The Texan stopped me and said, "Wow, you look beautiful!" I was shocked, because this is a man who doesn't notice when I come home from the beauty salon with highlights and bangs. Could new foundation, powder and knowledge really make that much of a difference? The next day I was running late and decided to skip under eye concealer and the blending process. Big mistake, and I now realize I can skip eye shadow and blush if my skin looks smooth and natural.
Thanks for the lessons, Linda, and checkout this video from Trish McEvoy!
Categories: Prairie Wife Style
Tags: , age, Beauty, makeup trends, skincare, trish mcevoy, video