Beauty Blogger Darlings?
Posted April 1, 2014 by Texas Two Steppin' -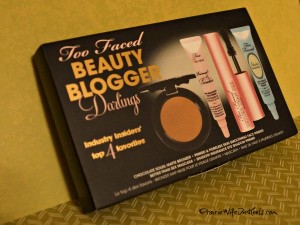 I was in the check out line at Ulta when this box caught my eye. I thought, "Wow, if the bloggers like it, maybe I should grab it." I am a huge fan of the Too Faced Perfect Lips Lipliner in Perfect Nude, and I had been looking for a new mascara to try. It wasn't until I was driving home that I realized that I could be considered a beauty blogger and should see if these products could outperform my current products.
You've probably read that  I love testing beauty products and try to be incredibly thorough. So, several months later, I am finally ready to give my semi-expert opinion on these "darlings." I have olive skin and typically don't use a bronzer, but I do like the feather-light consistency and subtle color of the Chocolate Soleil Matte Bronzer in the pack. And although I probably should use it each and every day, I usually skip the Primed & Poreless Skin Smoothing Face Primer (which does work well) unless I wake up extra early or have a special occasion.
One thing I absolutely do wear daily is eyeshadow primer. I have oily skin–a blessing because I don't have many wrinkles or crow's feet, but a curse for all the reasons you can imagine. But if I don't use a heavy duty primer my eyeshadow will crease within two hours and disappear after four. I had been using MAC Paint in Bare Canvas religiously. It kept my shadow crease free for eight hours and was heavy enough to cover up any new eyebrow growth that I might have missed during my morning tweeze. So when I squeezed out the first bit of Too Faced Shadow Insurance I was skeptical that it would work because it was so light it could be applied without a stiff makeup brush. But it does such a great job that when it was time to reorder primer I went with the similarly priced Shadow Insurance.
I have just recently begun using mascara, and I am here to say that once you start, you just can't stop. I am still working on my application technique, so having a formula that is rich and black but doesn't clump is critical. I also don't like any makeup that feels heavy, so I had settled on Revlon Grow Luscious Mascara and was pretty pleased with the results. Enter the Too Faced brand mascara. It may be because I am using the small, 0.17 oz. size, but every swipe of the small wand leaves my eyelashes perfectly curled and separated. Using it makes me feel like I could become a professional makeup artist, and the days I use another formula it takes longer to brush on the mascara and I'm a bit disappointed with the final results. But although I totally recommend the mascara, I'll leave it up to you to decide if it truly lives up to its name–Better Than Sex.
Categories: Reviews
Tags: , Beauty, Makeup, Makeup tips, mascara, primer, too faced