Great Books for Young Boys
Posted March 31, 2014 by Prairie Wife - 2 comments
As the mother of an 8 year old boy I am learning all sorts of things. I now know more knock-knock jokes then I ever cared to, and I can name more than a dozen of the Skylander characters from the Wii game. My son loves to read; in fact he often gets in trouble for reading instead of doing his chores. Most of the books that we have around the Prairie Homestead are picture books from my days as a first grade teacher, or old books of mine from my childhood. Cowboy J was not oblivious to this fact and began to hem and haw about the lack of "interesting" books for him to read on the weekends. I am a huge fan of the library, and we go almost every week in the summer. During the school year we simply don't have the time. So when it was getting close to Christmas and then his birthday, I began to keep track of the books that Cowboy J brought home from the library, and we began to talk about what he enjoyed reading and why. The following three books are of course only a few of the many that he loved, but ones that are all in series'. This is great because if they like one, you instantly have over a dozen more that you know they will love. These books for young boys are probably best for 2nd -4th grade children. As always click on the book to go to Amazon.com and purchase it!
Ninjago, Masters of Spinjitzu is a series that goes hand in hand with Lego products. The series includes both graphic novels and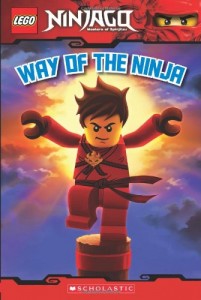 regular chapter books. This is great because if you can get your reluctant reader to start with the graphic novels it's easy to push them towards the chapter books. The characters are four boys who each have a specific strength tied to an element. These strengths can be both good and bad and through many of the books the boys struggle with typical problems like controlling their anger and jealousy. Their sage teacher Sensei Wu helps guide them through their battles against a variety of bad guys. The adventure and Ninja focus draws the boys in, and they can't help imagining themselves as their favorite character. If they love these books it also makes gift buying super easy with the Lego products and DVD's.
Encyclopedia Brown is a series some of you may recall from your childhood. My own brothers used to read them, and I bought one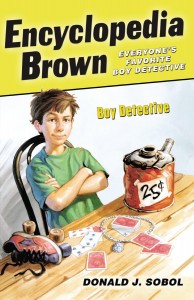 for Cowboy J to see if he would like them, he did! After I explained what an encyclopedia was (sigh) I sent him on his way. He loves the interesting facts stuck throughout the book, and once again it appeals to young readers because they can easily put themselves in the place of the main characters. Cowboy J particularly loved trying to see if he could put the clues together and solve the mystery before Encyclopedia Brown! While these books offer a little bit of suspense it is in a non-threatening and wholesome kind of way.
The BeastQuest series is by far Cowboy J's favorite. To quote him "They are full of adventure, and I like adventures!" There are well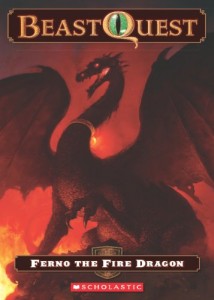 over 50 books in the series so this is another great one for those reluctant readers. The main characters are Tom and Elenna (a strong female so this is wonderful for young girls as well) and you follow them as they travel around the fictional land of Avantia. An evil sorcerer has turned normally friendly beasts into evil monsters. Tom and Elenna have the hard job of both finding the beasts and turning them back to their normal selves. Some of the language and concepts (it takes place in medieval like times) in the books will be a little hard for the younger readers, so I encourage you to read the first two or three books along with your child. After Cowboy J had read the first three he took off and hasn't stopped loving them yet (it's been over a year).
What books do your kids love to read?
Categories: Book Reviews, Reviews
Tags: , adventure, BeastQuest, Book Review, boys, Encyclopedia Brown, Ninjago, Reluctant Readers, Young boys