I Don't Like my Body Right Now…and I Refuse to Feel Guilty!
Posted March 23, 2015 by Prairie Wife - 11 comments
You would think that after having five kids I would be at peace with all the changes that happen to my body afterwards. For the most part I am. I truly don't mind my thighs riddled with stretch marks or the saggy empty state of my boobs after I am done breastfeeding. But man I am over this baby belly, thigh rub, and back fat…and yes I know my baby is only a month old…but I'm being honest with you here.
The Cowboy and I had a fancy event to go to last week. TallGirlJ helped me go through a few outfit choices the week before, and we found one that seemed like it would work. I tried it on without any shapewear and figured that with the added suck in factor of my Spanx it would look fine. I know expecting to look like a Victoria's Secret model three weeks postpartum isn't rational, but I felt pretty confident I would at least look OK.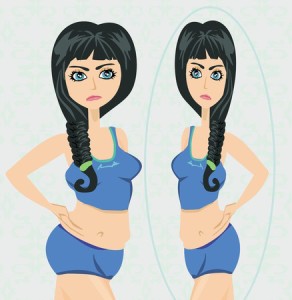 Suddenly it was the night of the event and as I jumped, hopped, groaned, and did all sorts of yoga moves to put on my Spanx I realized I might have a problem. I looked in the mirror and saw that while the Spanx made my baby belly bulge smaller it was pushing my back and side fat out to new levels of puffiness. Because I am nursing (and LittleMissH was attending the event with us) there was no way I could wear a Spanx cami over everything. I held back tears and said a few choice words as I peeled my Spanx off, and just put the outfit on with no Spanx. I decided I would simply suck my stomach in all night; it would be like doing a standing plank for three hours. My unhappiness was so evident that The Cowboy, after telling me how beautiful I looked and receiving nothing but eye rolls and tear filled smiles, said in the nicest way possible, "You know we can skip going, this is supposed to be fun."
I went to the event and upon seeing pictures of me looking like a huge square tank from the waist up vowed to begin my postpartum workout routine of running twice a week and yoga at least once. This 20 pounds is my new enemy and I'm going to kick it's ass…The only problem is I'm tired. I have five kids including a four week old, a husband that's gone all week, and I'm tired. I'm nursing nonstop and need to make sure I eat enough food and protein to fuel my body, I have a house to clean, children to feed, friends I want to see, a blog to manage, and I'm tired. And oh yeah…I'm tired.
I write all the time about being as compassionate to yourself as you are to others but I am the first to admit this is still a work in progress for me. TallGirlJ came over a few days ago and we commiserated about how we feel like crap about our bodies right now…how even though we are trying to eat healthfully the scale hasn't moved at all. We both know rationally that it took 9 months to gain the weight and it will take at least that long to get it off. I told her how great she looked and how she was already running a 5k, something that took her over a year to work up to after the last baby. She told me to shut up and stop whining, that I looked great and I'd get it all off this time just like all the other times. Then we watched each other's kids and took turns going for a run.
You know what? After we had both gone for a run and were eating a super healthy lunch of whole grain chips and avocados mixed with a bit of salsa, we looked at each other and smiled. "I feel so much better now." I said. TallGirlJ laughed "Me too!"
My point with this post is to first of all be honest about the negative self image I have sometimes, and the struggles I continue to have with my body image. I am pretty sure I'm not the only person that feels this way, or has felt this way. Yes (eye roll), I know there are people that would be perfectly happy to look the way I look now, but this is how I feel! I refuse to be made to feel guilty that there are people who are bigger than me that would be happy to look the way I look now. That's the same as saying I can't be happy when I reach my goal weight because there are people who are skinnier than me. Not liking my body right now is about looking in the mirror and not liking what I see. I am not striving to look like anyone else or comparing myself to anyone. I don't want women to think that it's wrong to have a bad day, or feel guilty about it. It's unrealistic to think that you're the only one that has days where you simply don't feel happy about how you look. I support all the articles about "self love" and "body acceptance" but I refuse to feel guilty that I'm not feeling that right now.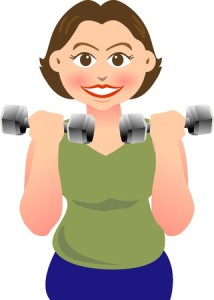 That being said I know I can't wallow in my negative thoughts. I think the trick is to indulge in that negative talk for only a moment. Then take a deep breath and fake it until you make it, or do something to work towards the change you want to see (like TallgirlJ and I going for a run). I'm tired and even though I got my two runs in this week I have yet to do Yoga. I am writing this on Saturday, so I can bet it probably won't happen.
I'm not going to beat myself up about not making my goal, and I refuse to feel guilty about eating four pieces of bacon for breakfast and taking a nap this afternoon instead of working out. Next week I'll try to do better and right now, that's the best I've got to give, and I'm happy with that.
Do you have times when you feel guilty about your body image? What helps you?
Copyright: / 123RF Stock Photo
Copyright: / 123RF Stock Photo
Categories: Health and Wellness, This and That
Tags: , Baby Weight, Bad Self Image, Body Acceptance, diet, exercise, Health and Fitness, motherhood, postpartum, self love, support