Postpartum Outfit Inspiration Spring 2015
Posted March 25, 2015 by Prairie Wife - 1 comment
As a mom with a new baby, my fashion choices are somewhat limited. First of all there is the whole time issue. Do I really want to get up an hour early to take a shower, get dressed, and do makeup and hair? Also, as a nursing mom hauling around a big bulky car seat I have to make sure I wear clothes that won't be revealing my body to the world. Add to that the fluctuating weight and breast size issues and things can be down right tricky. So, I compiled a list of outfits that I would and do really wear. Each of these outfits can be worn with any kind of body shape and still look flattering! While I couldn't always find the exact clothes that are in my closet to share with you, these all come pretty close. Keep in mind these outfits are great for anyone, not just new mom's! Don't forget to use these outfit ideas to help you think of new ways to use items you already have in your closet!
Every Day Look
Let's start with the outfit that is getting the most millage in my closet right now! Everyone at the Cowkids' school has seen me in a variation of this outfit at least twice a week at pick up time. I love these tapered sweats because while they are SUPER comfy they don't add bulk. The pockets and details on the bottoms make them a little more sophisticated than my old college sweats. Add a fun floral slip on shoe, a vintage looking sweatshirt (very trendy right now), a bright tank to help slim down your tummy area, and a patterned baseball hat and you look cool, age appropriate, and pulled together. Despite Tim Gunn's opinion, I'll even run to the grocery store in this outfit! A little trick…if you don't have time to shower spray on a light and airy perfume like Acqua di Gioia before you leave the house.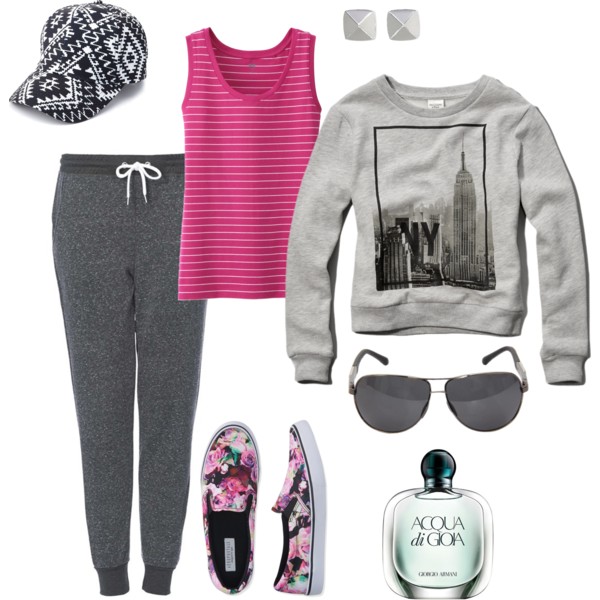 Out To Lunch
I usually spend the first month or so sticking close to home with a new baby. Eventually both the Cowkids and I get stir crazy and it's time to venture out. This outfit is perfect for coffee or lunch with a friend, or even my weekly morning volunteering at the Cowkids' school. The Palazzo pants are dressy yet comfortable and can be worn in the Spring, Summer and Fall. Just be careful with the pattern you pick, some of them have horizontal patterns which can make you look bulky. A light button down top dresses this look up and makes it easy to nurse. Make sure you pick one that tapers a  bit at the waist and is made of a flowy fabric. This will help you to keep from looking larger than you really are. Strappy wedges are cute but allow you to navigate through a parking lot or restaurant carrying a bulky car seat. Some bright, fun, feminine accessories add the final touch.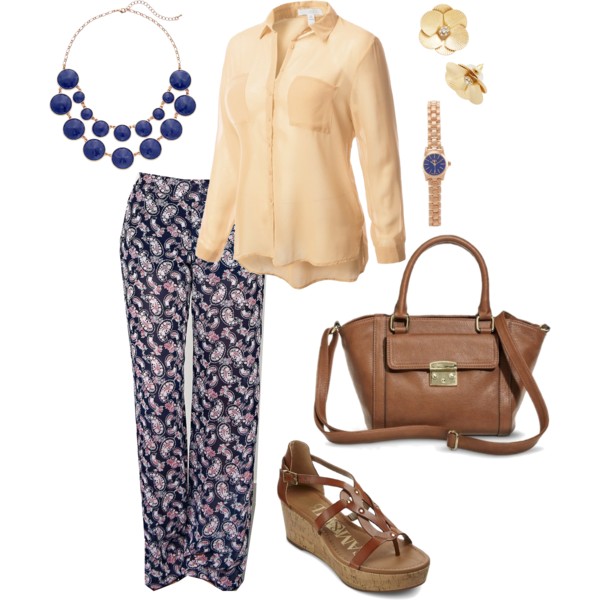 Date With Daddy (Modern)
I love this look, it's one that I've worn to church and out with The Cowboy. The pencil skirt while form fitting, has black details on the sides that will give you a slimming effect. The striped top can be tucked in or worn loose depending on your baby belly size. The strappy heels are chunky (another big trend this year) to offer stability without sacrificing sexiness. Silver and black jewelry adds a bit of rocker edge to this look and the Aztec print purse is large enough for diapers and bottles yet still stylish! PS Switch out the skirt for a pair of distressed skinny jeans for another amazing outfit!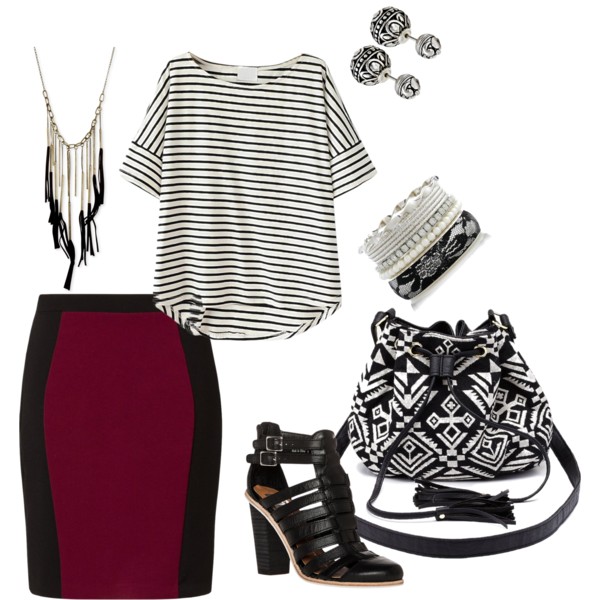 Date With Daddy (Romantic)
I adore this femanine and flattering skirt. The length and A-line cut flatter every body type and offers ease of movement. Paired with a slightly fitted cami with 3/4 length sleeves it has just the right amount of coverage without being too matronly. Nude pumps will elongate your leg and the beautiful multi-colored pearl jewelry adds a romantic and classy touch. I also love the pop of green with the purse, so fun and elegant!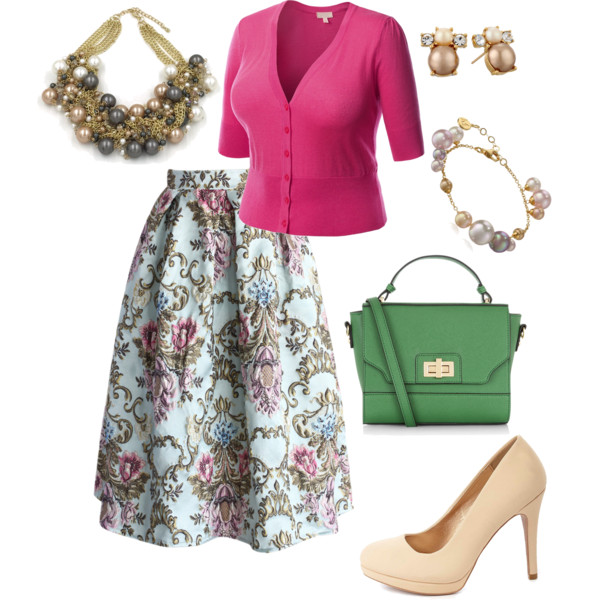 Mix and Match
Any of these pieces can be mixed and matched to make a brand new look. Take the Palazzo pants and pair them with the cardigan and nude heels from your Romantic Date for the perfect PTO or church outfit. Throw the striped shirt and chunky strappy heels with the sweats for a movie night out with the girls. The loose blouse and platforms from you lunch outfit paired with the floral skirt is the perfect Spring outfit for Easter brunch!
What outfits and pieces do you like the best?
For more outfit ideas check out our Spring 2015 Fashion Dos and Don'ts and  Dress That Baby Belly!
Categories: Fashion, Parenting, Prairie Wife Style
Tags: , date night, Fashion, hide the baby belly, motherhood, new mom, outfits for any size, outfits under $50, Palazzo Pants, Pencil Skirt, postpartum, postpartum fashion, postpartum outfits, shopping, sweat pants