Shopping in Your Closet
Posted May 28, 2014 by Prairie Wife - 6 comments
The weather is getting warmer here in Wyoming, and Spring is finally in the air. With the change in weather, comes a change in my fashion needs. I find myself feeling the itch to get some new clothes. While technically a few new items aren't out of the question for our budget, I know for a fact (after doing a closet purge last month) I already have a ton of clothes. So rather than go to Target or online, and purchasing new items I decided to go shopping in my closet. Now, before you roll your eyes at me, read on for a little bit more.
Texas Two Steppin' and I have made it no secret that we love Pinterest. We've found that for recipes, beauty tips, and fashion inspiration it's a
great resource. So, this last week instead of spending money, I went to my closet and pulled out a few key wardrobe items I love but, haven't worn in forever. Mint skinny jeans (Target 2013), Chambray sleeveless top (Target 2013), tailored tan shorts (Target 2013), and a sheer blush colored blouse (danielrainn, Marshalls a few months ago). I then went to Pinterest and one at a time did a search for my items, I found hundreds of new ways to wear them. Below are just a few of the combos that I came up with. Stop by my Prairie Wife Style Board to see some more ideas!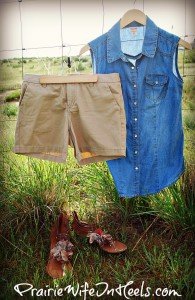 This is a super cute errand day outfit that uses two of my closet pieces, add a pair of gladiator sandals for extra comfort and cuteness! (Madden Girl Sandals, Macy's 2012)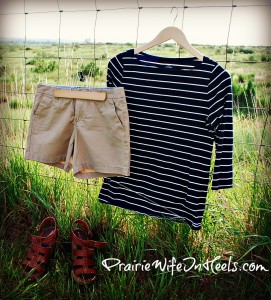 This outfit would be great for a dinner out with the girls, and I think some chunky gold jewelry would be an easy way to dress it up. I took the tan shorts from my closet, added a navy and white stripped shirt (Target 2013) and some strappy brown platform sandals (Target 2012).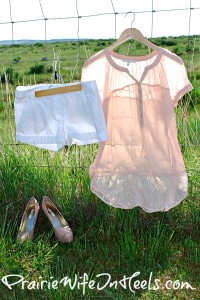 This is a lovely look for a summer date with The Cowboy. The sheer blouse is super cute and feminine but can go edgier depending on what you wear under it. For this look I would pair it with a simple white tank. The white shorts (Express 2012) are tailored and with the nude pumps (SimplyVera, Kohl's 2013) they add sophistication to the look. Ladies, don't forget to wear nude or skin tone undergarments with lighter colored pants and tops, they won't show through like a pattern or white would!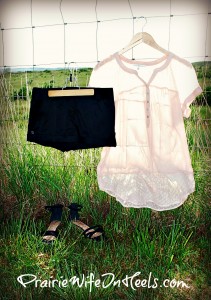 This is a nice casual outfit for a BBQ. These shorts (Express, 2012) have a nice satin sheen to them that I love, and the sandals (Target 2014) are comfy but still chic with the ankle straps. Feel free to make it edgier by simply wearing a black bra underneath, or add a full black tank.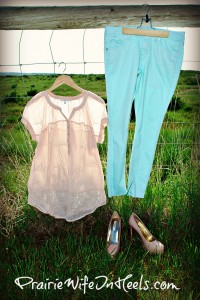 This summer outfit made with two of my closet pieces would be one I would wear to church or a lunch date. The heels (SimplyVera, Kohl's 2013) take it from casual to dressy and some chunky colored jewelry (maybe coral colored) would make it even more fun!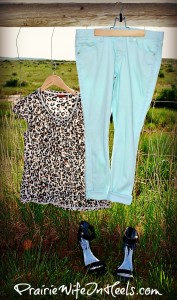 I would have never thought to put leopard (Target 2010) with mint but thank you Pintrest for this great idea! I rolled up the jeans so everyone could get a better look at the strap and buckle detail on my super sexy black heels (Jennifer Lopez, Kohl's 2014). PS Add a cute nude or black Skinny belt and a mixture of gold and silver jewelry to look super chic!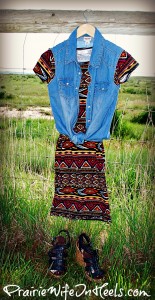 This look is one of my favorites and I can't wait to wear it next week when I go traveling with some girlfriends (more on that next week). The Chambray sleeveless top adds a little WOW to this super cute LuLaRoe (LuLaRoe 2014) dress (come back Sat to enter to win a LuLaRoe dress of your own)! I love to wear strappy platform sandals (Target 2013) in the summer because they add sophistication to an outfit without me having to sacrifice comfort.
What items would you pick if you went shopping in your closet?
Categories: Fashion, Prairie Wife Style
Tags: , budget shopping, Fashion, Mint Skinny Jeans, Outfit for summer, Pinterest, Sheer Blouse, Sleevless Chambray top, Tan Shorts