Make It Your Own
Posted February 1, 2014 by Prairie Wife -
Unlike Prairie Wife and Step Girl, I have never worked in a restaurant because I've always known people are incredibly picky about what they like to eat (Think Meg Ryan in When Harry Met Sally). This insight has helped me become a better than average hostess. How? I try to do a "bar" where guests can choose their favorite toppings. While they think I am being gracious by letting them customize their plate to their specific taste, I am really being efficient because it is much easier to put out small bowls of items than assemble everything myself. Vegetarian?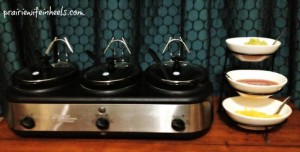 Allergic to nuts? On a diet? They'll each get exactly what they want!
Try this approach for your next party and I bet you will get more compliments with less work. Here is a bit of inspiration to get you started, and don't be afraid to go bold:
Baked Potato Bar with chili, sour cream, cheese, green onions, chopped tomato, ham, queso, bacon, green chiles, salsa, etc…
Taco Bar with corn and flour tortillas, salsa, shredded lettuce, chopped tomato, cheese, sour cream, pickled jalapeño, green chile, pico de gallo, refried beans, queso, chicken, ground beef, fajita meat, shredded pork, shrimp, etc…
Sandwich Bar with salami, roast beef, ham, turkey, sliced cheeses, lettuce, tomato, spinach, olives, mustard, mayo, ranch dressing, french bread, croissant, ciabatta, etc…
Cupcake Bar with chocolate and white cupcakes, chocolate and buttercream frosting, whipped cream, chocolate sprinkles, colored sprinkles, coconut, chopped nuts, chopped candy bars, oreo cookie pieces, etc…
Sundae Bar with vanilla ice cream, chopped fruit, whipped cream, chocolate sprinkles, colored sprinkles, coconut, chopped nuts, chopped candy bars, marshmallows, oreo cookie pieces, granola, chocolate syrup, caramel sauce, etc…
Coffee/Hot Chocolate Bar with whipped cream, mini marshmallows, chocolate syrup, caramel syrup, Kahlua, cinnamon schnapps, creme de menthe, etc…
As a side note my three crock slow cooker is a necessity for every hostess!
What bar are you planning on trying, how will you make it your own?
Categories: Recipes, This and That
Tags: , food bar, food tips and tricks, Hosting a party, On the Side, recipe ideas, Texas Two Steppin'