Five Blogs I Love
Posted May 20, 2015 by Prairie Wife - 2 comments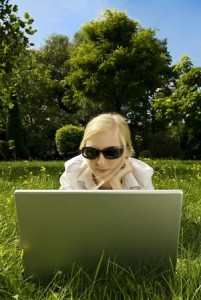 As a blogger I spend a lot of time on the computer, and more specifically the internet. Of course a ton of time is dedicated to writing for my blog, social media, and sharing my blog posts on various sites. But, a fair amount of my time is spent looking at other bloggers, reading their work, and forming a supportive blogger community. Supposedly summer will be here soon…though as I type this snow is coming down and the wind is howling…and with summer comes a little more freedom for us moms (at least I hope so)! Just in case you were looking for ways to spend your extra time I thought I would share with you five of my favorite blogs.
Ree Drummond is the best of the best in the blogging world as far as I'm concerned! Ree's blog has it all…humor, wit, intelligence, beautiful pictures, and amazing recipes, not to mention some of the kindest followers I've ever seen. I have yet to see a rude comment on any of her posts, and I've been following her for years. I'm sure you've already heard of her from her show on FoodNetwork and her recipe books. If you haven't ever stopped by her blog I'd encourage you to go there. Her posts are always heart felt and often funny. Her recipes are quick and easy and she uses ingredients you've most likely heard of. I haven't tried one yet that my family hasn't loved.
I first learned about this blog when we were both featured in an article in the Casper Star Tribune called Wyoming Blogs Worth Reading. I have become a devoted follower ever since. There is just something calming about the way that Carol writes about her ranch life. Her posts often hide a deeper message then originally meets the eye, and her stories of Wyoming ranch life often remind me how city this Prairie Wife still is! Her stunning pictures of life in Wyoming make me wish I was better with a camera, and I love her crafty projects she shares. Make sure you let her know that Prairie Wife sent you when you stop by!
This is one of my favorite fashion blogs…and I could go on and ON about her amazing posts. On this blog J takes pictures she found online or in magazines, and then uses clothing she already has in her wardrobe to recreate the looks. Sometimes the look is almost exactly the same and other times she simply uses it for inspiration. Not only is she cute as can be but, it's a photoshop free zone, and she always gives you links to buy the clothing she is wearing or similar pieces (most of the time it's super affordable too). Stop by to get some inspiration to go shopping in your closet!
This is my go-to blog for a little comic relief. Not only are her mom parody videos a YouTube sensation but, her regular posts are just as funny! She isn't afraid to say it like it is (sound like another blogger you may know lol) and willingly shares the ups and downs of life as a suburban mom. I am also thrilled to announce that she is our Prairie Wife of the Week this week (stop by Friday to read her interview and enter her giveaway)! I can't wait to see what video she comes up with next, and I have to be honest, she's become a bit of an inspiration to us here at PrairieWifeInHeels.com!
This last blog is more for those of you that are bloggers, or aspire to have a blog of your own. There is so much more to blogging than sitting down and writing and Blogelina helps me to navigate the ins and outs and ups and down of the blogging world. Her posts are relevant and informative and she is one of the best about responding to your comments and questions! Whether your just dipping your toe into the blogging world, or you've been posting for years, I recommend that you stop by her site.
I'd love to hear about your favorite blogs, let me know so I can check them out!
Copyright: / 123RF Stock Photo
Categories: Reviews
Tags: , Blogalina, blogs, favorite blogs, J's Everyday Fashion, lists of blogs, mylifesuckers.com, Pioneer Woman, RedDirtInMySoul.com