An Ode to the Wyoming Summer #giveaway
Posted July 4, 2015 by Prairie Wife - 6 comments
This week I sat in the hot sun watching my kids splash and scream at our favorite summer hangout, and it occurred to me how much my definition of summer fun has changed…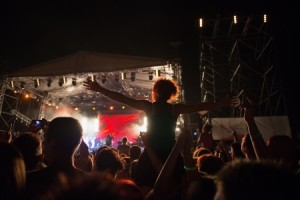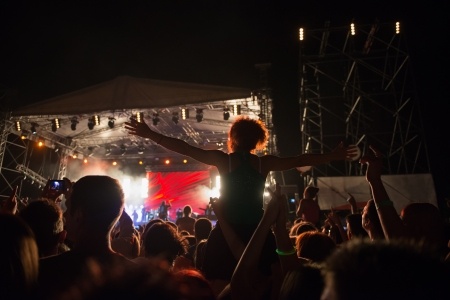 When I first moved to Wyoming, Summer was all about late nights partying under the stars, street dances, and of course "The Daddy of Them All" Cheyenne Frontier Days. Long rides on a motorcycle with the hot wind on my face, mornings that came too early, hoots and hollers of joy, and loud music blaring from the pickup truck speakers. Red Solo cups, flip flops sticking to the bar floor, concerts, and slow dancing. Jet skiing at the lake, tan lines, kisses under the fireworks, long hikes in the mountains, and naps in the shade.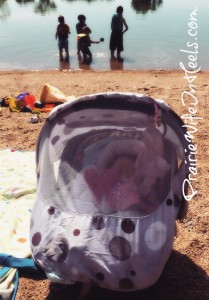 With marriage and the arrival of the Cowkids Summer is filled with the smells of sunscreen and bug spray, sidewalk chalk and sticky, drippy Popsicle chins. Splashes in the lake, screams of joy, sandy kisses, and picnic lunches. Tattling whiny voices, BBQ's and card games with the neighbors, skinned knees and band-aids by the dozens. More sunscreen and bug spray, heat rash, carnival rides and flip flops sticking to outhouse floors. Mud covered toes, Pop-It fireworks and sparklers, mornings that come to early, the squeaking of trampoline springs and the sound of giggles and laughter.
I can't decided which summer memories are my favorite, and I guess that's a good thing. I think it means that I'm happy where I am. At times I miss that feeling of utter carefree joy I had those first Wyoming summers…but it can't compare to a sticky s'mores kiss and the feel of a sleeping toddler in your arms as you stare at a campfire.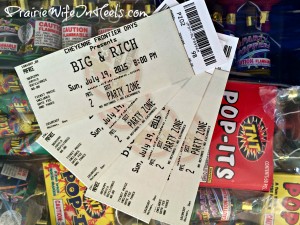 To celebrate Wyoming Summer we at PraireWifeInHeels.com have an amazing giveaway. While this is probably only a prize that our local readers can enjoy, I am thrilled to announce that we are giving away four tickets to the Big and Rich Concert July 19 at Cheyenne Frontier Days! All you HAVE to do is comment below and tell us what you love about Wyoming Summers. Follow us on Social Media to earn more points towards the giveaway. Also, if our local readers could PLEASE share this with friends so more of our Wyoming readers have a chance to win, we would really appreciate it!
Copyright: fotokostic / 123RF Stock Photo
Categories: #GiveAways, Life As It Happens
Tags: , concerts, Giveaway, growing older, parties, summer with kids, wyoming summer