Fawn Hollow Designs #giveaway
Posted July 1, 2015 by Prairie Wife - 39 comments
I've mentioned before that I can't believe all the amazing new baby products that are available. We've talked on the site about baby monitors, baby food makers, car seat swaddlers and I've even shared my must have lists for the nursery, diaper bag, and the rest of your house. Well I'm heer to share another baby product with you, and let me tell you, when I learned about this product I knew I was going to be breaking my budget rules for 2015!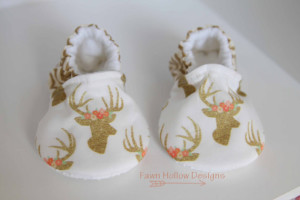 Fawn Hollow Designs is an amazing business that began all because of a shoe addiction (I think you know I can relate to that). When Shannon's daughter was born she realized that she loved to have her daughter's shoes coordinate with all her outfits. When it became clear that this "obsession" was causing her to spend more than her stay at home mommy budget allowed, she began to make her daughter's shoes on her own. After her son was born she decided to turn her hobby into a business and she hasn't looked back since!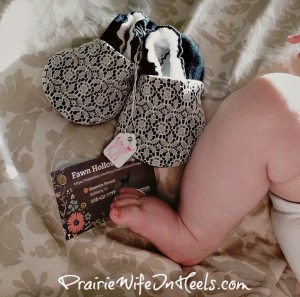 I learned about Fawn Hollow Designs from a friend of mine, who actually then gave her our website info and Shannon contacted me. She offered to send me a pair for LittleMissH to try and after I spent way to much time perusing her Fawn Hollow Designs Etsy site I of course agreed. If you follow us on Instagram you may have seen this picture of the oh-so-cute shoes. I immediately had LittleMissH put on her new kicks and I was pleasantly surprised! Not only did they fit her well (with a little room to grow) but they slid on easily and didn't pinch or leave marks on her skin when I took them off. There was no fabric left sticking to her toes, and her feet weren't a bit sweaty. Miracle of miracles, they didn't slide off with all her kicking and with the constant touching of The Cowkids! They even made it through a car ride to town and church with no problem. Plus, I got more than a few compliments, always a plus.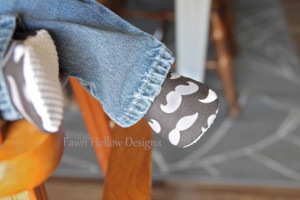 As a mother of three boys I love that Shannon has absolutely darling prints for boys as well. Let's be honest, cute shoes for girls can be found anywhere but for boys…well that's another story. TallGirlJ has a pair of Fox ones for her son that make me ache a little for another baby boy! The no slip bottoms on the shoes make them practical, and they offer just right the amount protection for little feet starting to crawl and walk.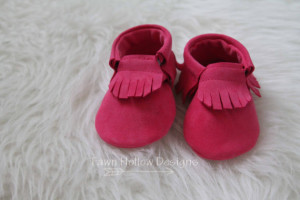 Did I mention how affordable they are? Prices range from $10-$22 depending on the style. I already have my eye on a pair of moccasins and boots for LittleMissH this fall! Fawn Hollow Designs has a variety of styles and they currently include shoes, boots, Mary Janes, and moccasins. The ever changing array of fabric colors and patterns have me biting my fingernails. Just when I think I have my favorite color (the teal moccasins) or pattern (floral stripe Mary Janes) picked out, she has a new one I just can't resist!
As a gift to you our readers Shannon has offered to do a giveaway of one of her fabulous pairs of shoes (pattern and size to be determined upon giveaway completion)! All you need to do is visit her Etsy site and tell us in the comment section what shoe style and pattern you love the most! To earn more points toward the giveaway you can follow PrairieWifeInHeels.com and Fawn Hollow Designs on social media. Please be honest, we will check.
Categories: #GiveAways, Reviews
Tags: , Baby boots, baby Mary Janes, baby moccasins, baby produts, baby shoes, Etsy, Fawn Hollow Designs, Giveaway, Gotta Have it, small buisness