What a New Mom NEEDS for the House and Bathroom
Posted May 12, 2014 by Prairie Wife - 8 comments
This should be the end of my lists for new moms! I already let you know what I think you need in your diaper bag, hospital bag, car, and nursery. Now, this last list, is what I think you need in your bathroom and house to survive that first year of motherhood. I've listed the brands that I like, and that have made it through all four Cowkids (and all the other kids that come over) and are still working just as well as ever. When I can, I've included links (most can be bought at Amazon.com and Target) so all you have to do it click to take a closer look at my favorite things. Since you usually have at least a few months notice before the baby is born, I recommend doing some price shopping. A lot of times on-line can offer you free shipping and discounts you can't find in a store. Also, other than for car seats, shopping second hand and hitting up garage sales is an excellent way to keep your costs down. A few of my friends and I even rotate the bigger items (which only works if your kids are born at different times)!
PS Was Cowgirl G not the chubbiest baby ever?!
Bathroom
3 hand towels-I have to explain this…I don't use the baby bathtubs or seats. I simply fill the tub with an inch of perfectly warm water and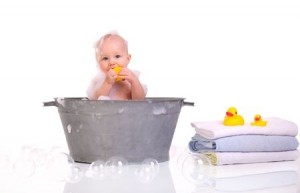 bath soap, lay down the hand towel, and put the baby on it. I think they stay warmer (and happier) this way and, it really lets their bum get a good soaking.
2 towels for the baby (the ones with a hood are cute but not necessary)
Baby Body and Hair wash (Burt's or Alveeno work great on my babies dry and sensitive skin)
2 Baby washcloths (they really are so much gentler on their skin)
Everything Else You Need for the House
Car Seat and base (For all my kids I have used a Graco Snug Ride)
Car seat cover (for colder Wyoming weather Jolly Jumper Sneak a Peak Cover, warmer weather Cozy Car Seat Sun and Bug cover)
Stroller (Graco Stroller, car seat snaps in or child can lay/sit up to 40lb)
Basket to keep supplies downstairs if you have a two level house (trust me you don't want to walk up and down)- Put in diapers, wipes, rag,diaper cream, extra set of clothes, and a blanket
Swing (Fisher Price Cradle Swing)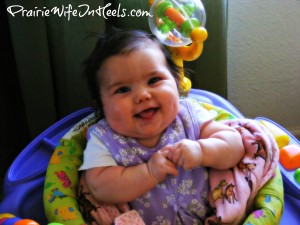 Vibrating bouncer (Fisher Price Bouncer)
*If you have to make a choice between swing and bouncer, I say buy a bouncer!
Some already filled formula bottles in case nursing isn't working for you (you can find them at any store)
Bottles and Dishwasher Bottle cage (wait to buy these until you decide how you are going to feed the baby)
Pacifiers (I only had one kid ever use one, and it was only for a few months. I advise that you just get a few until your baby lets you know what he/she prefers (NUK is best for nursing babies))
High chair/Booster seat (not needed for 5 months, Fisher Price Healthy Care Booster Seat)
Pack and Play (It's debatable if you need one. I use it to keep the baby in our room at night next to me for the first 4 months, and then The Cowboy uses it when he has the baby outside in the barn with him, Graco)
Activity mat/gym (not needed until 4 months)
Exersaucer (not until 5 months, I like the standing ones better than jumping)
Sling (or baby carrier)-I could not get anything done without one of these, and they are so great when traveling with kids!
Did I leave something out? What do you think a new mom needs?
Categories: Life As It Happens
Tags: , bathroom, car seat, house, lists, new mom, pregnancy and babies, supplies, support, toys