Shorty Swaddles #giveaway
Posted May 27, 2015 by Prairie Wife - 23 comments
One of the great things about being a parent in this day and age is all the super cool products that have come out. I don't know how I survived toddler-hood with my three oldest before "squeezy pouches" were invented. The piece of mind I have with my Snuza Hero Monitor is invaluable, and how about those awesome zipper car seat covers that keep out the Wyoming snow, wind, and rain?
Here at PrairieWifeInHeels.com we consider it our job to let you know about the products that we think are awesome, and I love to hear that you love them too. Texas Two Steppin' can't live without her Heir Atelier Makeup Primer, and I've had more than five of our readers tell me they have purchased the vacuum I mentioned in this house cleaning post…and they all LOVE it and agree it is life changing! Click on our Gotta Have It tab at the top of the page to see more product reviews and remember to check out our Prairie Wife Guarantee.
When LittleMissH was born I received a special handmade gift from one of our past Prairie Wives. I had never heard of Shorty Swaddles before, and as it's a small company based in Wyoming I'm sure it's new to you as well. Shorty Swaddles are car seat swaddling blankets, and my new favorite baby product invention for 2015! With the Wyoming weather I often worry about my baby being warm enough, and when LittleMissH was born in February this was a big concern for me. Even with the zipper covers on my car seats, I often added another blanket on top of them. With Wyoming's cool and windy Spring and Fall mornings, my zipper cover was too much but, a regular blanket was too light or would blow off. With the other four Cowkids it was a constant battle to go from the car to the store…little did I know that the solution to my problem was being created just a few miles away!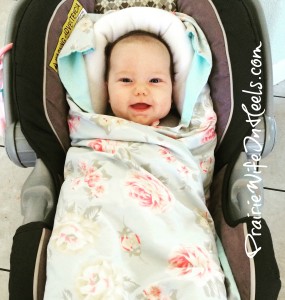 Shorty Swaddles are fabric swaddlers (they have light and heavier fabric choices) that simply lay in your car seat. You place your baby on top, buckle them in, and then swaddle them up…snug as a bug in a rug! I personally loved that I didn't need to remove the straps on my car seat to use the Shorty Swaddles. This makes it easy clean up if there is a diaper blow out or spit up mess while we are in the car. All you need to do is grab the Shorty Swaddle and throw it in the laundry with all all your other clothes! As you can see from the pic LittleMissH adores hers, and is super comfy and cozy in it.
To checkout the fabric choices, see more happy babies using Shorty Swaddles, watch how-to-videos and see Shorty Swaddles in action stop by their Instagram page.
I am thrilled to announce that we have the opportunity to give away a Shorty Swaddles here on the site. All you HAVE to do is leave a comment and tell us why you want a Shorty Swaddles of your own. You can earn more points towards the giveaway by following us on social media. Please be honest we will be checking.
Categories: #GiveAways, Reviews
Tags: , baby products, car seat blankets, Giveaway, Gotta Have it, product reviews, shorty swaddles, swaddle blankets