Keep Calm and Prairie Wife On
Posted May 30, 2015 by Prairie Wife - 3 comments
As a blogger and  mother of five I try to plan my life out at least a few weeks in advance. It keeps me focused on what needs to be done, and I find that I am more likely to actually get something done if it's on my calendar. I've shown you where I blog and I plan to do a post about my blogging process in the near future. Today I had planned to put up a post about starting a vegetable garden in Wyoming. Our arid and changeable climate offers certain challenges and when you add to that 4 Cowkid helpers…I knew it would be a fun post. But, Mother Nature has different plans, and due to excessive rain we continue to be unable to start our garden!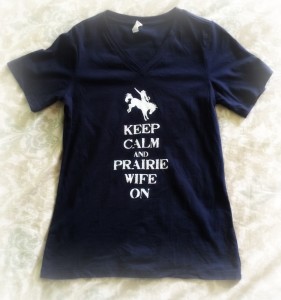 No biggie though, I've simply stuck to one of our philosophy's here on the blog "Keep Calm and Prairie Wife On" and decided to let you know about a fun (and I think exciting) new part of the blog. As you know one of my obsessions is fashion and how the "real American woman" can afford to look stylish and use inspiration from the fashion runways to create a chic look for herself.
Right now shirts with sayings on them are really popular not to mention fun to wear! I love my Surf Wyoming gear and another brand I adore is LovedbyHannahandEli their "Mama Bear" line is awesome. They dress up my yoga pants, look cute with boyfriend jeans and sandals and are a great conversation piece.
Here on the blog we decided to create a few limited edition PrairieWifeInHeels.com shirts and our first design was released for purchase earlier this month. Just click the ad and picture on the side of this page to get to the PrairieWifeInHeels.com store or click this link. We will be issuing more designs (and even some fun kids shirts) as the summer goes on, and depending on the demand some long sleeve shirts this fall.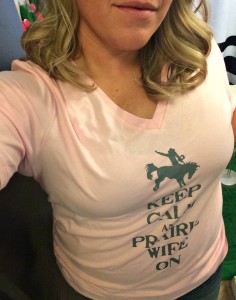 Our T-shirts are soft, wash and dry without bleeding onto other clothes and mine haven't shrunk yet! They are slightly fitted but are made for women (not juniors) so are a longer cut with a little more room in the middle area (because we all need that). It was important to me that these shirts are affordable because no matter how cute a shirt is it's hard to justify paying $35 for one when your on a budget. So with that in mind the cost of our t-shirts is only $20! I'm thrilled to say that we are almost sold out of some sizes and colors (so go get yours now before it's too late).
The feedback from our readers has been great. Follow us Facebook and Instagram to see pictures that they've shared of themselves wearing our Prairie Wife gear (like this super cute one on the left) and stop by the store to get your shirt and show your Prairie Wife Pride today!
Categories: Prairie Wife Style
Tags: , casual fashion, Fashion, Keep Calm, T-shirts, vintage t-shirts