Dresses for Nursing Moms
Posted May 11, 2015 by Prairie Wife - 2 comments
As a nursing mom I find that I'm often stuck in a rut of separate tops and bottoms. For obvious reasons wearing a regular dress just won't work to nurse in (pulling my skirt over my head seems to distract people for some reason). I've even tried some lower cut dresses in hopes that I can just pull them down and nurse. I ended up a wet frustrated mom with a screaming hungry baby. I do have some great two piece outfits that are dressy and practical but, for certain occasions like weddings, baptisms, and formal dinners I feel like a dress is necessary. Over the years I've collected a few styles of dresses that work for me as a nursing mom, and afterwards too! They are cute, chic, and practical, especially if you wear a nursing tank under them. Everything pictured below can be worn any time of year by simply adding a cardigan or blazer, leggings or tights and boots.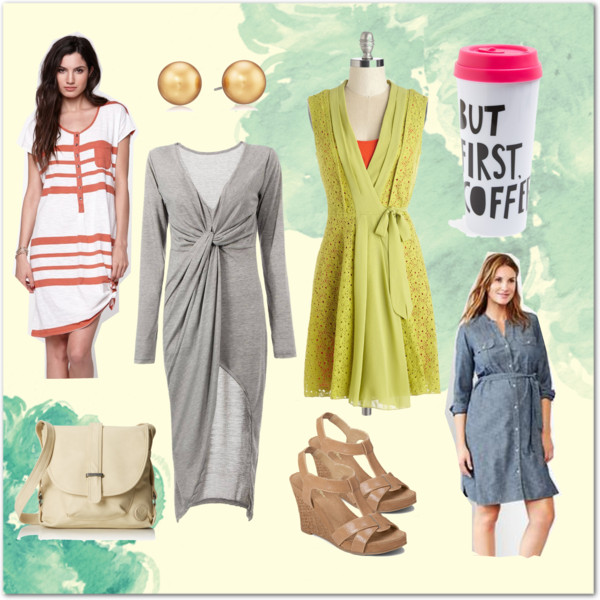 I had to add a few cute accessories (isn't that coffee mug hilarious?!) just because it was fun to find ones that matched all the outfits. I stay away from bulky necklaces and dangling earrings when I have a young baby so while they would look great with these dresses, I didn't add them. I have also found that jangly bangles and chunky cuffs look great, but they bother my babies when their head is resting on my arm when I am nursing.
What clothes do you like to wear when you are nursing?
Categories: Fashion, Parenting, Prairie Wife Style
Tags: , dresses, dresses for moms, dresses for nursing moms, Fashion, motherhood, nursing mom