LittleMissH's Big Weekend
Posted May 13, 2015 by Prairie Wife - 4 comments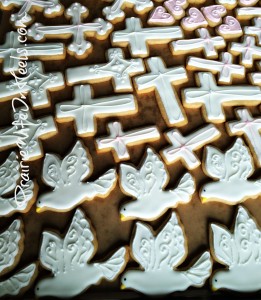 LittleMissH will be getting baptized this weekend, and everything here on the Prairie Homestead is in a bit of a tizzy! Ma flew in on Sunday and Pa and Grandma Bea arrived on Monday. Texas Two Steppin' (her Godmother) flies in on Friday. The end of last week was spent in a flurry of deep cleaning…for some reason when I know Grandma Bea is coming my regular cleaning routine just doesn't seem up to snuff. On a side note I need to plug the Hoover Steam Cleaner , it cleaned my dinning room chairs in minutes and they look like new! Thankfully, I got all of my cleaning done before they all arrived and the house is as sparkly as it gets. We've got lots of fun things planned for our time together this week, and helpfully the weather will cooperate. Cowboy J and Cowgirl G are super excited to play hookey for a few days, that way they have a little more time to spend with family.
LittleMissH will be baptized on Saturday morning and afterwards we have a big open house planned. It's just a way for us to celebrate this beautiful little blessing. All of our close friends and family gather together and eat good food (catered by HQ BBQ our favorite local place and of course cookies by Life Is Sweet) while our children run around. It's a time for the adults to chat and just simply enjoy each others company. We've done this for our last few kids and it's been the perfect way to thank everyone that has been a part of this journey of parenthood that we've been on for the last decade. I can't say enough how thankful I am that we live in Wyoming, where everyone still strongly believes it takes a village to raise a child.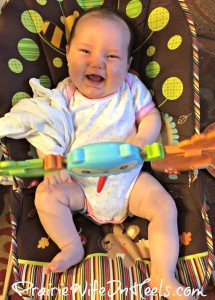 Just a few moments ago I took a break from writing this to nurse LittleMissH and as I sat there for an extra 15 minutes just holding her and listening to her breathe I am brought back full circle to the purpose of this post. I wanted to catch you up on how she is and share a few thoughts I had about her baptism. Firstly LittleMissH can most easily be described as zen. She hardly ever cries and fusses, and even then she gives a few warning singles before she really goes off. She loves her car seat, her daddy, all the other Cowkids, and has no trouble eating. She is the best sleeper I have EVER had (I think we can all agree I earned that) and smiles and coos at everyone. When she's tired she simply closes her eyes and goes to sleep, not a peep or fuss out of her. Honestly, we feel like our family is finally complete, but if I knew for sure I could get another baby like her I might just change my mind. Her chubby smiles and bright blue eyes (it would be SO fun if they stayed that way) melt my heart, and the way she happily kicks her sweet little feet as she eats makes me smile every time. All babies are a blessing and LittleMissH is truly ours.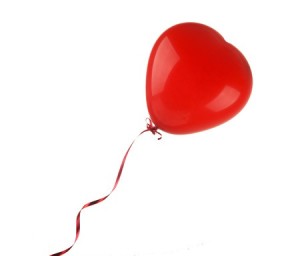 As we prepare for her welcoming into the church, her first sacrament, I found myself thinking about what our old priest in Cheyenne said to us as we prepared for Cowboy J's baptism. He referred to baptism not only as a sacrament where we welcomed and celebrated this new member of our church but, as a way that God marks his special children. He described it as God tying an invisible red balloon to our baby. A way to make it clear that this child is special to him, loved by him, protected by him, and one of his chosen people. I know it's silly but I always cry at our children's baptisms…each and every one has pictures of me red faced and blubbering. Perhaps it's the joy of all the people gathered together to show their support of us and our child. Maybe it's the special prayer for mother's that is said that sets me off. Really though, I think it's from relief. Knowing that at this moment God officially shows the world that my child is his as well seems to take so much weight from my shoulders. It's nice to know that he has my back…because we all know that moms can use all the help we can get!
Copyright: / 123RF Stock Photo
Categories: Life As It Happens
Tags: , baptism, family, friends, LittleMissH, parenting, support