Holiday Pinata Cookies
Posted November 19, 2014 by Prairie Wife - 2 comments
The Holidays are here and while we all love the traditional decorated sugar cookies, sometimes it can be fun to change things up. Our Past Prairie Wife of the Week, and Guest Contributor here at PrairieWifeInHeels.com Cheeleo from Life Is Sweet, took the time to show us how to make our own Holiday Pinata Cookies. Take a moment to watch the video and then scroll down to find step by step instructions. While Cheeleo uses Turkey cookie for a fun Thanksgiving Pinata but just think how cute Christmas Tree or Snowmen Pinata cookies would be?! For some great frosting and decorating tips click here!
Questions or comments? Just leave them in the comment section and Cheeleo will stop by to answer them!
Holiday Pinata Cookies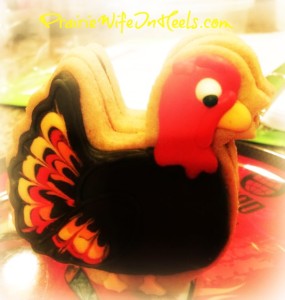 Ingredients
1 Batch of baked Sugar Cookies
Royal Icing
1 bag of small chocolate candies (mini m&m work the best)
1. Roll out a batch of sugar cookies using your favorite recipe (or use sugar cookie dough premade and in a roll…we won't tell). Make sure that every third cookie has a hole cut out of the center (see the video for exact instructions).
2. Bake the cookies and decorate the ones that do NOT have a hole in the center. Remember that you will have to decorate opposite sides of the cookie if it is not symmetrical (once again see video for clearer instructions)!
3. Once cookies are decorated and dried, place the first cookie frosting side down. Using your Royal Icing trace a thin line around the edges of the cookie. Place the cookie with the hole in the center on top of the icing.
4. Fill the hole with small chocolate candies, make sure you don't over fill it!
5. Using your Royal Icing pipe a thin line around the cookie with the hole in the center that is now filled with candies. Place another frosted sugar cookie, frosted side up, on top of the icing. allow to set for 5 hours.
6. Serve to your friends and family and watch the fun as they discover the sweet treat inside their cookies!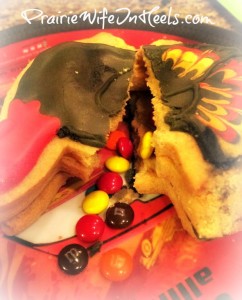 Categories: Recipes, This and That
Tags: , decorating cookies, Holiday Cookies, How to Video, life is sweet cookies, pinata cookies, royal icing, sugar cookies, sweet treats