Prairie Wife of the Week November 21, 2014
Posted November 21, 2014 by Prairie Wife - 2 comments
I first met Dallas Lain when I was a first year teacher, freshly graduated from college, and not even engaged to The Cowboy yet. Her husband and I taught at the same school and I recall her coming in with her two beautiful boys and helping him set up his classroom. I was in awe of this put-together woman who was staying home with her boys yet still so obviously bright and intellectual, and I envisioned myself being like her sometime in the future. Dallas took pity on me, alone with no friends in a new town, and her and Jade had me over several times for dinner and fun with the boys. I still think of her every time I cut an onion, she saw me mangling one as I tried to help her make dinner, and calmly showed me how to wield a knife properly.
I'm thankful that through the years Dallas and I have kept in touch and that she didn't immediately write me off as the silly egotistical 20 something I was when we first met. Each time I talk with her I am renewed in both energy and spirit as we bond over a life full of little boys and the challenges of trying to stay true to ourselves while staying focused on our family.  As a young mom she chose to leave her job as a lawyer to stay home with her children, and then years later reentered the fast paced field of law. Dallas' refreshing honesty about life as a working mom is something that all of us that have been there can understand. A few months ago, when I learned that Dallas had decided to start her own law practice , I knew that I needed to have her be one of our Prairie Wives.  These are all choices that I not only admire, but ones that I know many of our readers can relate to! Please feel free to ask Dallas any questions in the comments section…and I hope that we see more of her sage advice again on the blog as a guest contributor (hint hint Dallas)!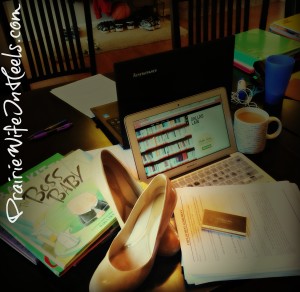 Prairie Wife (PW): First tell us a little bit about you and your family and how and why you became a lawyer.
Dallas (D): I grew up in Nebraska as the oldest of three children. I went to college in Hasting, Nebraska where I met Jade, who is my husband of almost 17 years. After college I went to law school in Boulder, Colorado. I really didn't have much familiarity with what lawyers did from day to day, but I loved law school in terms of the analytical brain work. I ended up being drawn more to the transactional side of the law as opposed to trial work. Transactional work is essentially giving clients advice about their business and personal transactions so they have the right information about legal risks and protections to make the best decisions they can under the circumstances.
After graduating from law school, I worked for about 3 years in Colorado at firms that worked for clients in the telecommunications industry, including cable television companies and companies that were building fiber networks and selling internet services (ISPs or internet service providers). This was in the late 90s and early 2000s, in other words during the dot-com bubble when businesses and consumers were just starting to explore the possibilities of moving business transactions online and investors were jumping to buy shares in anything that had a "dot com" after the name. All in all it was a pretty interesting time to be in the industry and I learned a lot about both the underlying technologies that made the internet possible, like fiber optics, as well as the business structures companies who were building software or building platforms expand their brick and mortar businesses to the net.
In the midst of all this, we had our first son and found that we were spending a lot of time driving back and forth between Cheyenne (where Jade had family) and Denver. And as the dot com bubble peaked and then started to burst, I realized that the work wasn't a good fit for me at that time of my life. What I took away from that experience is that I work best when I can really see how what I'm doing provides value and as a first or second year associate in a large law firm setting, that's sometimes challenging to see. I work better in a collaborative role with clients and stakeholders. Essentially, I was disenchanted with what I was doing, and … I missed my baby! So we ended up moving to Cheyenne in 2001 and helping in a family business for a period of time and then Jade got his teaching certificate and I became a stay-at-home mom!
PW: Can you share a little bit about your life as a mother of 4 boys?
D: After our move to Cheyenne, we had three more boys – our boys now are 14, 11, 10, and 7. Both my husband and I felt that our family would benefit from having a parent at home, and we have been so fortunate to be able to build a life where we could do that for much of the time we have been parents. I am really thankful for the time I was able to be a stay at home mom – while the budget was challenging, the days were so fun spending time with legos and the park and the library and lots of noise. Now that the boys are older, we spend less time at the park and more time at various activities, but I still seem to pick up a lot of legos and there is still quite a bit of noise. We also are enjoying how the internet has somewhat replaced library time – often the boys will find something funny or interesting online that they share with us (what does the fox say … enough said) and we have a lot of fun with gaming as well. The three youngest boys are currently obsessed with a civilization building game and have formed an online alliance with some of their friends. I frankly don't have any interest in playing, but I love listening to them talk about their strategies and plan and problem solve as they're playing it.
PW: What was the transition like to go from stay at home mom back to work as a lawyer?
D: The main drawback I found to staying at home was that it seriously compromised my ability to engage in a little retail therapy – sometimes a girl just needs to go to Target and pick out a new scarf or a pair of boots! So when our youngest son was three we decided that it was time for me to go back to work. I was fortunate to be offered an opportunity to work for the state Medicaid agency right as they were starting to look at how they could use electronic health records to run their programs better and to support better care to their recipients. That job led to a related position with the State where I oversaw a grant that was designed to help exchange health records electronically between doctors and hospitals who weren't necessarily using the same technologies. In both of these roles I got a lot of experience with online privacy and security issues and making sure the projects complied with HIPAA and other regulations. So in a way I was back to the transactional role of making sure everyone understood the risks and requirements and then helping to recommend a best decision.
Going back to work was surprisingly fairly smooth. By this point my husband was an experienced teacher and comfortable in his job. This meant he was able to step up and help a lot with the boys. It was a good fit for me schedule wise as well. I didn't have hearings that I had to be up all night preparing for. It was work with a team that I could count on and we had predictable schedules to work with – very few emergencies that required me to drop everything in my personal life at a moment's notice. That's something I would advise other moms returning to work to think about when they look for a job. How does your schedule fit with the needs of your family, will there be flexibility in your schedule, and can you prepare for the higher stress times before they come?
PW: Any survival tips or tricks for other working moms out there?
D: Talk to your husband or partner and make sure they are one hundred percent on board. If you have a partner who will help you carry the load that will make all the difference. It means so much to me that Jade can, and will, go to the store and make dinner. Keeping tasks and responsibilities clearly organized and dividing up chores is another thing that has helped us. Communicating my expectations with my kids and husband keeps us clear on who needs to do what.
Let's be honest too…you are going to need to let go of some of your standards. The first fall after I'd returned to work my third son who was a kindergartner at that time casually mentioned that his teacher gave him a comb that day at school. My stomach dropped as I looked at the rag tag group of boys in the back of the car. Messy hair, torn jeans, and wrinkled shirts…Needless to say we didn't purchase any school pictures that year! Also, don't be a martyr. If you spend every free day running around and cleaning and playing catch up and then being resentful and grouchy, you aren't doing anyone any favors. Think about why you went back to work. Wasn't it to help make a better life for both you and your family? Hire a cleaning lady if you can, or whatever you need, to take some of that pressure off. That way you can enjoy the time you have with your family.
PW: In the rare moments that you get to yourself, how do you relax?
D: My default relaxation is to get lost in a book, and I shockingly have really begun to like working out in the past few years! I also am not above locking myself in the bathroom for a few moments of peace. We are a pretty mellow family; so on the weekends when we aren't busy with sports we like to stay home and relax.
PW: This year you decided to open up your own practice. What led you to make that decision?
D: The projects that I was working on with the state started to wind down, and I looked around and wasn't sure what my role would be going forward. I also had a growing sense again that I wanted to be more face to face with my clients, and see directly how I was bringing value. Taking my law firm experience with my experiences in state government, I felt confident that I had the skills to manage a business and provide legal and consulting services in the areas I'd been so fortunate to gain some expertise in. So last September I opened my practice and within a couple of weeks had my first client call – someone I had worked indirectly with while at the state – who was working on a great health technology business using video conferencing to provide counseling services. I like going straight to the business owner with my recommendations and supporting a business that has a specific, direct value to its customers.
It's been wonderful to work one on one with my clients and collaborate with them. My focus is on helping people with the legal aspects of getting an idea or a business off the ground, and it's so exciting to be a part of that! I am also available for any kind of consultation work. I've helped families who know they need a will, but have no idea how to begin the process. I help them to draw up a document that gives them piece of mind and provides the future they want for their children. I've advised people in legal trouble that don't know how to start working their way out of a problem, and advised bloggers who want to make sure they are running their sites both legally and ethically, as well as helping them separate their online business assets and liabilities from their personal assets.
PW: What advice would you offer to other lawyers that are considering this kind of move?
D: I'd give the same advice to lawyers as I would to anybody considering starting a business – know yourself and your reasons for going out on your own, be persistent in where you are going but flexible about how you get there. I am starting out with a commitment of not going into debt to do this and I think that you need to think about your cash flow strategy as you start out. There is always time to grow bigger, and frankly, it's much better to fail before you've invested a bunch of your money and other people's money! There is always time to grow bigger, so start small. Use the opportunities we have through technology to do things inexpensively and grow bit by bit. Know yourself and your limitations. Make sure that you don't get stuck sitting by yourself staring off into space for hours on end. Take some time to evaluate yourself and your goals and figure out what kind of environment you need to flourish. Stay positive and focused and have clear goals (and a timeline for meeting them) for your practice.
PW: Are there any misconceptions about lawyers, specifically female lawyers that make you crazy?
D: I think the perception of lawyers as people who are confrontational and argue just for the sake of arguing makes me a little bit crazy and also a little bit sad. The best lawyers are good listeners who can listen to and read people and figure out what their real needs and objectives are. While confrontation and argument are sometimes a tactic we use, ultimately lawyers are problem solvers and planners whose end goal is to give their clients the information and support to achieve their goals.
PW: How do you pick a good lawyer?
D: First, start by asking people you trust if they have a recommendation. For example, your accountant or financial planner or insurance agent should be able to refer you to a good estate planner or a business lawyer. Go with your gut and schedule a consultation to make sure it's a good fit. You often have to pay for the consultation but, most lawyers will then take that off your end fee if you work with them. You need to feel heard and understood and leave with a piece of mind. Also, pay attention to the little things. Are they returning calls and getting back to you promptly? If not it's probably best to look somewhere else.
PW: Where do you hope to see your family and your practice in five years?
D: I see my practice primarily as a way for me to serve my family. My ultimate goal for my family is to provide a good life for them and to be able to say yes when the boys have opportunities for getting an education or starting out in a business or career. I also want my practice to grow and be a business that helps my clients have better lives. I want my clients to walk away feeling confident and supported. Whether it's starting a new business or writing a will or seeking advice about how to solve a dispute with a family member or business partner, I want my clients to know that they are secure and I have taken care of them to the best of my ability.
PW: Any last Prairie Wife words of wisdom for our readers?
DL: I think one of our biggest jobs in life is to be as happy as we can. To do that, you have to get out of your head and manage the "reptile brain" that says it's safer not to risk anything. I've also gotten more comfortable with the idea of not being perfect at every single thing on my very first try! Show up and try, more often than not good things will happen for you.
Categories: Prairie Wife of the Week
Tags: , Dallas Lain Law Office, law school, lawyer, Prairie Wife of the Week, returning to work, small buisness, stay at home mom, Working mom