Baby Pro All in One Baby Food Maker
Posted January 13, 2014 by Prairie Wife - 7 comments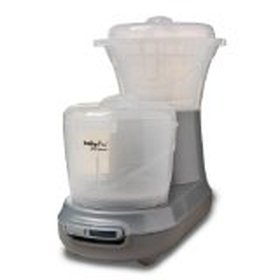 When Cowboy J was born I decided that I was going to make his food from scratch, to be healthy and to save money. I bought a ton of ice cube trays and spent my weekends making batches of baby food and freezing it. I would cook the food in the microwave and transfer it to my little KitchenAid blender and chop away. I often had to add water or juice to it to get just the right consistency. Cowboy J wasn't a picky eater and chowed down on all the delicious meals.  As a working mama this was a cheap and somewhat simple way to make my baby food, and it kept my weeknights relatively easy. All I had to do at dinner time was to simply pop a few cubes of frozen food in a bowl, and heat it in the microwave. I did the same thing with Cowgirl G as well.
When I was pregnant with Cowboy W I went over to a friend's house for a play date and lunch. She had a son the same age as Cowboy J and a little girl who was almost a year old. As we chatted and the kids played she pulled out a big green appliance from under her cupboards and started to add water and food to it. I asked her what on earth she was doing, and she walked me through the wonders of an all in one baby food maker. It steamed the food and then blended it to just the right consistency. She explained that she would never have bought it herself because it came with $150.00 price tag. But, it was a gift from a family member and now that she had one, she couldn't imagine living without it! My eyes glittered at the thought of not spending hours making food and trying to get it smooth enough. Not to mention having to sometimes throw out freezer burned cubes of food.
I hit my favorite spot for online shopping, Amazon.com and did some looking for the Baby Pro All in One Baby Food Maker. The lowest I could get the all in one baby maker was $120.00. Even though I knew I would get a lot of use out of it, between the new baby and any future babies, that was still a pretty steep price for our budget. When I searched for baby steamers I came across a similar product made by Baby First called Babypro All In One Baby Food Maker. The reviews seemed pretty positive and the price was $50 dollars less. I decided to give it a try, with Amazon.com's return policy I knew it would be simple to return it if it wasn't working the way I thought.
I am here to say that it's amazing! It steams food quickly and easily from carrots to apples and any other combination you can think of. The blender works smoothly and gets the food to any consistency needed. Just grind it longer for a finer food. I also like that I can use the water left over from the food steaming (with all those vitamins) to make the baby food creamier, rather than adding water or juice. The first time I used it I had to follow the directions, but after that I didn't need them. I also had a two year break between Cowboy W and Cowbaby and remembered right away how to use it! It's small enough to leave on the counter all the time, or to tuck in a cupboard if you don't like clutter. The BabyPro is a cinch to clean, just throw everything onto the top rack of your dishwasher. Mine has been through 2 kids and I plan on using it for any more that we have. Below I put a few links for other products that I have found useful for making my own baby food, just click on the picture to go the link.
I'm huge into organic food and the Baby Pro All in One Baby Food Maker makes this task so much easier. Do you have any baby food recipes to share?
Categories: Product Reviews, Reviews
Tags: , amazon, baby, food, maker, picky eater, steamer