Prairie Wife of the Week August 1st, 2014
Posted August 1, 2014 by Prairie Wife - 4 comments
In June we interviewed Sarah as she was preparing to participate in Project 143. Project 143 is a charitable organization that offers some of the 143 MILLION Orphans around the world a chance to live with a family for 8 weeks in the summer. Take a moment to read her interview if you haven't had the chance yet. I told our readers that we would be touching base with Sarah and her family, and as her time with Vitaliy draws to a close, she gave me few moments of her time to share her family's experience. Her interview is both heartwarming…and heartbreaking. I am hopeful that we will be touching base with her again soon.
Prairie Wife (PW): What was it like to finally meet this little boy you had been waiting for?
Sarah (S): Honestly it wasn't what I expected! He was so tired and overwhelmed and scared when he met us. He traveled all the way from the Ukraine with four teenage girls and a chaperone. When they all landed in Denver he was shell shocked. My first instinct was what are we doing? And I hope this works out!
PW: After everyone was rested how did your first few weeks go?
The first few weeks were super challenging. The language and communication barriers were a big hurdle for us. He only speaks Ukrainian so explaining little things was difficult. For example, just getting in a car and putting the seat belt on him was a brand new experience. It was like having a two year old; he was standing up and pushing every button he could reach. It was all those little things and experiences we realized we take for granted, and it is our job to show him how our world here works. It was a big learning curve. I've found that the more he knows about where we are going and what we are doing in the day the better the experience is for us all. It has helped to show him with pictures on the internet the places we are going, and the activities we plan to do.
Of course adding another personality into the mix of our family of five has been a challenge. Our three boys are so different from each other so there has never been any competitiveness, and our daughter is still so young it's not an issue. Vitaliy is very competitive and he likes to tease people…it took my kids a while to learn that he was joking around and to not take things personally. Really, he was trying to get interaction and attention from the boys; he just didn't know how to do it in a socially acceptable way.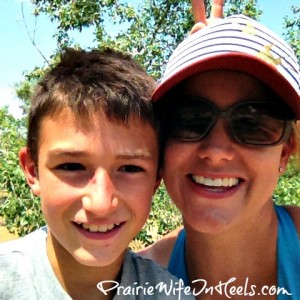 There are certainly times when I can see his experience as a child in an orphanage coming out. I think that's where the competitiveness comes from. After all, living in an Orphanage only the strong survive and every day he has to fight for his very existence. It's just going to take a lot of love and patience from all of us as well as time and education to help him know that he is safe, and what our expectations are. He has never been with a family and has no idea how the structure works. Learning that my husband and I are the head of the family, and that the children are expected to be kind and helpful, not intimidating or fighting for the top position has been a process for him. Add to that the regular cultural differences and you can get an idea of how much Vitaliy has to learn in such a short time.
PW: You had a list of things that you wanted to do as a family, did you get any of them done?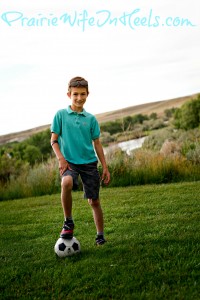 S: We have done so much, and made so many memories. We did the rodeo and fireworks and lots of little trips to the lake and of course we went to Frontier Days. He learned how to ride a bike. He was absolutely ecstatic about this and it was the first thing he did! Like every kid he was super frustrated at first but, he kept on going and got it! He's even doing wheelies on it now. He loves to play soccer so this week we have him in soccer camp. He has never played organized sports before, not to mention the language barrier. There is definitely a big learning gap between him and the other kids. His heart is in it, and he is so willing to work hard to be successful. Vitaliy also enjoys the simple things of every day family life. He loves to go on family bike rides so; we go almost every day now. In the evening he loves to have story time with my mom, all the kids pile into bed with her, it just warms my heart to see him there.
PW: Now that it is close to the time to send Vitaliy back to the orphanage what is the mood of your family like?
S: It's really hard. We've already started the process to adopt Vitaliy but, we aren't supposed to say anything to him about it. They don't want them talking on the plane about being adopted and making other children feel bad, which I understand but…It's hard to know that he will be heading back to the Ukraine and away from us. Especially without him knowing that we are trying to make him a part of our family. I know that my kids don't really understand the scope of the situation. Even though we are trying to adopt him he still has to go back to the Orphanage, and I think they figure since we want to adopt him he will simply stay with us. Frankly, I am dreading it. I am hopeful that the adoption team will meet with him within a few hours of him landing and let him know that the process is being started to bring him back to be with us forever.
PW: What will be the next steps for you and your family to adopt Vitaliy?
S: We put in the application and now we are starting the home study. For this part a representative from Catholic Charities will come to do the Home Study. For a Home Study you need to have legal documents of marriage and birth for everyone in the family, physical exams, five different references, and each parent has to write an autobiography. Then someone physically looks at your house and watches your family interact, luckily this is scheduled and not a surprise.
It's actually three other organizations working together that will finally allow us to adopt Vitaliy. The system can be corrupt so it's really important to make sure the adoption agency we are working with has a good relationship with the director of the orphanage. It took us a while to get the right people to use to make this happen. The overall process can take from 6-20 months. I think that we can be sooner rather than later simply because we've gotten all the paperwork done, and we have some great agencies that are working stateside for us. Scarily for us, in the end it's all about the Ukrainian government and you know what the situation there is like right now. The Ukraine practices blind adoptions. This means you can't specify that you are adopting a certain child in your paper work. When we travel there to meet with the Orphanage director they pull three files of children available for adoption…and his name will hopefully be on one of the files, it's like a terrible game where all you can do is try to jump through all the right hoops and just pray. Technically, until we get there and meet in court to make everything official, anyone else could adopt him…so it's really scary for us!
PW: How can friends and family help you with these next stages?
S: There are five other families that participated in Project 143 from our area, and three other families are moving forward with adoption as well. This is absolutely amazing! It has been so inspiring for us to work alongside these families. We are banding together to do some fund raising to help bring these kids back home to us, so help from our community for this will be SO important. Of course, prayer is always good!
PW: What are your hopes for the next year?
S: My hope is that we have Vitaliy home by Christmas. I have seen my own children grow through this experience. Their level of patience and kindness has exceeded all of our expectations. They have such a willingness to teach him, and allow him to be who he is within our family. I hope to prepare my kids for the future ahead; it will be full of amazing moments but challenges for all of us. For me, the Ukraine requires several trips that can be up to 6 weeks long. Preparing to be away from my kids and also taking care of my job for when I have to leave is a big stress for me. We are just simply gathering our strength and hope, and getting ready for the journey that God has planned for all of us.
PW: Any last Prairie Wife words of wisdom?
S: This hosting experience has been remarkable for our family. I know that it could bring great things to a lot of families out there if they would participate. It gives you the chance to teach your children to love unconditionally. How powerful would it be, for them to grow outside of their experience, and truly understand that there are 143 MILLION orphans in the world who have never experienced the love of a family? Project 143 gives others the opportunity to impact a lot of people; family, friends, and their community…not just the child that comes to them.
To read the next interview click this link.
Categories: Life As It Happens, Prairie Wife of the Week
Tags: , Adoption, community, family, Giving, Orphanes, Prairie Wife of the Week, Project 143