An Object In Motion Stays In Motion…
Posted April 27, 2023 by Prairie Wife - 6 comments
An object in motion stays in motion, an object at rest stays at rest.
Those of you who are scientifically inclined will recognize this as Sir Issac Newton's first law of motion…some call it the law of inertia.
Most of us learned this rule in 5th grade, and while I do not claim to be scientifically inclined, this law is one that I can recall making sense to me…and somehow, somewhere along the way, I adopted this phrase as a personal mantra.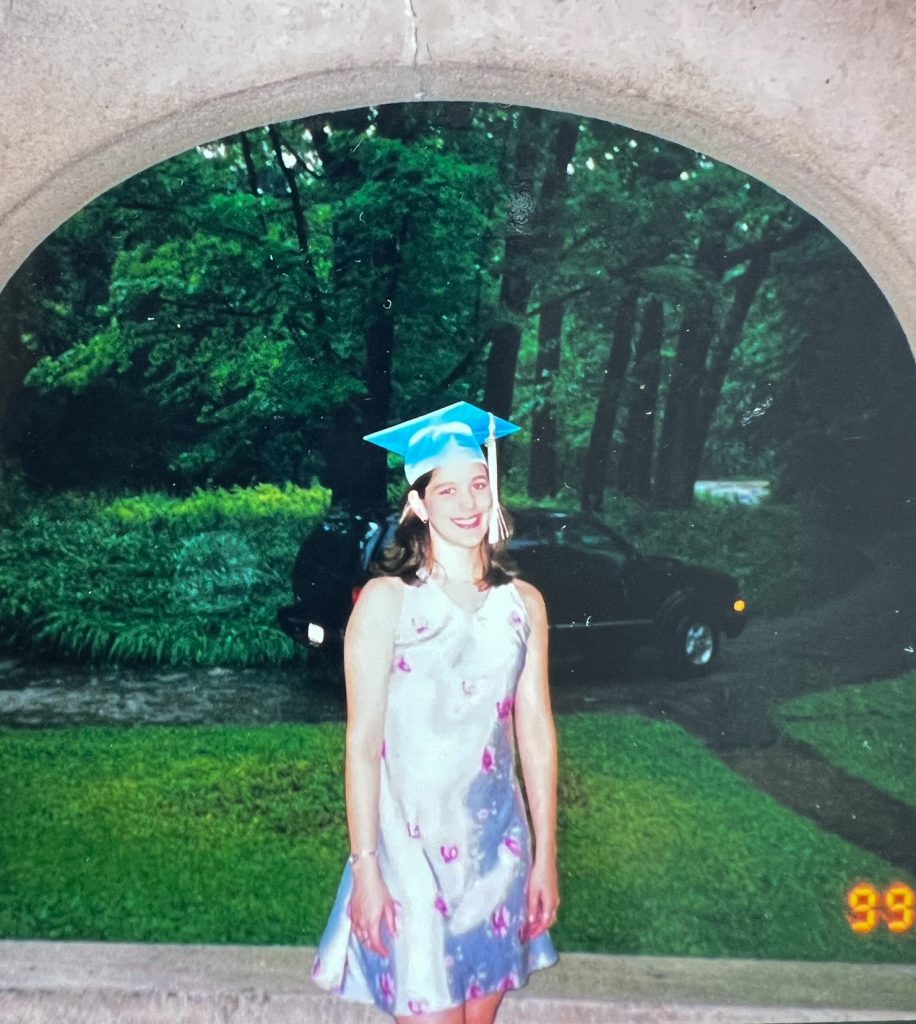 When living in my hometown of Milwaukee and working two jobs the Summer before my Freshman year of college, I would hop on my bike at 5 in the morning and ride it to a local hotel restaurant where I was a waitress for the breakfast and lunch shift. I'd change out of my uniform at work into regular clothes and bike 5 miles to my second job.
I was a nanny for 5 children (including 18-month-old twins) and watched them every afternoon during the week so their mom could work out, or run errands, or spend special time with one of the kids.
At night I would sneak out of the house and hang out with friends until 2 am…or later.
The next day I was up and ready to waitress, and somehow I was never late.
An object in motion stays in motion, an object at rest stays at rest.
I was saving up all the money I could so I could afford to attend the University of Wyoming in the Fall. My parents were unable to pay for any part of my education or the move out there, so it was up to me to make sure I had enough money to move to Wyoming and find that Cowboy I dreamed of marrying.
My dad could only afford to take one day off work to help me move to WY. I was only 17 so I needed his help to open up bank accounts in Laramie.
He flew into Denver with me and we drove to Laramie in a rental car. I remember staring at all the massive rows of fences lined up along the highway and wondering what on earth they were meant to contain…and also those weird Gazelle-looking animals…weren't those only in Africa?
My dad still talks about how his heart broke after I gave him a hug and a kiss goodbye and bopped away across campus…my ponytail blowing side to side in the wind.
An object in motion stays in motion, an object at rest stays at rest.
Federal loans covered the cost of my tuition but no living expenses…so in my Freshman year I worked in the work-study program at the College of Education.
After that first year at UW, I returned to Milwaukee and worked the same two jobs. This time I was sneaking out to hang out with my Summer Love…a boy from West Bend, Wisconsin, with ice-blue eyes and a motorcycle. Need I say more?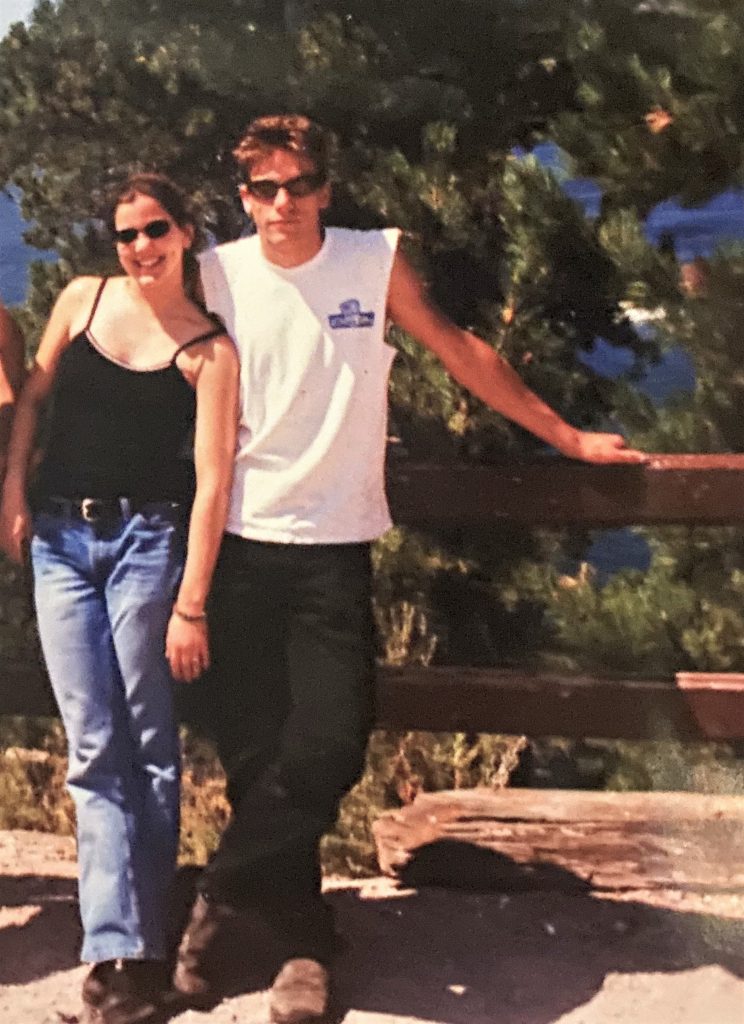 Being a mature 18-year-old and a Sophomore, I decided that dorm life wasn't for me and my College bestie and I rented a two-bedroom apartment. I needed more money than a work-study could offer and I found a job working full-time graveyard shift at a Laramie gas station.
I had a full school schedule and would go days at a time without sleeping. One time my roommate accused me of falling asleep in our Native American History class. I of course called her a liar. She simply pointed to my notebook where she had written over and over "You are asleep."
An object in motion stays in motion, an object at rest stays at rest.
That winter my Wisconsin boyfriend and his buddy moved to Laramie, and as we drove back towards home in the dark of December, we chatted about our future. A future that would never happen.
Instead, the truck hit a patch of black ice on the Iowa interstate and rolled.
An object in motion stays in motion, an object at rest stays at rest.
I awoke hanging from my seatbelt upside down in the snow. I began to shout for help and heard Jon's calls grow fainter and fainter. When they pulled me out of the wreckage, I slapped at them and tried to push them back to help Jon. Only to see the red circle in the snow faded to pink around the edges…and I realized what they had already known. It was too late to help him.
I lay alone in a hospital room, waiting for my parents to get to me, and made the decision to make this as easy as possible for those around me.
I would suck it up, do the best I could to keep on keeping on and try not to create any more hurt or pain for those who loved me.
I had to be back at work less than two weeks after the accident and so, I flew back to Laramie as soon as Jon's funeral was over. Supposedly I had given the most impactful eulogy anyone had ever heard. I couldn't tell you a single word I said.
Trying to sort out my emotions and feelings after the accident was challenging. It would be almost a decade before I would read an article in a magazine and learn that what I had was PTSD and Survivor Guilt. After all, in the early 2000s, no one would think to apply these terms to an 18-year-old girl who had been in a car accident.
I just knew…An object in motion stays in motion, an object at rest stays at rest.
I took a journal to work with me and while the coffee hissed and brewed and the refrigerators clicked on and off and the overhead lights buzzed I would write and write and write…
Work and school, work and school, and hanging out with friends when possible.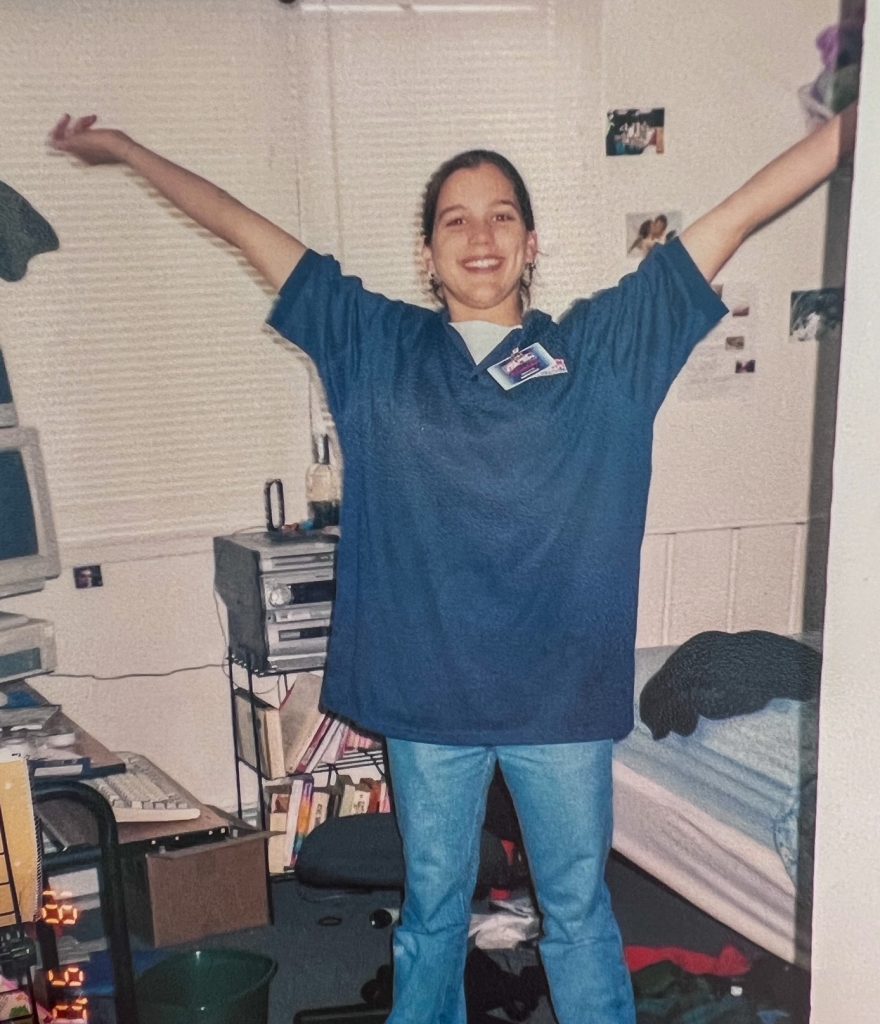 I finished the year with a 3.75 GPA and a full-ride academic scholarship that would allow me to quit working full-time at the gas station in the Fall.
I would still need to work but only part-time, and I found a position as a nanny for 9-month-old twins that would begin in August.
Meanwhile, I used my days off to hang out with a group of Cowboys and even went to Frontier Days for the first time.
The last entry in my journal reads "I met a green-eyed Cowboy and he likes to dance."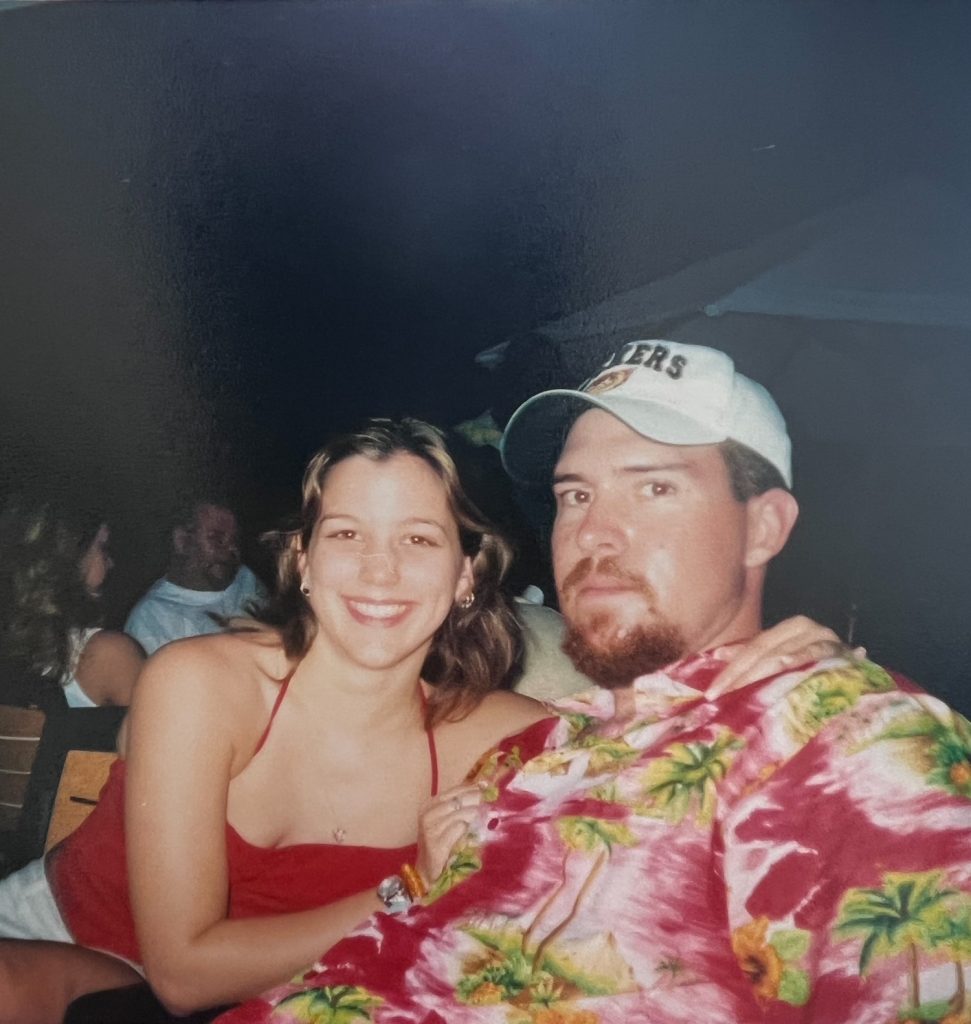 Over the next two years, I worked as a nanny from 4 -11 pm every weekday. After I put the twins to bed I would clean the house, do laundry, and grocery shop for the family. I even went on their vacations with them.
The Cowboy worked road construction and I took advantage of my open weekends to chase around the state after him. It was the time before most of us had cell phones and I totally admit that I would never allow my daughter to go ride around the Western US for three days in a semi-truck with a guy she only met a month ago. But I never told my parents what I was up to so I guess it wasn't an issue.
I told him I wouldn't even THINK about marrying him until I graduated college.
An object in motion stays in motion, an object at rest stays at rest.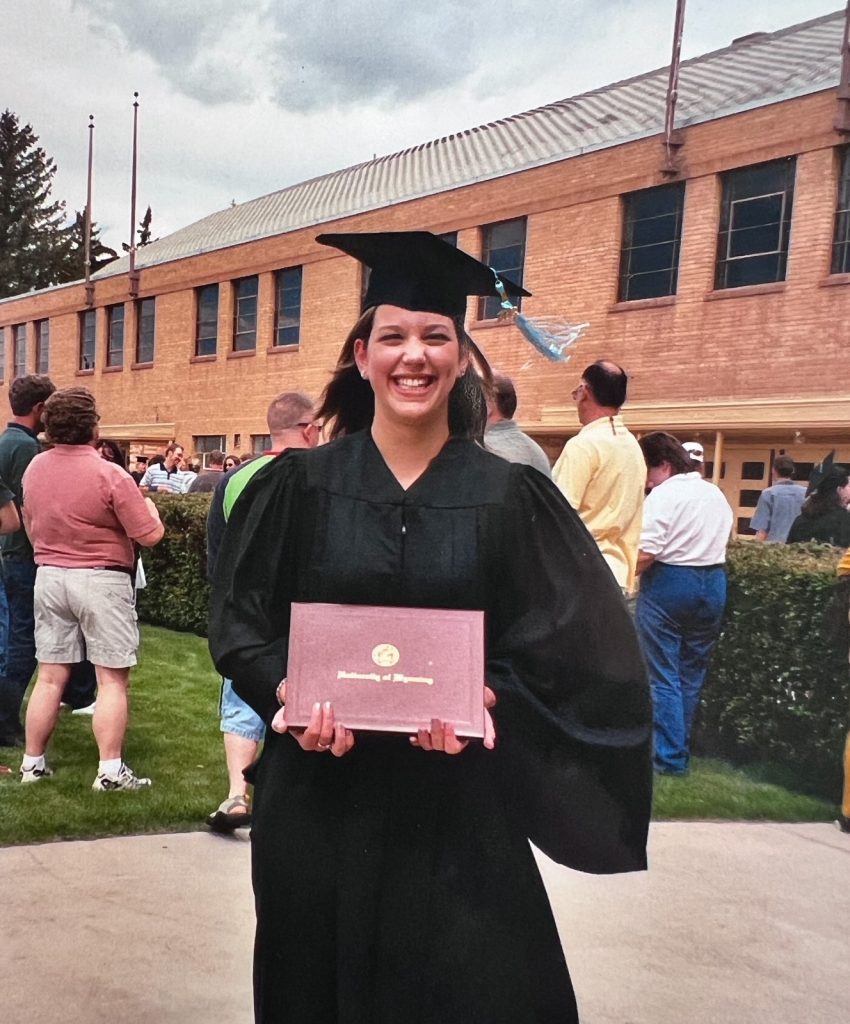 When I graduated from UW with a degree in education and a minor in early childhood, I immediately got a job as the preschool director right here at LCCC. I worked there until I was hired as a first-grade teacher at Arp Elementary, just down the road.
I was lonely. Living in a new town with coworkers who were all older with families and a boyfriend who was gone 4 to 6 weeks at a time. I would spend hours walking our dogs around the South Side of Cheyenne just trying to fill the time.
An object in motion stays in motion, an object at rest stays at rest.
Then suddenly, The Cowboy and I were engaged and, after a year, married.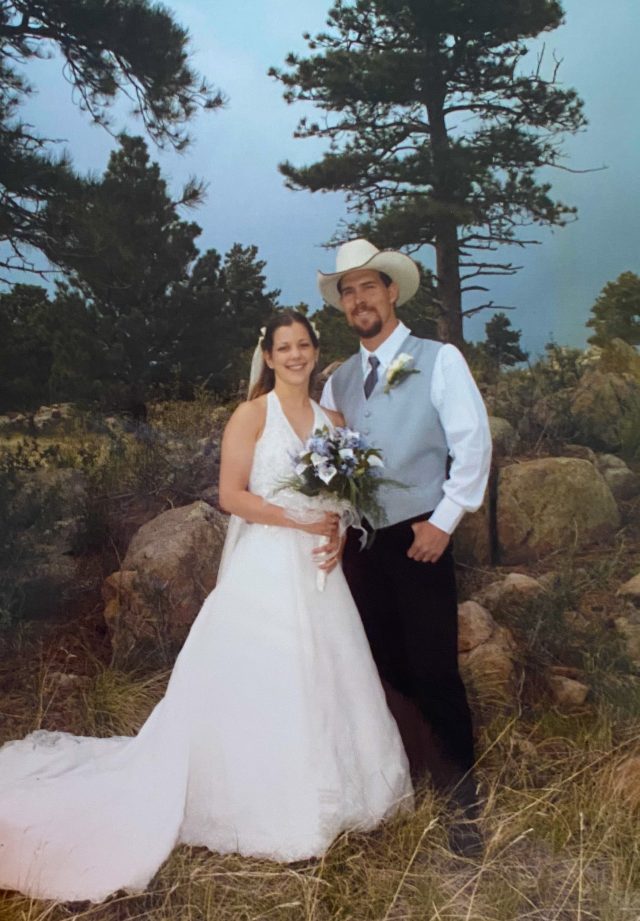 We bought the perfect starter home (across the street from the blue cross in the Avenues) and after a year of marriage, we learned that we were going to have a baby. We were thrilled, and told everyone the news…we were so excited.
But then, a few weeks later, while sitting at my desk at school, I received a call from the doctor. They told me my test results were back. The news wasn't good. And they confirmed what I had already known. We had lost the baby. In the darkened classroom, I put my head down on my desk and allowed myself to cry. But only for a few minutes. The recess bell would ring soon, and a classroom of first graders would be ready to learn.
An object in motion stays in motion, an object at rest stays at rest.
When we were able, we tried again, and on March 12, 2006, our son was born.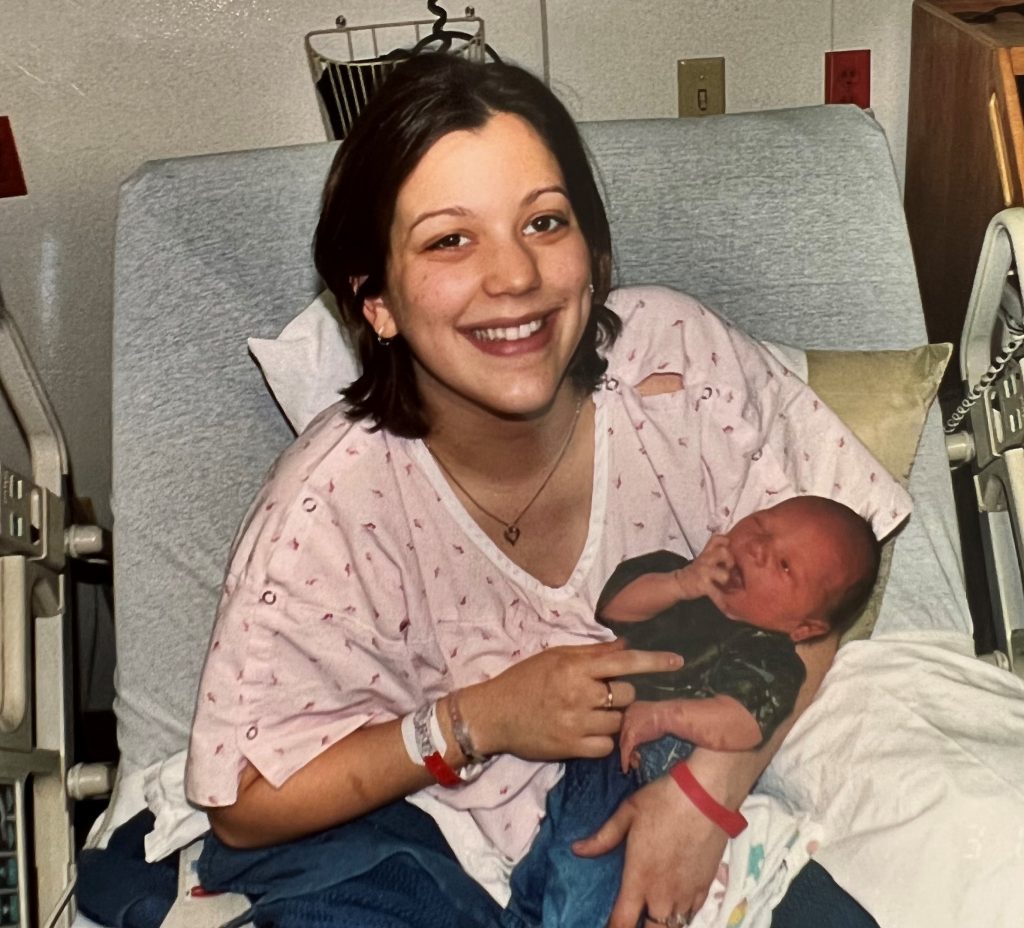 What a joy, what a gift! Being a mother had been my one and only dream.
Except, holy crap, was this hard.
Extreme complications left me physically drained and as the first one in my friend group to have a baby I had no support. My mother said you could never hold a baby too much, The Cowboy's mother said I was spoiling the baby and to let him cry more. All I knew was that whenever he cried, I had to get to him no matter what. I don't know how many car rides I spent weeping in the front seat while he screamed in the back.
I sat at home alone day after day rocking the baby, and waiting on the front step to hand him off to his dad as soon as he got home. When the weather was warm, I would load him up in the stroller and walk for hours every day.
An object in motion stays in motion, an object at rest stays at rest.
A friend of mine had a baby, and we both went back to work part-time. Trading shifts and watching the other's child while we team-taught.
I grew in confidence as a mother, as a wife, and as a woman and I found more and more joy each day.
An object in motion stays in motion, an object at rest stays at rest.
Then shortly after becoming pregnant with baby number two, The Cowboy received a big promotion at work. It meant I could stay home with our children, but we had to move…to Casper.
I cried and cried. And then started to look for a home. We decided to live in Glenrock and slapped a modular on 10 acres outside of town and moved there 15 years ago.
An object in motion stays in motion, an object at rest stays at rest.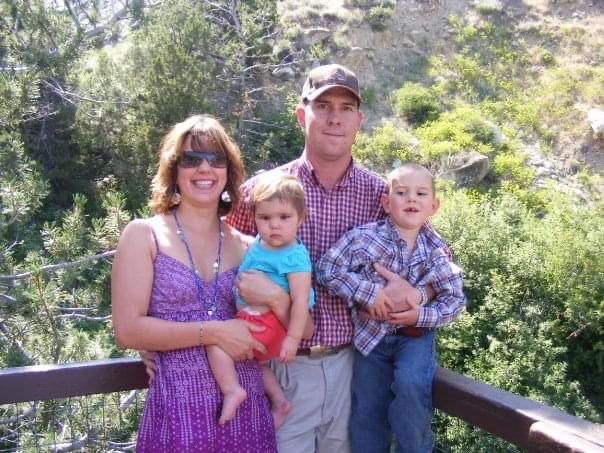 For the next 9 years, The Cowboy would be gone 5 days a week. And this city girl quickly learned what being a true Prairie Wife meant. Killing rattlesnakes. Going without water for days on end. Breaking ice in the horse trough in the dark of winter while keeping an ear out for the baby crying. Feeding horses 9 months pregnant in over a foot of snow while it's -20 below. Yes, I AM still pissed about that…
An object in motion stays in motion, an object at rest stays at rest.
Until one day, I couldn't do it anymore.
Baby number 3 had arrived, and I had my 6th case of mastitis in as many months. Except this time, I was in the hospital, hooked up to an IV, dying. The lump on my breast was the size of a fist, and nothing we did was kicking the infection. I insisted on still nursing the baby (because that truly is one of the best ways to clear a clogged milk duct), and I cried from pain every time he nursed.
In a last-ditch effort, my doctor put me on full bed rest and told The Cowboy if I got out of bed for anything other than going to the bathroom for the next 4 days she'd kill him. When he expressed concerns about missing work, she brutally told him he'd be missing a lot more than 4 days if I died.
Other than halfway waking up to nurse the baby, I slept for almost 48 hours straight. On day three I woke up and felt better than I had in months…if not years. After day 4, I was ready to hit the ground running.
After all… An object in motion stays in motion, an object at rest stays at rest.
But in all that quiet time of the 4th day, I had realized that this mantra was no longer serving me or my family.
Instead, it was killing me.
My constant battles with mastitis (not only with this baby but all of them) was my body forcing me to rest by making it physically impossible for me to keep going.
I looked closely at the ridiculous expectations I had set for myself.
I had three kids and a husband who was gone 5 days a week, and I was mopping the floor 2 times a week. I volunteered at church, set up multiple play dates a week, tried to lose the baby weight, and cooked all the meals from scratch.
Rather than let things go or ask for help, I just took a deep breath and insisted on doing it all. No matter how miserable it made me…or those around me.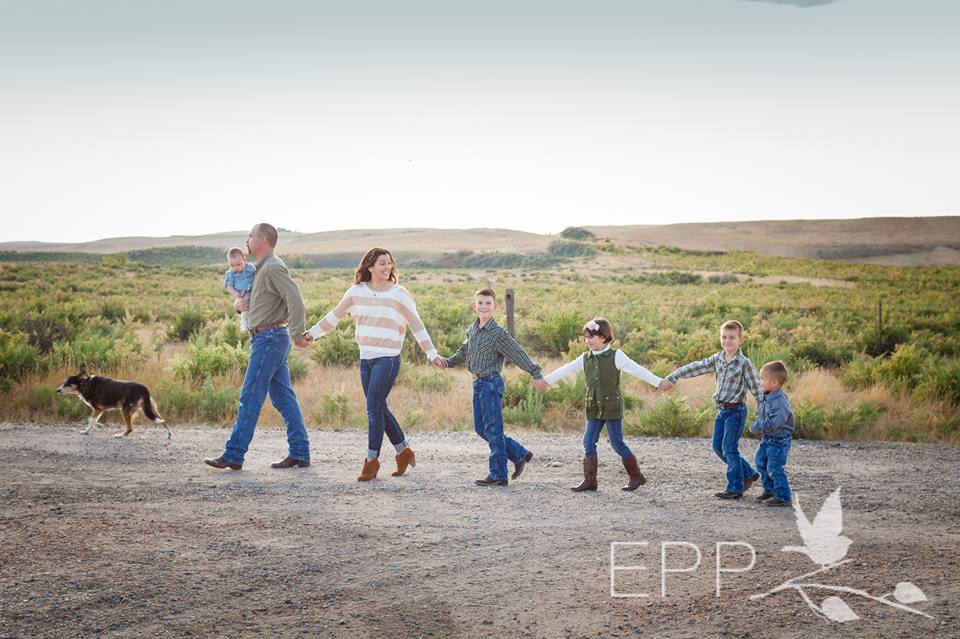 It was an ah-ha moment for me.
I shifted how I lived and created a life I loved at the pace I wanted it to be.
Instead of an object in motion stays in motion, an object at rest stays at rest, I began to focus on grit and grace. Grit to get through the hard and giving grace to myself. Grace to rest, grace to ask for help…
We only cleaned the house once a week and then let it all fall apart slowly. I gave myself permission to cook quick meals like mac n cheese, chicken patty sandwiches, or breakfast for dinner when I needed to.
I said no to volunteer opportunities and limited each school-age child to one activity a year.
As we added two more kids to the clan for a total of 5, things naturally became a bit more joyfully chaotic, but I never had mastitis once with those two kids.
Yes, I went three days without showering sometimes, and a whole lot of frozen pizza was eaten in front of the TV…but that was fine.
It was just for a bit, and looking at the big picture, we ate healthfully and spent more time outside or playing than we did in front of the TV.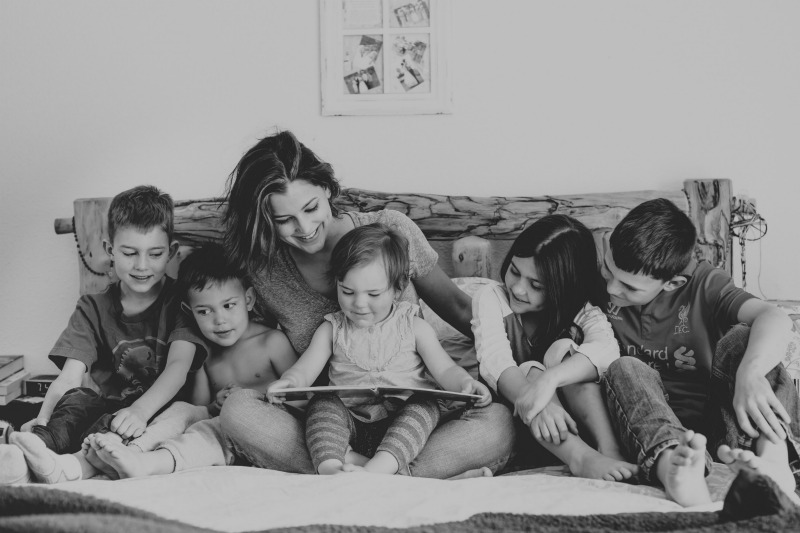 I admit that when times were hard, I found myself returning to my old mantra…an object in motion stays in motion, an object at rest stays at rest.
But instead of leaning into it, I learned that it was a cue to me that something needed to be changed.
When I found myself thinking this over and over after the birth of my 5th child, I took the time to dig deeper, and realized that I was suffering from postpartum depression.
Something I had never had before.
I dug deep, used grit to fight through it, and used grace to ask those around me for help.
When I underwent my preventive mastectomy and reconstructive surgeries, I fell hard back on that old mantra an object in motion stays in motion, an object at rest stays at rest. I spent all the energy I had focusing on healing and getting back to where I could take care of my family, and the result was a hot mess of a person that was physically healed but hadn't taken the time to process all the fear and helplessness of those months of recovery.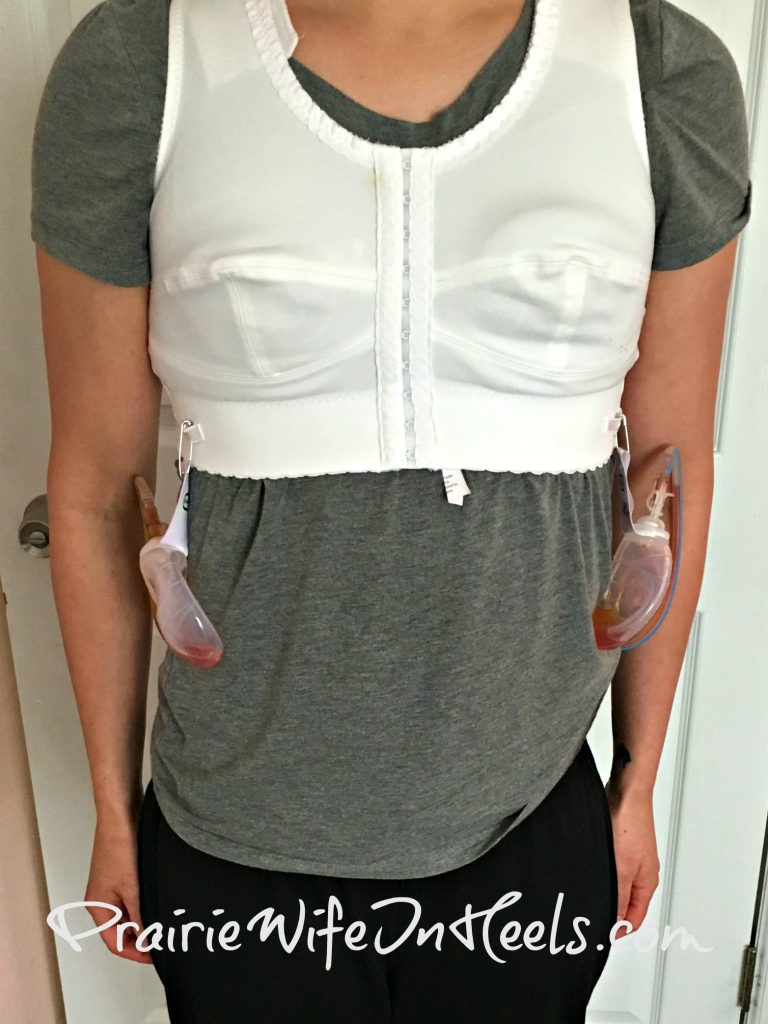 With the help of a therapist, I learned to better understand when it was a time for grit, and when it was time for grace.
Day by day I began to find things in my life that brought me joy, and I took the time to be still and soak them in.
Lazy days at the local beach with my kids. Grace.
Family movie night snuggled up with a kiddo in my lap. Grace.
Hiring a sitter and spending two uninterrupted hours at the coffee shop blogging. Grace.
I went on adventures and stopped letting fear stop me from trying new things.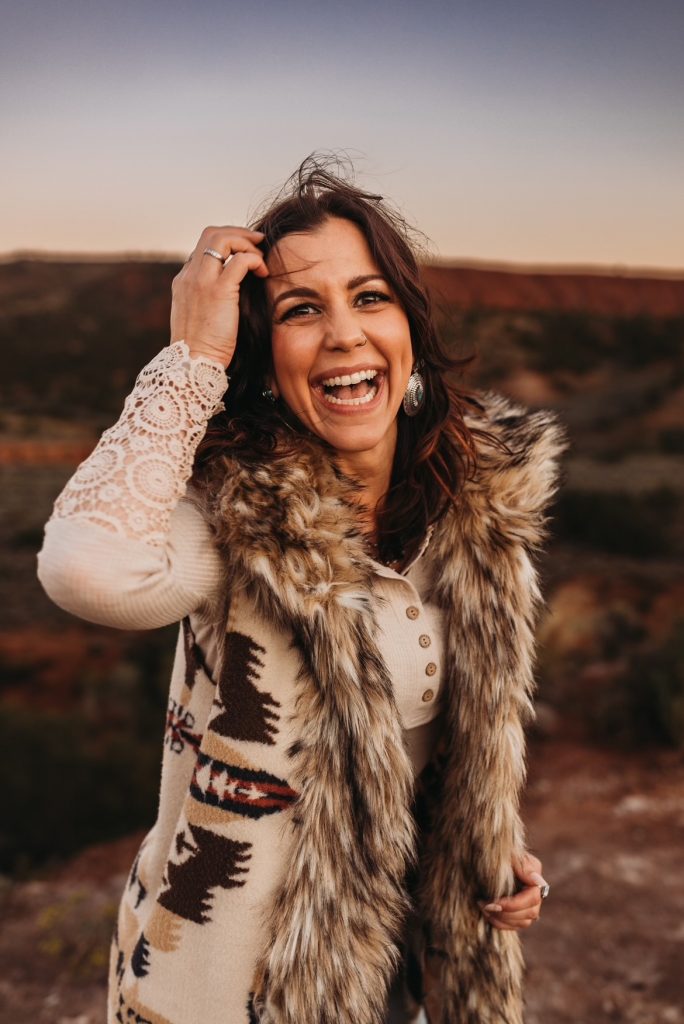 Climbing Pikes Peak. Grit.
Running three half marathons. Grit.
30 miles in the backcountry with bears and wolves. Grit.
3 weeks of a solo trip to England. Grit and Grace.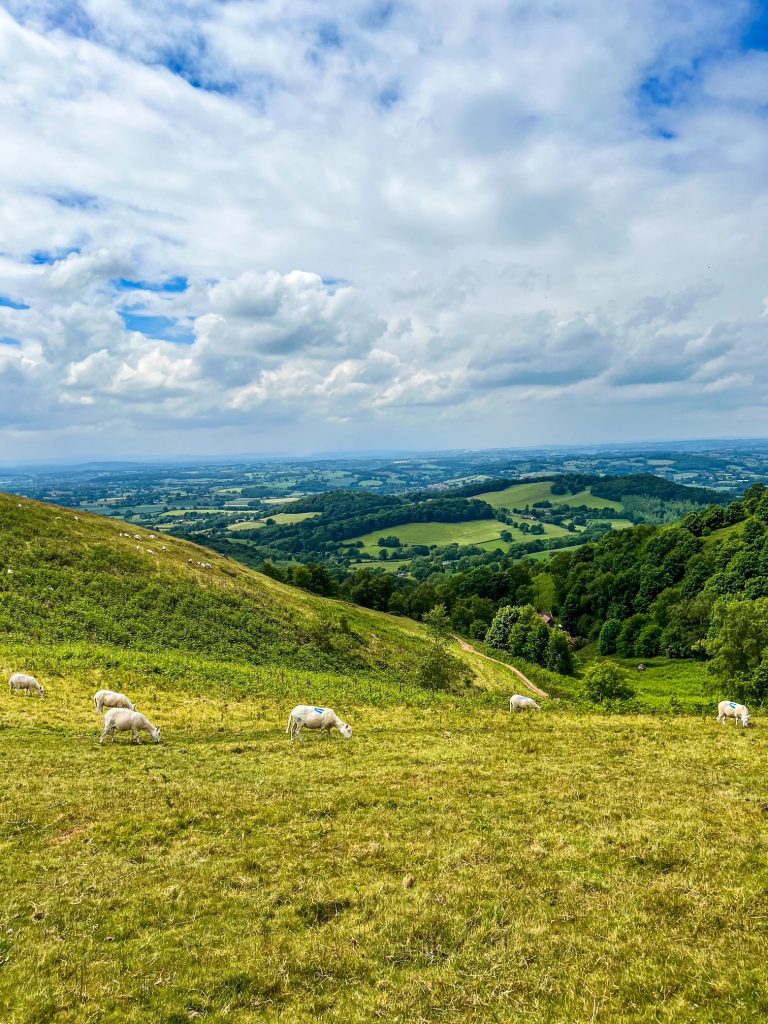 I quit my job at the radio to spend more time with my family and to grow the Prairie Wife brand. Grit and Grace.
And while the first three months were hard, so hard…as I learned to be still again…This month has put me to the test.
I've been out of town 7 days this month, leaving The Cowboy and the kids to fend for themselves. I've had to work while the kids are home from school instead of being 100% there for them like usual.
At the beginning of the month, I sat the whole family down and told them we needed to work together as a team to ensure things got done. Yet it has still been a struggle. Admittedly more so for those stuck at home trying to balance work, kids' schedules, and making dinner…
Everything was going great…or so I thought until the end of last week when I heard a familiar chant rattling in my brain. I was laying on the couch taking a moment to zone out with TikTok when the fleeting thought, "I should be working out right now," bounced into my brain.
I pushed it away.
Two weeks ago, I had "ruined" my 25-week workout streak. I knew what was happening, and I allowed myself the grace to skip trying to get in three workouts a week when I was already at capacity. 2 weeks off would not ruin 25 weeks of good work.
But there that voice was anyway…whispering, an object in motion stays in motion, an object at rest stays at rest.
I took a deep breath and, using grit, pushed away the negative thought and gave myself the grace to rest. I mentally made the commitment to get back on track this week, and so far, so good…though I did have to blow the dust off my running shoes when I went out Monday!
An object in motion can stop its motion and enjoy the sunset. An object at rest can stand up and take a step forward.
I hope that as you listened to my stories, you saw yourself.
I hope that as I talked, you realized that you too have had to walk a hard path yet are strong enough to still be here with us today.
Yes, maybe, like me, you have some scars…but let me tell you…they're beautiful.
There are some stories you can't change, but they make you who you are today.
And with grit and grace, you can move forward and create new stories that will tell others the tale of living a life you love.
Grit and grace.
This post was originally a Keynote Speech at LCCC Administrative Professionals Conference, in April 2023.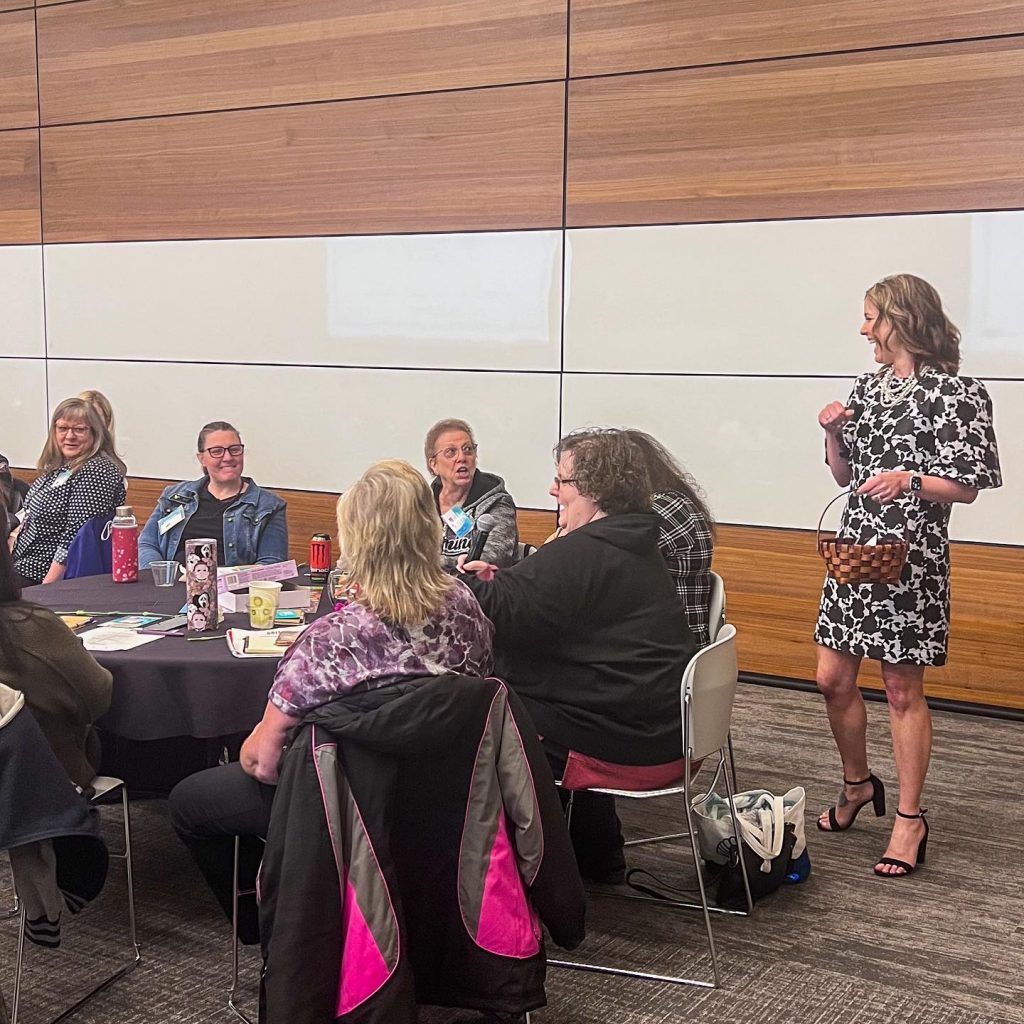 If you're interested in having me help you and your business at your next event follow this link.
Categories: Life As It Happens, Prairie Life
Tags: , an object in motion, grit and grace, keynote, memoir, mental health, Prairie Life, Prairie Wife, support