Prairie Wife Badge: Pikes Peak
Posted August 29, 2018 by Prairie Wife - 6 comments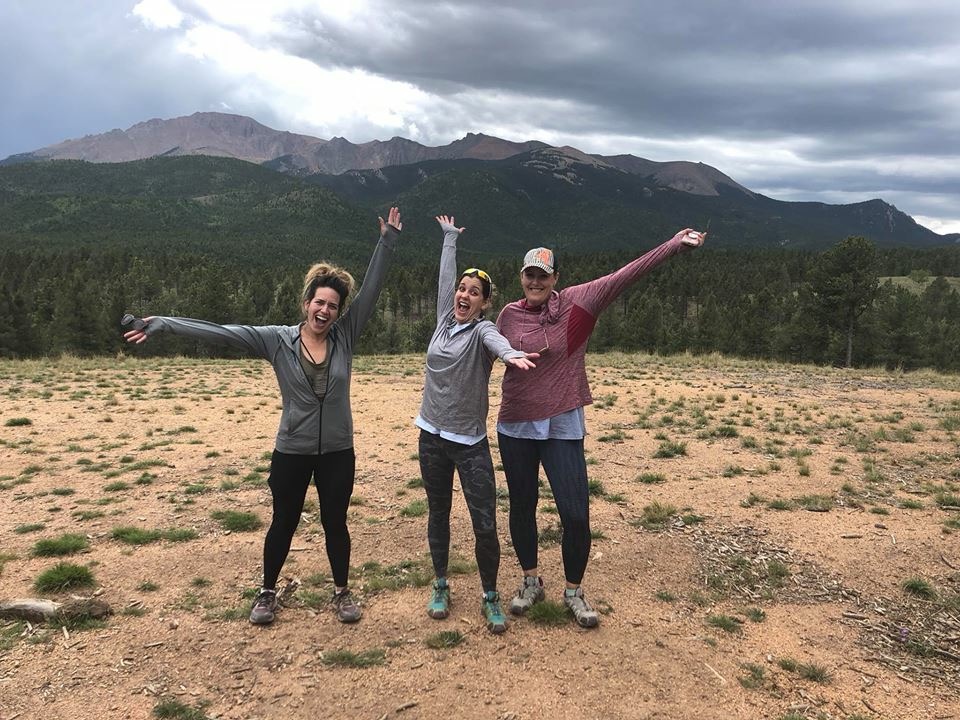 Sunday was one of the best days of my life…yet it was filled with some of the hardest emotional and physical pain I have ever experienced.
Two friends and I hiked 13.63 miles, climbing 7,400 feet of elevation, and ended at 14,114 feet above sea level.
We summited Pikes Peak, one of America's top 5 hardest fourteeners (fun side note I somehow missed this fact when I decided to climb it).
We've been training all year.
Snowshoeing and skiing in the winter and hiking, running, and weight lifting all Summer to get in as good of shape as we could. We even climbed a 10,000-foot mountain a month ago to prep.
The other girls read posts and reviews about the trail to learn as much as possible, and I completely stayed away.
I knew it would psych me out to read how hard other people thought it was. I didn't even begin to tell people about my plans until about a month ago, that's how unsure I was about my ability to do this.
The week before we left I was panicked at the idea, full of fear.
But per usual (for me), when the day to leave finally came, I was in it to win it. 
It helped a ton that a few of my friends sent me super kind and funny texts of encouragement!
We arrived in Colorado Springs and grabbed our rental car. The plan was to drive to the top and park the rental car, so we had it waiting to take us down when we reached the summit.
But, oops.
It turns out that you can't park cars up there overnight. 
Nothing we read, and no one we talked to said anything about this.
When we asked locals for advice, they said we should just hitchhike down.
Every mom bone in my body was not OK with this.
Yet, we couldn't really figure out another solution so we just left it alone and decided that everything would work itself out if  when we made it to the top.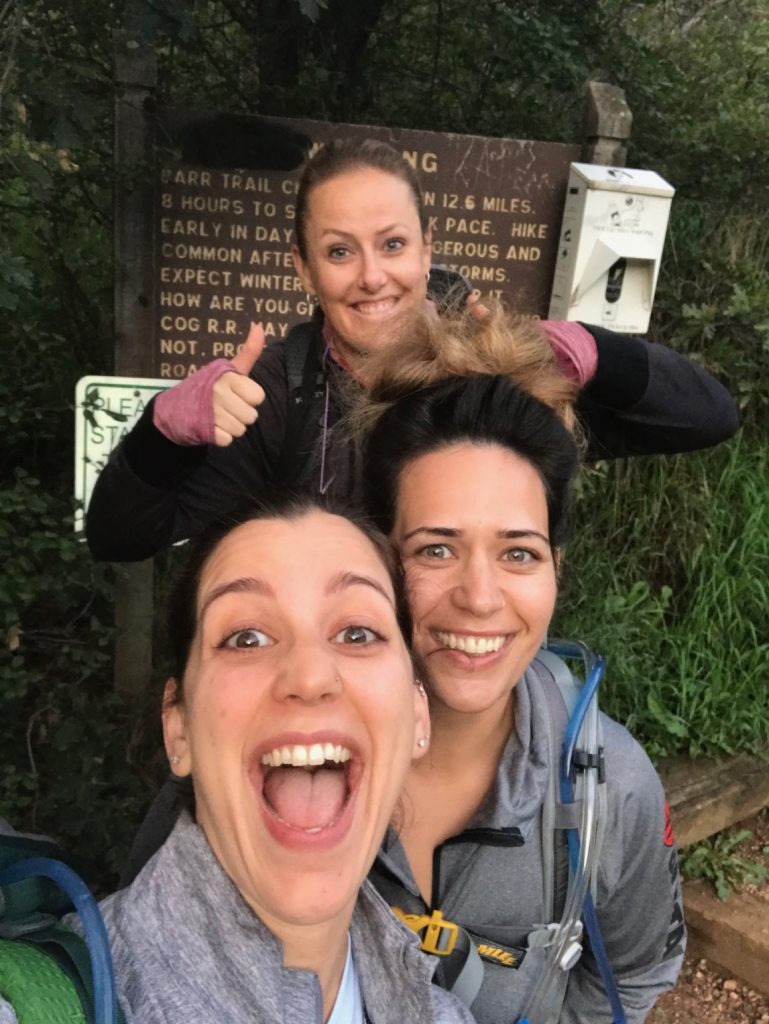 We woke up at 5:30 am and got some Starbucks (which we were all too nervous to drink) and drove to the trailhead.
Happy and all smiles (despite no open bathroom at the trailhead), we began the first part of the journey.
We hiked 6.5 miles slowly and steadily going up to 10,200ft. The views were stunning.
Aspens, streams, majestic views of the surrounding mountains, and just enough peeks of Pikes Peak (see what I did there) to make me wonder…how much farther do we need to go?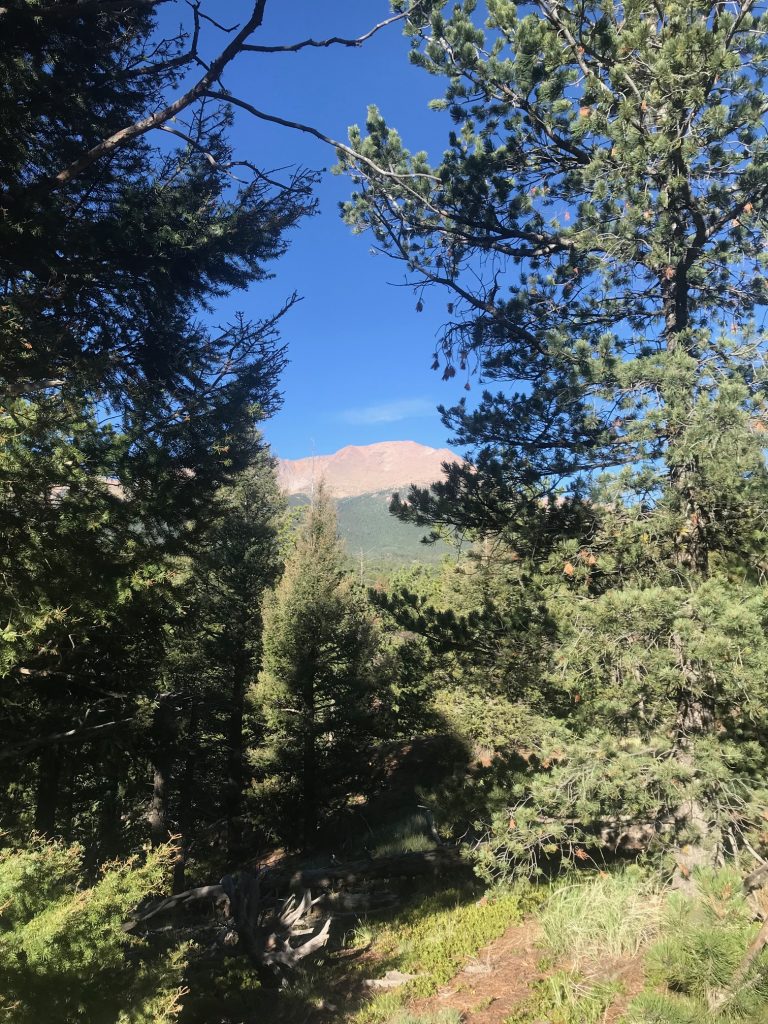 The hike was hard but not grueling, and we stayed hydrated and stopped to snack and keep our energy up.
We all knew that after Barr Camp, it was going to get real.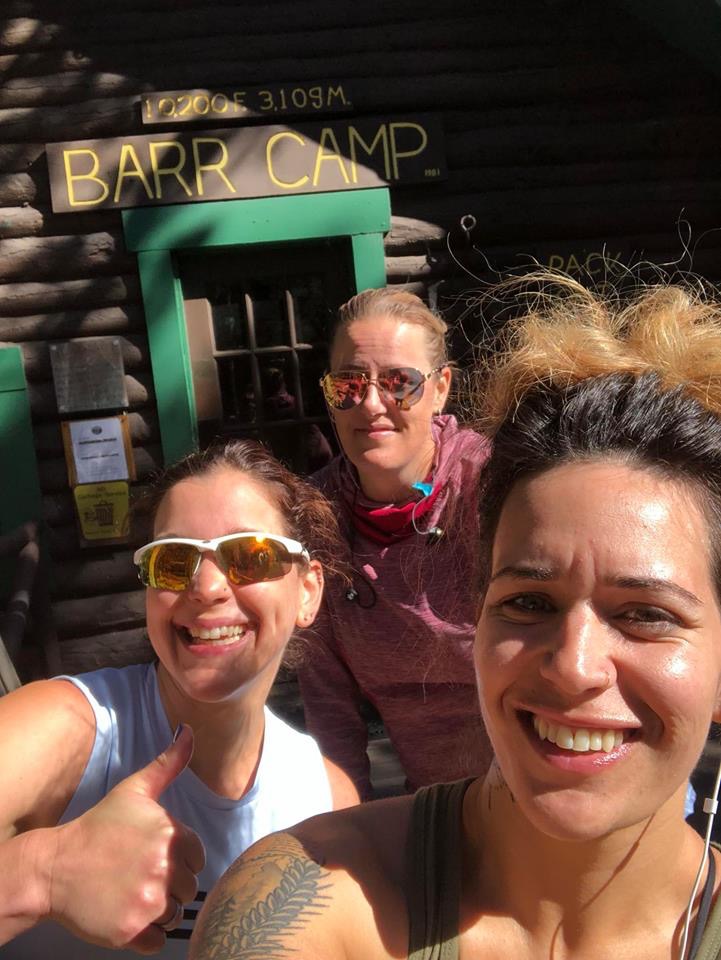 We stopped there and used the outhouse (so much nicer than crouching behind a bush) and chugged more water.
Then it was time to climb up towards the tree line. This is around 12,000 feet, and stuff seriously started to get real.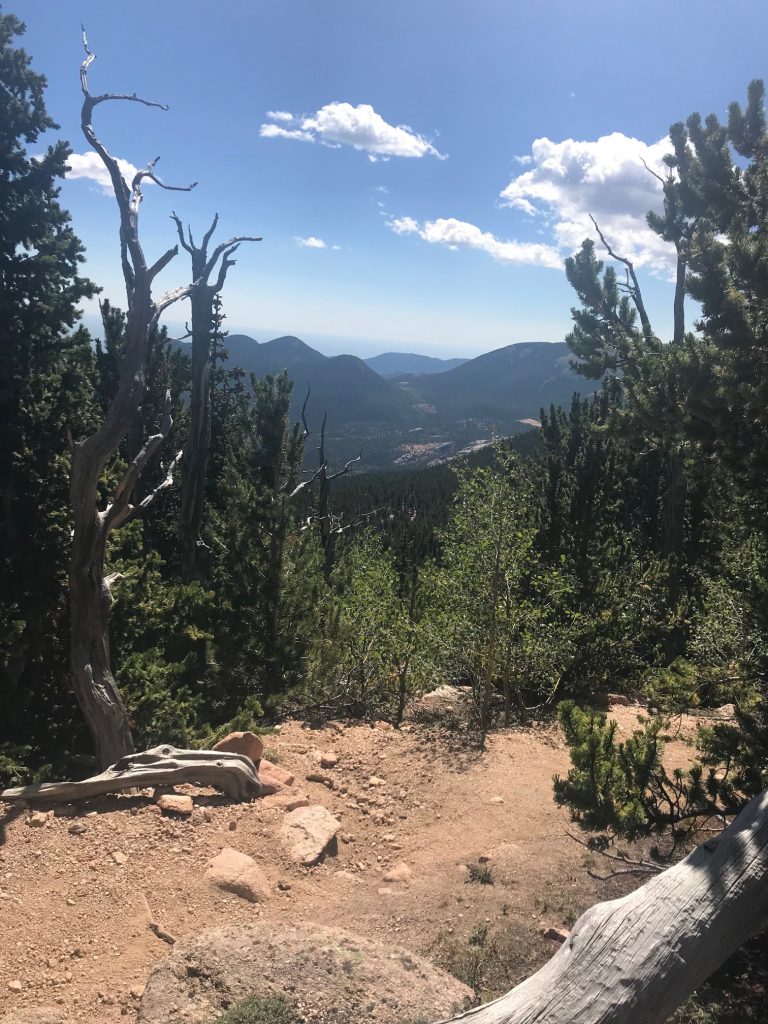 We lost track of each other as we climbed at different rates and began to crisscross back and forth with other climbers.
We hiked past them as they rested and then nodded as they passed us when it was our turn to take a break.
One gentleman was so so kind!
He was climbing Pikes Peak for his 6th time (in support of those suffering from TBI) and shared a bit of his hard-learned wisdom with us.
Every time we passed the man on the trail, we smiled, shared words of encouragement, and gave high fives. He even helped TallGirlJ when she lost track of us on the trail. As we neared the 2-mile mark, my girl Amanda (who is one fit lady) charged ahead at her quicker pace. I knew she would meet TallGirlJ and I at the summit and I encouraged her to hike at the speed where she felt the best. You can see by this pic she still had lots of energy to spare. I did NOT!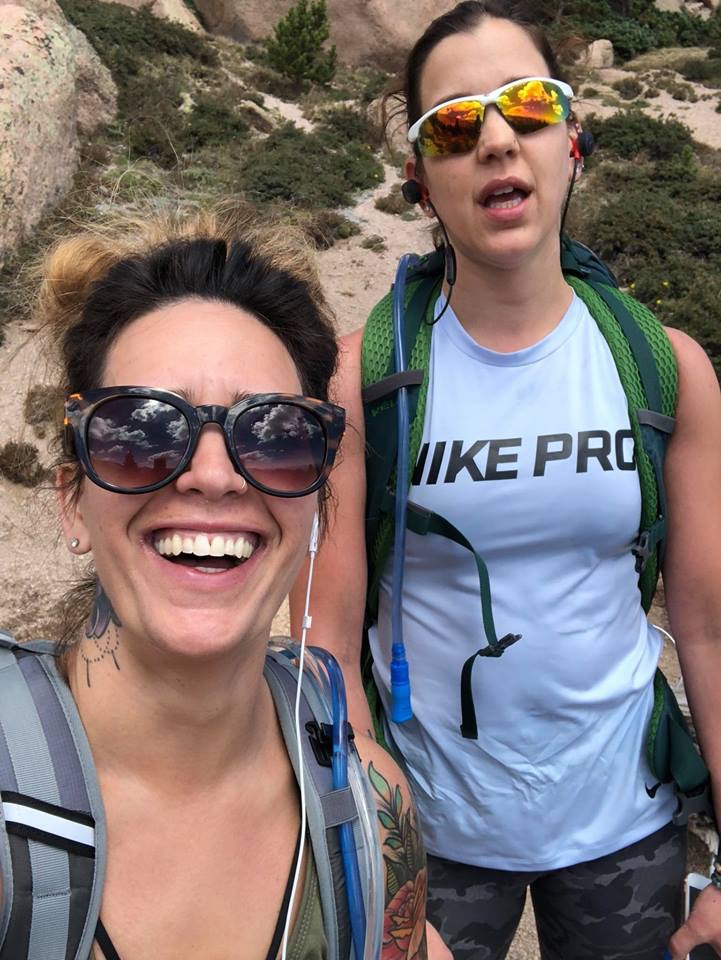 TallGirlJ and I chatted and began to refer to the man we had met as our Guardian Angel. Every time we passed him (or he passed us), he kept assuring us we were going at a good pace and doing well.
Here's the thing.
At this time in the day, it wasn't so much about making it to the top to say we did it. It's about reaching the summit before the regular afternoon lightning storms hit. Take a second to zoom in on the picture below and see the trail we hiked…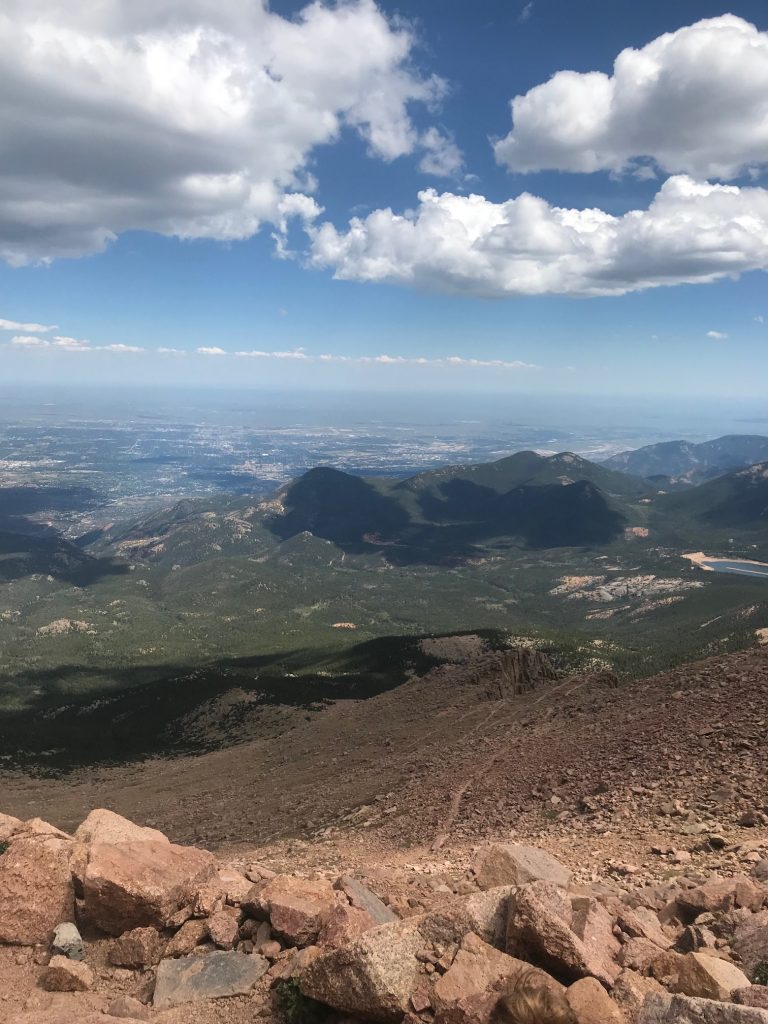 Once you get past the treeline, there is no place more dangerous to be in the later afternoon than where we were hiking.
We hit the point where we had one mile left…and it had taken us an entire hour to do the last mile.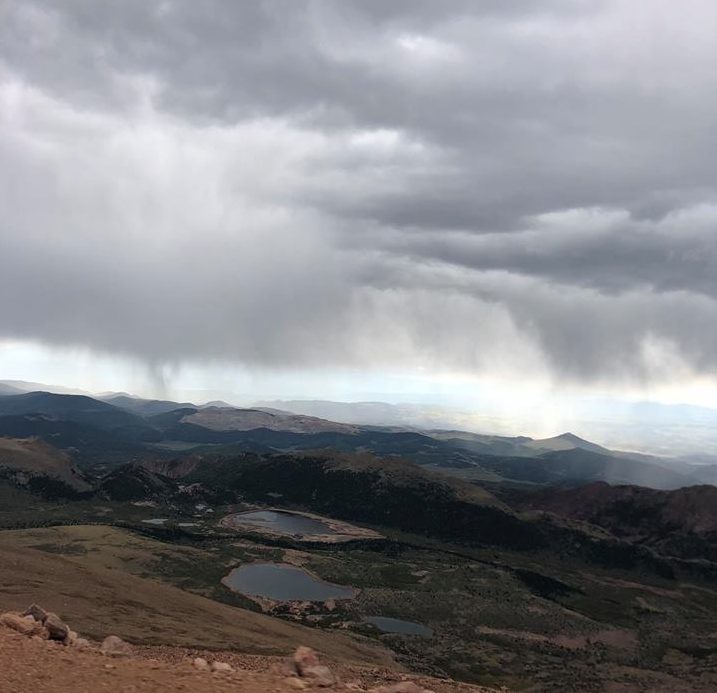 Our Guardian Angel came upon us again, and behind him, we could see the dark clouds approaching and rain coming down. I touched his arm and said…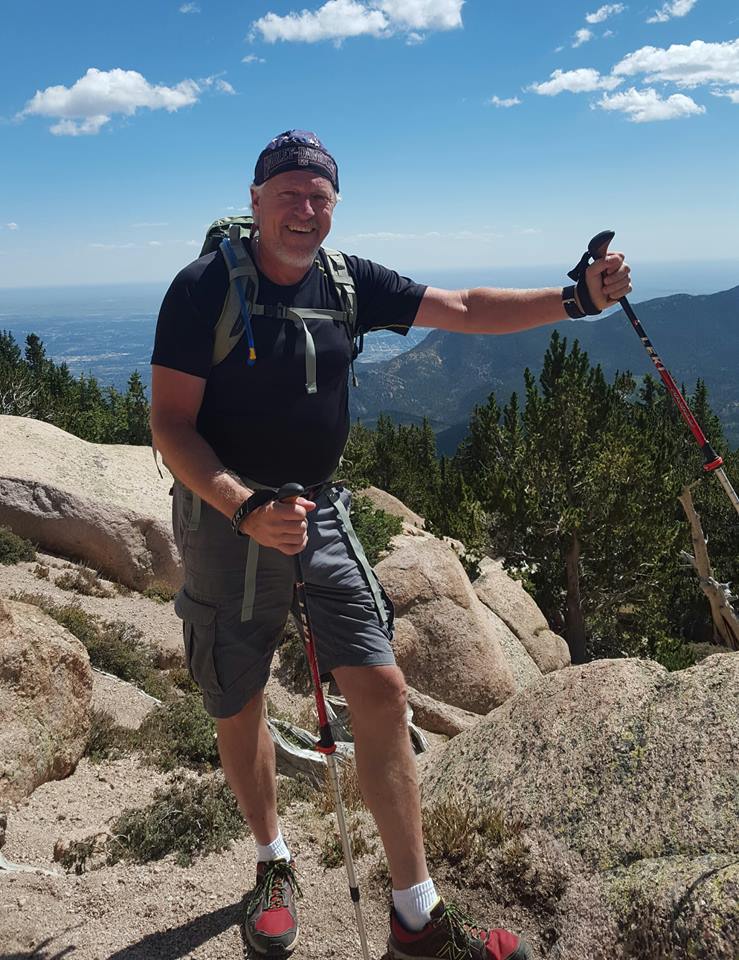 "Hey, can you do me a favor? Look me in the eyes and tell me we can do this."
Rather than back away as quickly as he could while hitting us with his walking stick…
He simply smiled, encouraged us to just keep going, and assured me we would be just fine.
Turns out he was right.
We put one foot in front of the other. Taking breaks no longer than a minute and a half because longer than that is dangerous at that altitude.
We kept looking up at the summit, and every time we saw our Guardian Angel just a few switchbacks ahead, we knew we were doing OK.
Even when TallGirlJ became altitude sick in the last half mile, we kept moving. 
We kept on going, racing against the storm and feeling the wet wind grow stronger every minute.
Then I looked up, and we saw our girl Amanda!
She was jumping and screaming and cheering us on, and suddenly, I knew without a doubt, that we would finish this.
The adrenaline kicked in, and we surged to the top as fast as we could, which was still pretty dang slow, lol!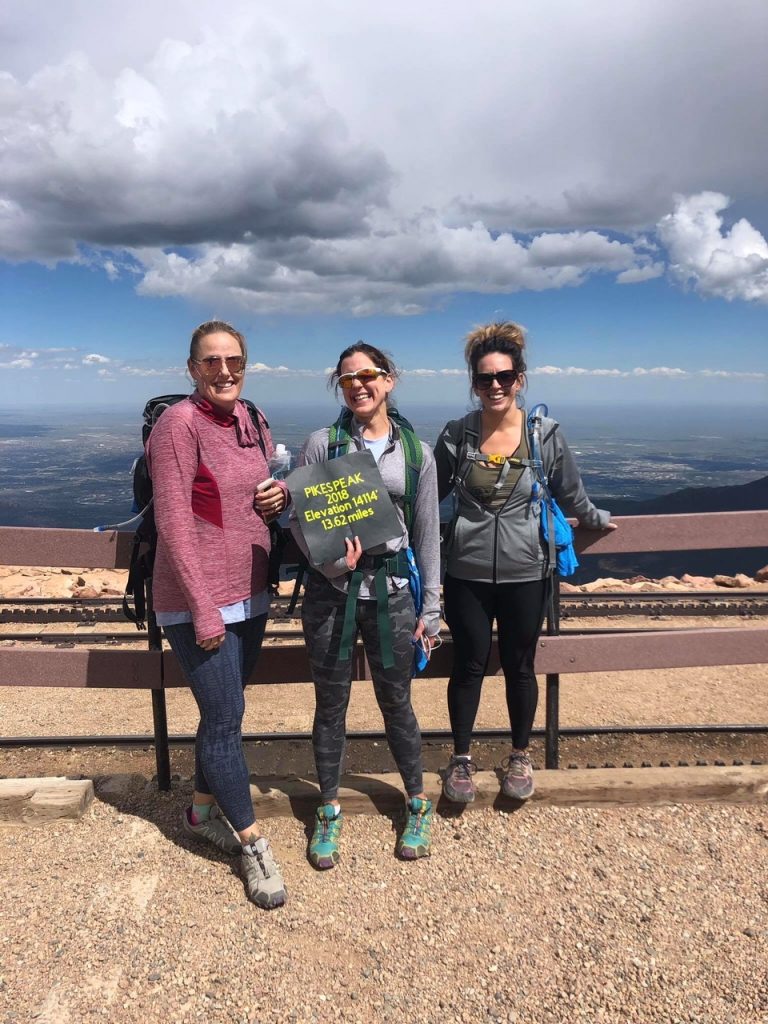 When I finally hit the top, I sat down, and ugly cried.
Two years ago, I was in the hospital with pneumonia, unable to move my arms, trying to recover from my third major surgery in less than 6 months.
Never in a million years would I have thought I could do something this HUGE…
It was utterly humbling and empowering at the same time.
And the girls that did this with me, holy cow, do I love them. 
Each of us had a moment in the journey where we relied on each other to be the strength we lacked.
And our Guardian Angel didn't just leave us on top of that mountain.
He and his wife own a jeep touring company, and they gave us a ride down that mountain that cannot be beaten.
They told us so much about the area and added a whole new level of amazingness to our journey! 
My only regret is that we didn't get a picture with Sherri and Steve, but we can always do that next year when we head back to tackle the Manitou Incline.
After our climb, we returned to the hotel and took loooooong hot showers. Thankfully TallGirlJ bounced back like a pro from the altitude sickness, and we hit the town to walk around and had dinner AND dessert. I think we can agree that we deserved it.
The next day we stopped on our way home for some satisfying shopping.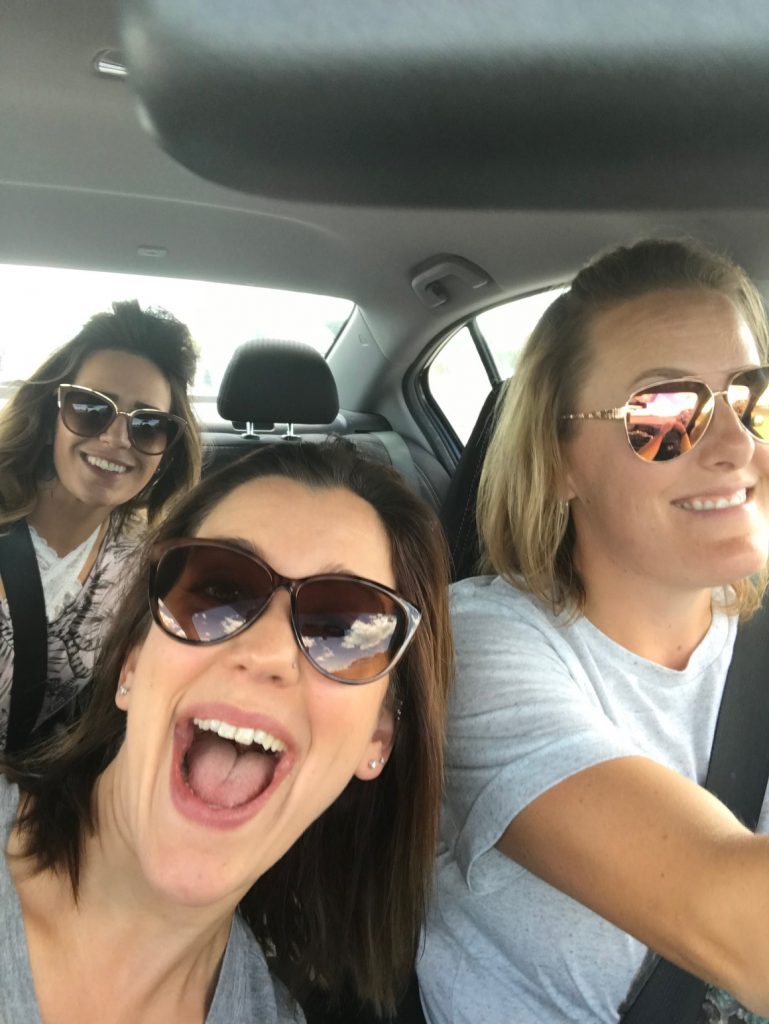 This journey was not just about the day of the climb for me.
It was about all the time we put into ourselves to train.
It was about everyone who cheered us on and encouraged us along the way.
It was about my husband and kids, who were just as proud as I was that I completed it.
It was about facing my fears, working through the brutal parts of the climb, and coming out on top of a mountain with no doubt in my mind that I am #strongenough.
Categories: Life As It Happens
Tags: , #strongenough, climbing, Colorado, facing fear, girls trip, hike, mountain climbing, pikes peak, Prairie Wife Badge